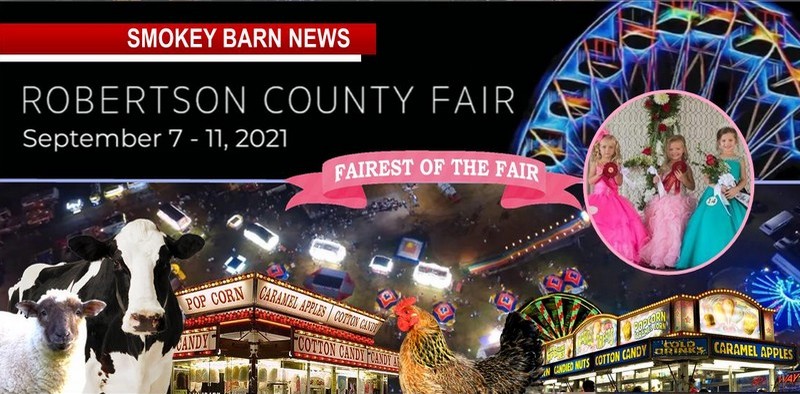 2021 Robertson Co. Fair, Tractor Pull, Carnival, Agriculture & Derby Coming Soon
ROBERTSON COUNTY TENNESSEE: (Smokey Barn News) – The 2021 Robertson County Fair season is just around the corner and the Fair Board is hard at work finalizing the full schedule of events that will offer something for everyone.
The Robertson County Fair Association is an ALL VOLUNTEER non-profit organization that is completely self-supporting and is run solely by volunteers. Since its establishment in 1938, the Robertson County Fair Association has celebrated all things Robertson County by promoting agriculture, education, and community involvement through quality entertainment in a family-friendly environment.
As a non-profit organization, the Fair Association serves as an advocate for the community through its commitment to preserving the fairgrounds, continuing our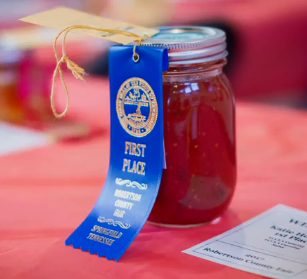 annual county fair, as well as providing a variety of entertainment and programs through our many other events.
On that note, they would like to remind everyone that the Robertson County Fair is not just the carnival rides. The Robertson County Fair is everything including the carnival. It's the arena events, the entertainment at the stage, all the entries from locals (i.e. Baking, crafts, art, photography, canning, tobacco, etc…). It's about our community coming together. It's about the 4-H, FFA and FCCLA kids being proud of the work they have done and showcasing the items and animals they have worked hard at creating or raising. So please stop in the Main Exhibit Building and check out all their hard work, they would really appreciate it.
For more info on Ag Programs contact: Jeff Smith, UT Extension Agent & Co-Director, Robertson County, at (615) 384-7936 or email: [email protected]
The 2021 Robertson County Fair week will run nightly Tuesday through Thursday from 5-10pm, Friday, September 10th from 5-11pm and Saturday, Sept. 11th will run from 3pm- 11pm. Come out and enjoy carnival rides, vendors, fun food, agriculture, a lip-sync contest, and Faith Night presented by the Fair Association at the Century Stage Arena and the popular, annual demolition derby!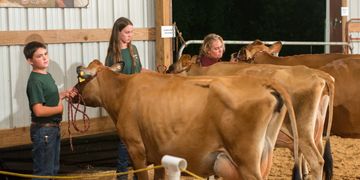 Get your entries ready and make sure you arrive at the correct time. See the schedule of events below:
ATTENTION SENIOR CITIZENS!!!!!
Senior Adults over age 60 get in FREE* Tues, Wed, or Thurs with a donation from the list below. Bring items to gate in exchange for FREE admission*.
FREE admission DOES NOT include carnival rides.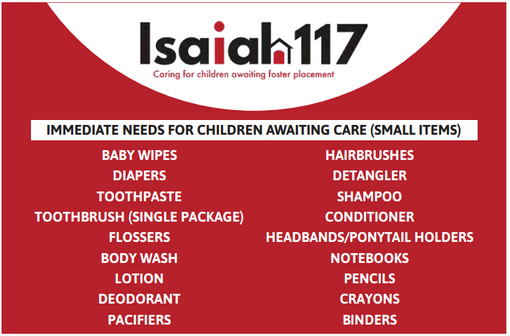 FULL Schedule:
Monday, September 6 (Labor Day):
• 8-10 am – Enter Flowers ONLY in the red-brick building
• 2-5 pm – All entries for crops, garden, canning, etc in the red-brick building.
Tuesday, September 7:
ANNUAL FAIR PARADE
The annual Fair parade will start the fair week Tuesday, Sept. 7 at 5pm.
The parade will proceed down Memorial Blvd to the Fairgrounds. NEW THIS YEAR, all parade entries must have an application submitted PRIOR to lining up for the parade. Click here for a parade application.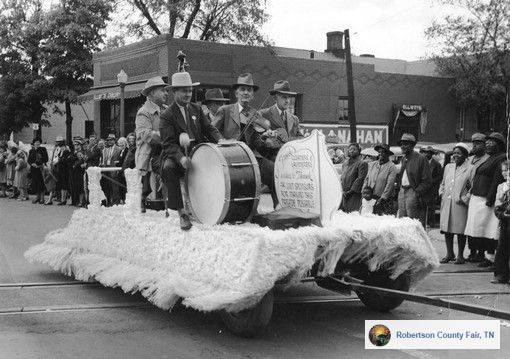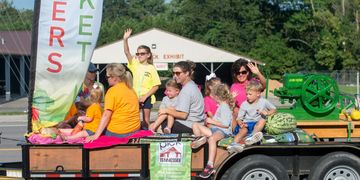 Tuesday, September 7, 2021
7 PM Dairy Show – Livestock Pavillion
7 PM IBRA Approved Barrel Racing
Training Runs $5 4:00 PM – 6:30 PM
Show Begins at 7 PM
Online pre-entry application will be available here when posted.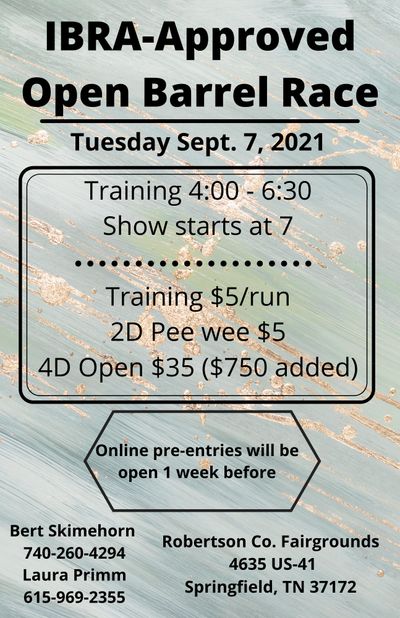 Tuesday, Sept 7: 7 pm – Dairy Show in the Livestock Pavilion
Wednesday, September 8:
• 1-2 pm – Enter Baking ONLY in the red-brick building
• 7:00 pm – Beef Cattle Show in the Livestock Pavilion
FAITH Night! Wednesday, Sept 8:
Wednesday night, September 8, come by and visit our "Faith Night" Sponsor, Cobb Hill Homes at the Robertson County Fair 2021. Whether you are buying or building, Cobb Hill Homes can help you!
Back gates open at 4 PM, School spirit showdown 5 PM – 5:45 PM, Gospel presented 5:45 – 6 PM, Service begins at 6 PM in the arena. 1/2 price tickets expire at 5:15PM.
Purchase tickets through your local church. Churches may contact Trent Cobb for info at 515-335-1316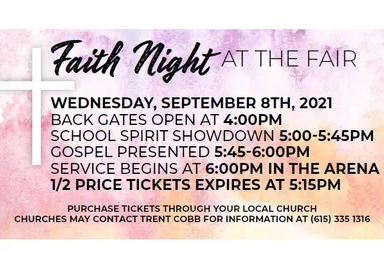 Thursday, September 9:
5 PM – Car Show
7 PM Lip Sync – Century Stage
GO KART RACES
7 PM – New this year, GO KART Races. Thursday, September 9 at 7 PM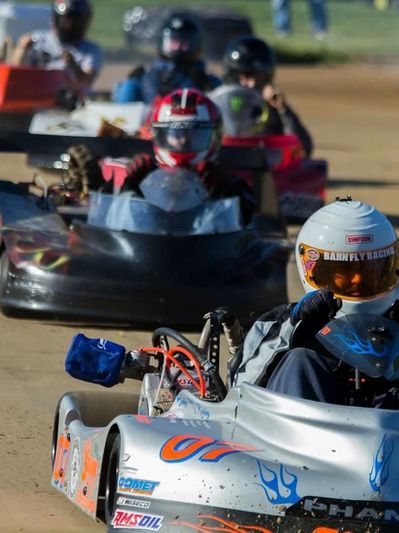 RULES…
Class 1: Boxstocks
Rules will align with 41-A Speedway.
* 350 lb minimum
* 196cc or 212cc Motor(Hemi or non-Hemi)
* 5850 RPM Max
* Must run stock Air Box with no modifications
* Must run Stock Muffler with no modifications, can remove shield for clearance
* Stock Flywheel
* Any Shoe Clutch
* Ages 15 and up
* No Alcohol
* Top 3 will be weighed and rpm checked after race
Class 2: Run What You Brung/Outlaws
* No Treaded Tires
Friday, September 10:
6 pm – Sheep Show in the Livestock Pavilion
7 PM Live Music – Century Stage
7 PM – FULL THROTTLE MONSTER TRUCKS
Friday, September 10 7 PM – Arena admission included with gate admission.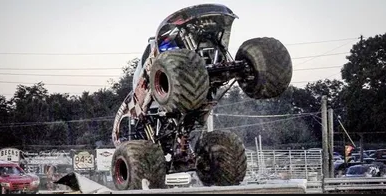 Saturday, September 11:
• 9 am – 4-H Pullet Sale in the Livestock Pavilion
• 10 am – Pet Show in the Livestock Pavilion
• 3 pm – Goat Show in the Livestock Pavilion
• 5 pm – 4-H Share the Fun Youth Talent Show at Century Stage (Registration forms)
Sunday, September 12:
• 2-4 pm – Remove exhibits from the building & collect premiums
Vendors
If you would like to participate as a vendor in this year's fair, click here for a vendor application form.
Carnival Rides for all ages!
Carnival rides will be provided by Kissel Entertainment again this year with some great rides for all ages. To check out the variety or rides by age and height, click here.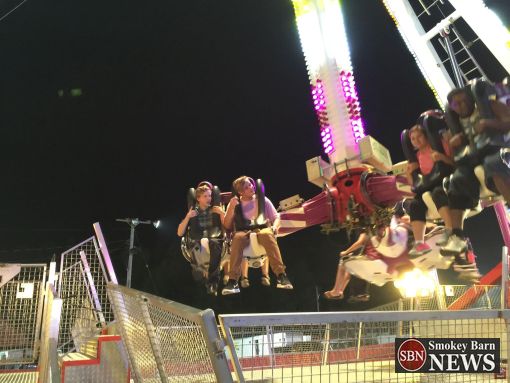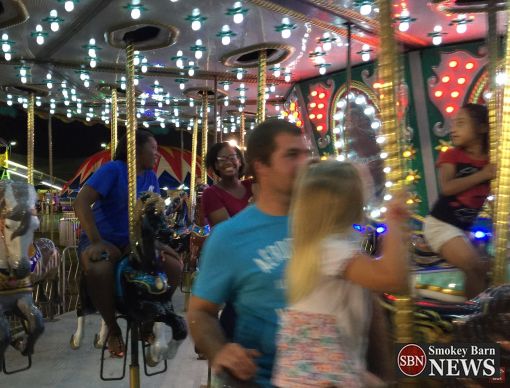 Saturday, Sept 11th at 7 PM – Demolition Derby!
The Fair week will close out with the annual Demolition derby  set for September 11th at 7 PM. $12 for Adults, $6 for students thru High School age. For the demolition rules, click here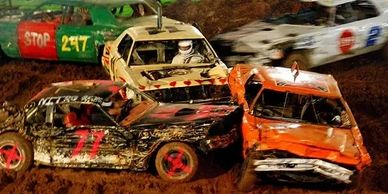 FAIR Entry & Ticket Info:
• Tuesday, Wednesday and Thursday: $14 entry (includes rides)
• Friday and Saturday: $12 for Adults, $6 for students and rides will use tickets bought from the carnival.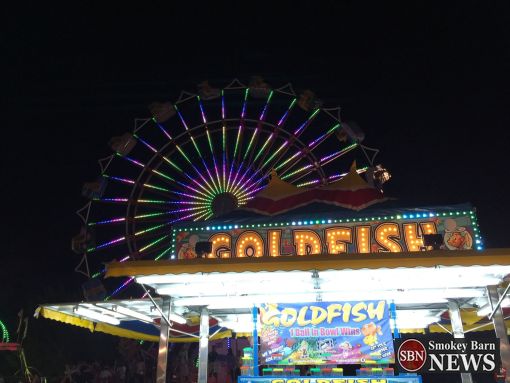 For more information or questions…
Robertson County Fair Association – (615) 382-1007
Email: [email protected]
RC Fairgrounds:  4635 Tennessee Highway 41, Springfield, Tennessee 37172, United States
A LOOK BACK….
Mobile: To See The Latest Stories or to share this article, scroll below