GET YOUR JOB FILLED FAST!!
Advertise Your Job Openings or Job Fair With Us &
Get Listed On The Jobs page FREE!
Find a job or Fill a job on the number one news site in the Robertson County area. Thousands of middle Tennesseans just like you rely on Smokey Barn News every day, let us tell your story of opportunity.
Let Smokey help you grow your business!!
"Thank you so much for your help. We had a monumental response to our job posting. I'm sure we are going to find the perfect person for the job. The immediate response was overwhelming. I am so glad I decided to go to Smokey Barn!" Rita Hallman,  KMC Music
——–JOB LISTINGS——–

Springfield ATR Is Hiring: R&R Transmission/General Mechanic/Technicians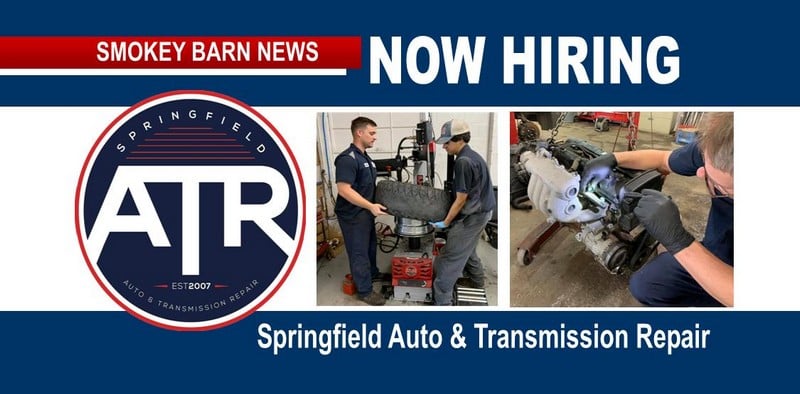 Springfield Auto & Transmission "ATR" is seeking experienced R&R Transmission Techs and builders, General Mechanics, and Diagnosticians.
Do you have weekends OFF? Health Insurance, including  Eye and Dental? Holidays off from day one? Paid Vacation?  Salary, not flat rate? If you said no to any of those call us today! We are a fun hard-working, friendly team looking to grow.
WHERE: We are near downtown Springfield! 4 N Main St, Springfield, TN MAP
PAY RATE: $21 to $35 depending on job and experience.
WHAT: ATR is a Domestic and Asian automobile repair shop with state-of-the-art equipment. We are dedicated to providing a full range of bumper-to-bumper services to keep our customers on the road.
HOURS:  Monday to Friday 8 to 5. Saturday and Sunday CLOSED. Call today –> (615) 382-0089. Or message us on Facebook. OR you can email your resume to [email protected] or apply in person to Springfield Auto & Transmission Repair, 4 N. Main Street, Springfield, TN. CALL FIRST PLEASE (615)382-0089.

Announcement: Meals-on-Wheels is looking for a part-time meal site manager for Springfield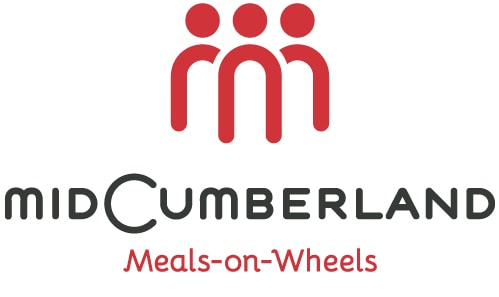 Part-time meal site manager for Springfield
Come join Mid-Cumberland Meals-on-Wheels and make a difference for your vulnerable senior neighbors and experience so much joy knowing you are helping others. Meals-on-Wheels is looking for a part-time meal site manager for the Springfield meal site.
Meal site is open on MWF for a lunch-time meal and total hours per week will be18-20.
Email: [email protected] for more information on the meal site manager position or becoming a volunteer.
CROSS PLAINS VOLUNTEER FIRE IS LOOKING FOR YOU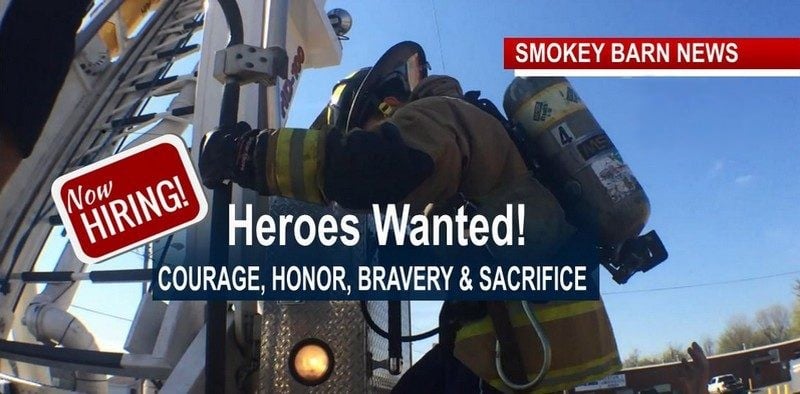 The Cross Plains Volunteer Fire Department is looking for those people interested in becoming a firefighter.
We are looking to hire 2 full-time firefighters and 3 part-time. Pay varies according to training and experience.
Job Responsibilities
• Respond to fire alarms, connect hoses, hold nozzles and direct water streams.
• Force entry of premises for firefighting.
• Position and climb ladders to gain access to upper levels of buildings.
• Perform rescue operations by removing persons from danger and administering first-aid to injured persons.
• Perform salvage operations such as sweeping water, throwing covers, removing debris, etc.
• Perform ventilating operations.
• Participate in fire drills.
• Attend training classes in firefighting, first-aid, and other related subjects.
• Assist with maintaining fire apparatus and equipment.
• Conduct residential and commercial fire prevention inspections.
• Receive and dispatch messages by radio and telephone.
• Perform general maintenance work of Fire Department property, including cleaning walls and floors, washing windows, mowing yard, and making minor repairs.
• Perform related tasks as required.
If you interested are in becoming a volunteer firefighter, you may go to Cross Plains City Hall to pick up an application. MAP or contact Chief Tommy Jackson. Call (615) 654-9287
Email: [email protected]

Pleasant View Volunteer Fire Department – PART-TIME POSITION: Administrative Assistant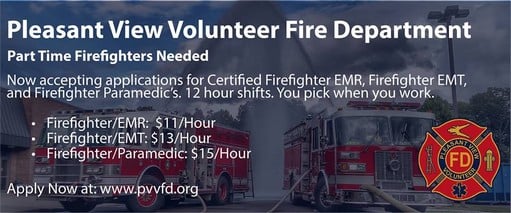 The person filling this position must be creative, have a lot of energy, be customer service focused, and extremely trustworthy. A minimum of a high school diploma or equivalent required and degree in business administration or related field preferred. This position requires excellent organizational and interpersonal skills with attention to details and follow-through a must. The individual must possess the ability to manage multiple projects and associated tasks while working independently as well as courteously with fellow staff and association members. Strong computer skills in Microsoft Office and mobile technology devices are a must. It would be beneficial if the person filling this position had field experience in an executive office of a governmental agency, non-profit association, and/or fire service related business. This will be a part time position that will work 20-30 hours per week. The PVVFD can be very flexible on the days and hours of work. This job will be working with the Fire Chief and Assistant Chief to assist or takeover many of the daily tasks that are required to be maintained to operate a successful organization. This employee needs to be a good team player and be able to get along with people and deal with the public daily.
The pay for this position will be depending on qualifications and education. You will be required to pass a drug screen and background checks. The PVVFD is also a tobacco free workplace. Some of the job duties will be as follows but this is not an all-inclusive list.
Fill out an online application here. Please choose "Administrative Assistant" as the position applied for. Your application will be reviewed, and you will be contacted if the department is interested in an interview.
• Answer phones and greet visitors
• Assist with payroll
• Schedule and coordinate staff and other meetings
• Collate and distribute mail
• Prepare communications, such as memos, emails, invoices, reports and other correspondence
• Write and edit documents from letters to reports and instructional documents
• Create and maintain filing systems, both electronic and physical
• Manage accounts and perform bookkeeping duties
• Work with all social media platforms
• Additional duties as assigned
The PVVFD is currently looking for Experienced Part Time Firefighters to join our team.
To Apply go to www.PVVFD.org
If you have any questions Call Brandon George 615-746-8528 Ext 7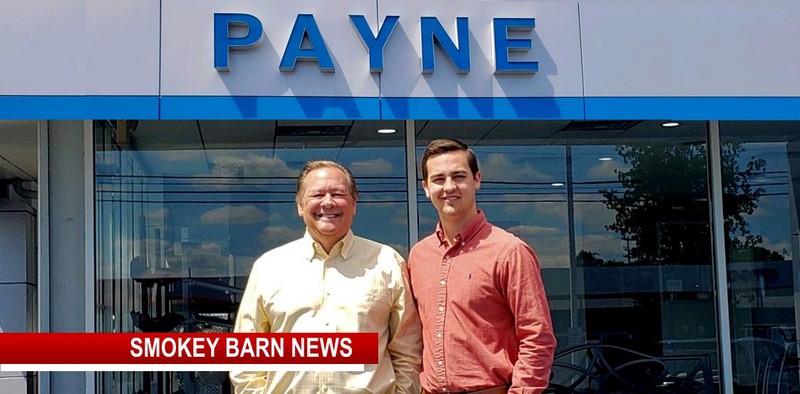 Payne Chevrolet, Now Hiring
Here's a look at the current openings at Payne.
Body Shop Estimator MORE INFO
Springfield, TN
From $60,000 a year.
Sales Representative MORE INFO
Springfield, TN
$30,000 – $60,000 a year.
Automotive Technician/Mechanic MORE INFO
Springfield, TN
$35,000 – $50,000 a year.
Auto Parts Delivery Driver MORE INFO
Springfield, TN
$12 an hour.
Tire and Lube Technician MORE INFO
Springfield, TN
$10 an hour.
Collision Repair Coordinator MORE INFO
Springfield, TN
$24,000 – $30,000 a year.
Apply Today!
To apply today, click here  OR You can also send your resume to: [email protected]
((

Fill your job fast on Smokey's jobs page!

))
For ad prices: email [email protected] or call 615-513-9844
Mobile: To See The Latest Stories or to share this article, scroll below


Local jobs, job openings, job postings, job listings, help wanted,  employment opportunities, businesses now hiring in Springfield tn, Greenbrier tn, Adams tn, Ridgetop tn, White House tn, Cross Plains tn, Millersville tn, Cedar Hill tn, Coopertown tn and Orlinda  in Robertson County Tn, Tennessee!