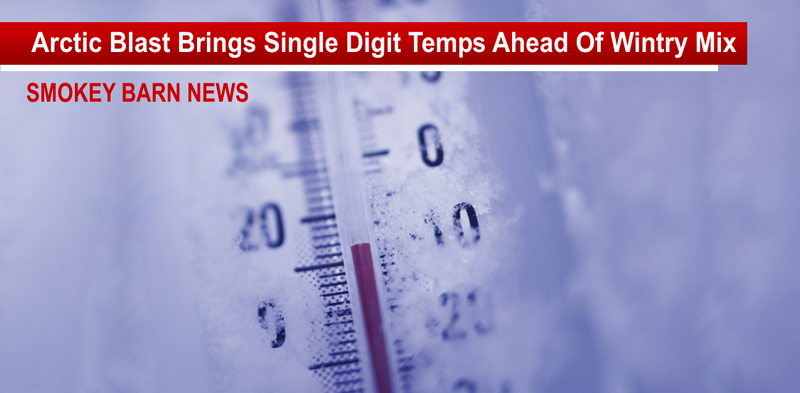 Arctic Blast Brings Single Digit Temps Ahead Of Wintry Mix
(SEE UPDATE BELOW)
ROBERTSON COUNTY: (Smokey Barn News) –An arctic air mass in place across the region will lead to the coldest temperatures so far this winter tonight across middle Tennessee… With lows in the single digits to lower teens. Highs will only reach the 20s and 30s on Tuesday before falling back into the teens and 20s Tuesday night.
A strong storm system will move quickly across the region on Wednesday… Likely bringing a mix of light snow… Sleet… And freezing rain to the mid state on Wednesday morning.
With temperatures well below freezing on Wednesday morning… Any ice or snow that falls will quickly accumulate on area roads and bridges creating hazardous travel conditions. Conditions will improve by Wednesday afternoon as temperatures warm above freezing and precipitation changes to all rain.
Another storm system will affect the mid state later this week… With rain throughout the day on Thursday likely changing over to snow on Friday. Some light snow accumulations will be possible on Friday with this system as well.
Things to remember:
If you must travel… Keep an extra flashlight, blanket… Food… And water in your vehicle in case of an emergency.
Protect your pipes! Experts recommend letting the water trickle in a sink that is the farthest from where the water feed enters your home. It's important to let both the hot and cold water trickle to keep pipes from freezing.
Bring pets in or provide extra shelter and blankets. It might also be a good idea to check up on your older neighbors to make sure they are set up for the big chill.
NOTE: Stay Tuned to Smokey Barn News!! "IF" Robertson County Schools decide to close or delay classes due to frigid Temperatures or wintry weather conditions we will bring that information to you.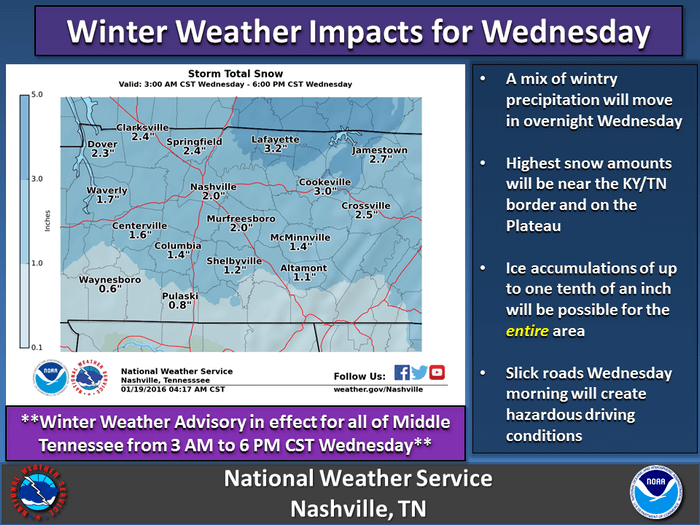 TUESDAY UPDATE:
Winter weather advisory  in effect from 3 am to 6 pm CST Wednesday…
Wintry mix of snow and ice expected late Tuesday night and Wednesday…
With an arctic airmass already in place a storm system will move across the region late tonight and Wednesday… Likely bringing a mix of snow… Sleet and freezing rain to the mid-state. Areas closest to the Kentucky state line and the Cumberland plateau will likely see the brunt of this system… With 1 to 3 inches of snow possible as well as one tenth of an inch of ice. The rest of middle Tennessee could see up to an inch of snow and a tenth of an inch of ice. Major travel impacts are possible so an upgrade to a winter storm warning for portions of middle Tennessee may become necessary.
Timing… 3 am until 6 pm CST Wednesday.
Main impact area… 1 to 3 inches of snow as well as up to one tenth of an inch of ice for areas along and north of i-40 (Robertson County/Kentucky Border) and the Cumberland plateau. Prepare for major travel impacts.
Nashville will likely see up to an inch of snow and a tenth of an inch of ice. Moderate travel impacts are expected.
A winter weather advisory means that periods of snow… Sleet… Or freezing rain will cause travel difficulties. Be prepared for slippery roads and limited visibilities… And use caution while driving.
Refresh this page for updates… 
Smokey Barn News (Sponsor/Advertisement)
We bring you ALL the News in and surrounding Robertson County, Tennessee.