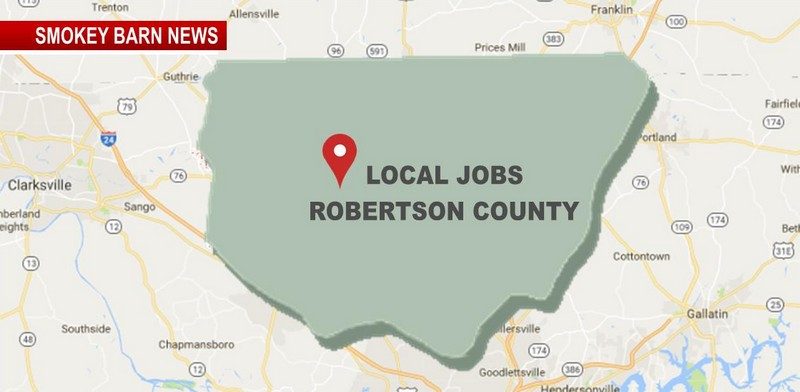 Local Companies Now Hiring In Robertson County
Is your company hiring? Fill your job fast on Smokey!
Email us for prices–> [email protected]
ROBERTSON COUNTY TENNESSEE: (Smokey Barn News) – How far do you drive to work? Many in Robertson County travel outside the county for work but that is starting to change.   As more and more companies move into the Robertson County area and/or expand their facilities, more and more great jobs are becoming available.
Take a look at the jobs below and continue to follow Smokey's jobs page to get the 411 on great local career opportunities and think of a day without the headache of traffic.
Take a look at the jobs below and feel free to reach out to the companies with whatever questions you have, and good luck.
Owens Corning Now Hiring Multiple Positions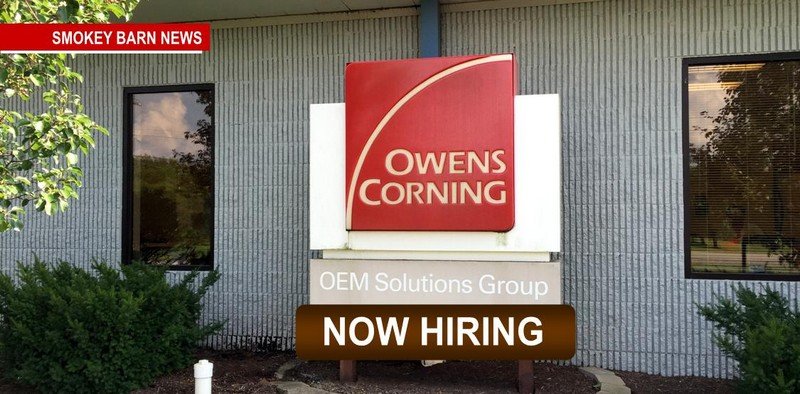 Quality Technician Shift: 1st
A Manufacturing career with Owens Corning can put you on the frontlines of innovation, from Operations Managers to Production Associates. You'll have the assurance of working at a company that has achieved 10 consecutive years of safety improvement and feel proud knowing your work will touch the lives of people everywhere. Click HERE to learn more
Forklift Driver 4-10 hour shifts Monday-Thursday Shift: 1st
Is a "certified" and competent forklift truck operator. Loads/unloads trailers and moves materials within the plant area. Click HERE to learn more
Production Associate 1st shift 4-10 hour shifts Mon.-Thurs.
The Production Associate position is an hourly position, and reports to the Shift Supervisor. The employee works at presses, assist machine operators, removes parts from press, separates parts from scrap, assembles parts, stacks or packages parts and operates equipment. Click HERE to learn more
About Owens Corning
Owens Corning (NYSE: OC) develops, manufactures and markets insulation, roofing, and fiberglass composites. Global in scope and human in scale, the company's market-leading businesses use their deep expertise in materials, manufacturing and building science to develop products and systems that save energy and improve comfort in commercial and residential buildings. Through its glass reinforcements business, the company makes thousands of products lighter, stronger and more durable. Ultimately, Owens Corning people and products make the world a better place. Based in Toledo, Ohio, Owens Corning posted 2015 sales of $5.4 billion and employs about 16,000 people in 25 countries. It has been a Fortune 500® company for 62 consecutive years. For more information, please visit www.owenscorning.com.
A career at Owens Corning offers the ability to enhance your expertise and achieve your personal and professional aspirations. Through it all, we'll empower you with an environment that encourages open communication and big ideas, competitive pay for your performance, comprehensive benefits, and more opportunities to make your impact.
Must be eligible to work in the U.S. on a permanent basis.
Owens Corning is an Equal Opportunity, Affirmative Action employer. All qualified applicants will receive consideration for employment without regard to race, color, religion, sex, sexual orientation, gender identity, national origin, protected veteran status or status as an individual with a disability.
JOIN OUR TEAM TODAY! CLICK HERE TO APPLY

A TEAM THAT FITS: ICONIC BRANDS. ENDLESS POTENTIAL.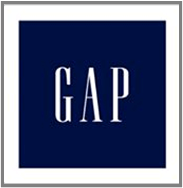 Gap Inc is NOW HIRING Merchandise Handlers for our Distribution Center
• Climate Controlled
• Generous Employee Discount
• Flexible schedules including FT or PT hours
• Weekly Paycheck
• Ages 16+
Apply in Person at 100 Gap Blvd Gallatin, TN Mon-Fri 8am-5pm
To Apply Online Click Here
Gap Inc. is a place where retail legends are born. We offer opportunities across brands and functions, so you can give your career a fresh, new look when you feel like it. With us, you can stay in one place, but keep going somewhere new — whether that's in your hometown or halfway around the world.

White House Utility District Now Hiring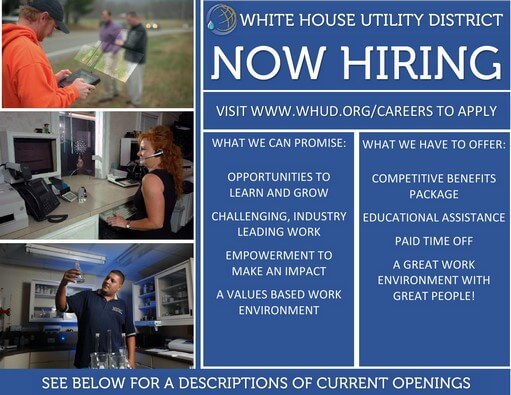 Click Photo to go to WHUD Careers page
Great Jobs Available With The White House Utility District 
WHITE HOUSE TENNESSEE: (Smokey Barn News) – White House Utility District values employee contributions and provides a challenging and rewarding work environment. If you seek an employer that provides a stable environment with opportunities for personal growth look to White House Utility District.
DISTRIBUTION TECHNICIAN 1
Distribution Technicians are involved in the installation, maintenance and repair of the District's distribution system. Candidates should possess a high school diploma and valid Driver's License.
Candidates must also:
• Be able to work outdoors in all weather conditions
• Be available to work nights and weekends
• Be able to work collaboratively and effectively in a team atmosphere
GRADE FOUR WATER TREATMENT PLANT OPERATOR
Water Treatment Plant Operators' responsibilities are to competently operate and maintain a Grade IV water treatment plant to produce potable water while meeting or exceeding all applicable rules, regulations and procedures. A Grade IV Water Treatment Plant Operator license is not required but preferred.
Selected candidates that do not posess the license will begin as an Operator in Training and participate in a District training program developed with the intent to obtain the license within 3-5 years.
The ideal candidate should:
• Have excellent deductive reasoning skills and draw logal conclusions from a variety of information from multiple data sources
• Demonstrate excellent computer skills and the ability to work in multiple applications at once
• Be able to learn, interpret, understand and apply theories, methodologies, and applicable regulations necessary to obtain a Water Treatment Plant Operator Grade IV license
• Demonstrate the ability to make arithmetical computations using standard office equipment and computer programs
• Be able to understand and follow oral and written instructions effectively with great attention to detail
• Be able to work evening shifts as well as weekends and holidays
METER TECHNICIAN
The responsibilities of Meter Technicians are to complete daily meter reading assignments in a timely and accurate manner, resolve meter reading discrepancies or abnormalities and maintain meters and associated assets. A high school diploma and valid driver's license is required.
Candidates must also:
Be able to work outdoors in all weather conditions
Be able to perform tasks that require physical exertion throughout the work day
Be able to follow written and oral instruction with great attention to detail
Possess strong organizational skills and the ability to multi-task
Be able to make simple computations and transpose numbers accurately
Be able to approach problems in a logical manner and develop effective solutions
Applications Are Available And Accepted Through The District's Website
Or apply in person at 3303 Highway 31 W, White House, Tn 37188
Resumes may be submitted by:
Email: [email protected] Fax: 615-672-1088
Mail: Attention: Human Resources PO Box 608 White House, TN 37188
White House Utility District is an Equal Opportunity Employer and is a Tennessee Drug Free Workplace participant.

Could This Be Your Next Boss? – Payne Chevrolet (NEW OPENINGS!!!)
Sales Representative
Springfield, TN
Come be a part of the Payne family. Family owned business for over 88 years.
Job Responsibilities
Assist customers in every aspect of the dealership.
Track and monitor all advertising provided by the dealership.
Work with phone and internet customers to answer any and all questions.
Help maintain all aspects of merchandising including the lot.
Help to meet and exceed all goals set by manufacturer and management.
We offer
40 hour work week
Salary plus aggressive bonus plan based on performance
Health, Dental and Vision insurance
Company matching 401k
A very extensive training program
Modern and Professional work environment
Email your resume to [email protected], no phone calls please.

City Of Ridgetop: Full-Time Utility Worker
The City of Ridgetop will be accepting applications for a full-time experienced utility
worker position. Applicant will need to possess operator skills, plumbing/sewer
knowledge and be willing to work with natural gas system. Competitive pay and
insurance benefits. Applications will be available at Ridgetop City Hall, 1730 Hwy 41S, Ridgetop, TN and will be due by October 14, 2016 at 2:00 p.m.
EOE/Drug-free Workplace.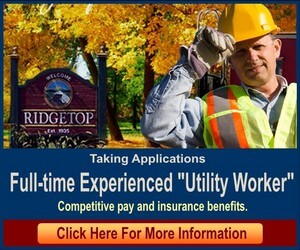 Robertson County Schools
2121 Woodland Street Springfield, TN 37172
615-384-5588
2016.2017 School Year Job Posting
Springfield High School – Automotive Instructor
Applicant must have a valid Tennessee teaching license or have worked 5 of the past 8 year's fulltime in the automotive industry. ASE A-4, A-5, A6, and A8 certification required within the first 12 months of employment. Degrees in Automotive Technology can reduce years of experience requirement.
Contact Mark Gregory at [email protected] or 615-384-5588 to discuss additional licensure requirements.
To apply for this position – Click HERE
Robertson County Board of Education
Attn: Human Resources
800 M. S. Couts Blvd.
Springfield, TN 37172
Applications will be received until position is filled.
The Robertson County School System is an equal opportunity employer.

Now Hiring A Part-time Nursery Worker
Springfield Baptist Church is hiring a part-time nursery worker. The applicant must be a Christian female who can pass a background check.
The hours will be Sunday from 7am-noon, Wednesday from 5:30-8:30pm, and any extra events that the church hosts.
The pay is $10 an hour. Please call or come by the church office for an application.
Springfield Baptist Church, 400 N Main St., Springfield. 615-384-3581. Sbctn.org

Firefighter – Two Full Time Positions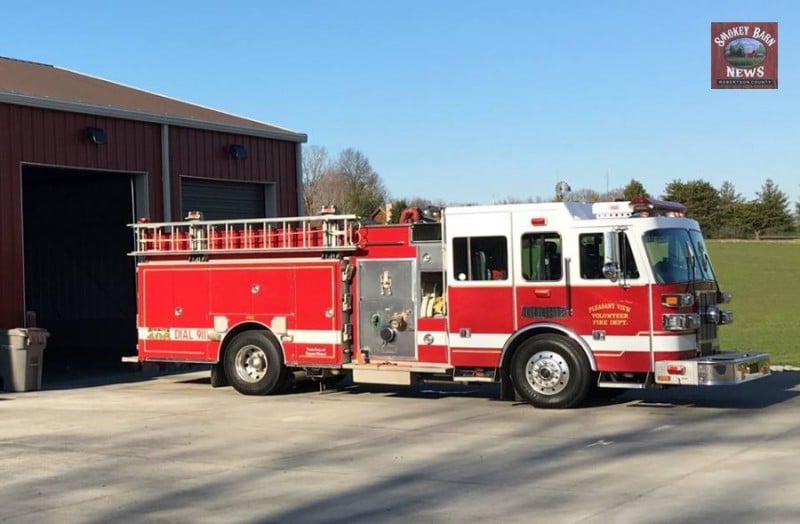 The Pleasant View Volunteer Fire Department has recently opened our doors to a new station. Our Station 6, found at the corner of Thomasville Rd and Mosley Ferry Rd, has two full time positions Monday-Friday from 6am-6pm. These positions are filled with part-time personnel and we are looking for qualified people to help fill these spots. The qualifications we are looking for are: – 18 years of age or above – High School Diploma or equivalent – Valid Tennessee Driver's License – State Certified Firefighter I or higher – State Certified Emergency Medical Responder or higher The pay scale ranges from $11.00 – $15.00/hour depending on your qualifications. If you are interested in a position please fill out an application online at www.pvvfd.org. The PVVFD will contact you after receiving your application and it has been reviewed. If you have any questions or would like more information please contact us – [email protected]
((

Fill your job fast on Smokey's jobs page!

))
For ad prices: email [email protected] or call 615-513-9844
Smokey Barn News (Sponsor/Advertisement) 

We bring you ALL the News in and surrounding Robertson County, Tennessee.

Local jobs, job openings, job postings, job listings, help wanted,  employment opportunities, businesses now hiring in Springfield tn, Greenbrier tn, Adams tn, Ridgetop tn, White House tn, Cross Plains tn, Millersville tn, Cedar Hill tn, Coopertown tn and Orlinda  in Robertson County Tn, Tennessee!