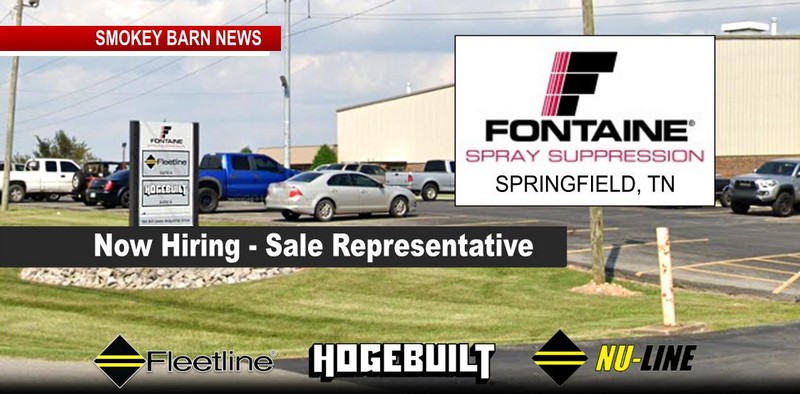 ATTN SALES PROFESSIONALS: Fontaine Spray Suppression Is Expanding Their Sales Team In Springfield
(APPLY TODAY)
SPRINGFIELD TENNESSEE: (Smokey Barn News) – Fontaine Spray Suppression in Springfield, TN is looking for a sales representative with an interest in automotive, trucking, and the transportation industry to drive business and market development, customer management, sales growth, and customer satisfaction.
Fontaine Spray Suppression is a Marmon Group/Berkshire Hathaway Company. We are the industry leader with the three strongest brands in the business: Fleetline, Nu-Line, and Hogebuilt. Fleetline is focused on the Class 8 OEM market as well as OES private label, Nu-Line serves the Canadian aftermarket along with the Tanker market and Hogebuilt serves the Class 8 premium markets.
Fleetline is a tier-one supplier in the production of all major Class 8 original equipment manufacturers (OEM) including PACCAR, Daimler, Volvo, and Navistar. We also supply all OEM dealers in the trucking industry through OES aftermarket programs. we sell our products through 3000+ dealer locations.
Hogebuilt manufactures mid-grade and premium products for Peterbilt, Kenworth, and aftermarket customers.
Job Description – Sales Representative
Job Title: Inside Sales Representative
Department: Sales & Marketing
Reports To: VP of Sales and Marketing
Pay Status: Salary plus Commission
Work Schedule: Monday – Friday (occasional weekends)
Must be flexible to accommodate company, and customer needs and objectives
Opportunity Summary: The Sales Representative is responsible for driving sales for all 3 brands for the organization. They are responsible for utilizing the strategic sales plans provided that will promote sales growth and customer satisfaction for the organization. Specific responsibilities include business and market development, customer management, sales growth, and customer satisfaction.
Roles and Responsibilities include: The ideal candidate will be a natural leader with an interest in the automotive, trucking or transportation industry. A strong work ethic, communication skills, and the ability to be part of a fast-paced team are a must.
Essential Duties and Responsibilities include the following. Other duties may be assigned.
• Manage existing dealer network to provide exceptional service, and identity new sales opportunities.
• Utilize sales reports provided to identify and grow sales.
• Works to increase market share.
• Advises on new product introductions with the management team
• Works with customers to help them improve their familiarity with products.
• Analyzes ways to obtain new customers through following inside and outside leads.
• Works with internal employees to work with customers on the collection of past-due accounts.
• Focuses on new product promotions by getting the information to customer accounts.
• Attends trade shows to ultimately increase customer base & market share.
• Follows up on calls and dealer visits to keep customers informed and satisfied.
• Compiling lists of prospective customers for use as sales leads, based on information from ad inquiries, trade shows, direct mail
• responses, business directories, Internet Web sites, and other sources.
• Making outbound lead follow up calls to potential and existing customers by telephone and e-mail to qualify leads and sell products
• and services.
• Overcome technical and business objections of prospective customers.
• Estimate date of delivery to the customer, based on knowledge of own firm's production and delivery schedules.
• Build and maintain customer relationships.
• Prepare reports of business transactions.
• Enter new customer data and other sales data for current customers into the computer database.
• Investigate and resolve customer problems with deliveries with assistance from Customer Service.
• Mail correspondence and promotions to current and prospective customers.
• Manages database for prospects to maximize reach to the market.
Education and/or Experience: Bachelor's Degree or equivalent combination of education and experience.
Language Skills: Ability to read and interpret documents such as safety rules, operating and maintenance instructions, and procedure manuals. Ability to write routine reports and correspondence. Ability to speak effectively before groups of customers or employees of the organization.
Mathematical Skills: Ability to calculate figures and amounts such as discounts, interest, commissions, proportions, percentages, area, circumference, and volume. Ability to apply concepts of basic algebra and geometry.
Reasoning Ability: Ability to solve practical problems and deal with a variety of concrete variables in situations where only limited standardization exists. Ability to interpret a variety of instructions furnished in written, oral, diagram, or schedule form.
Computer Skills: To perform this job successfully, an individual should have knowledge of CRM Files, Spreadsheet software and Word Processing software.
Other Skills and Abilities: Ability to deal effectively with disgruntled customers concerning account issues that may arise.
Physical Demands: The physical demands described here are representative of those that must be met by an employee to successfully perform the essential functions of this job. Reasonable accommodations may be made to enable individuals with disabilities to perform the essential functions.
While performing the duties of this Job, the employee is regularly required to talk or hear. The employee is frequently required to stand, walk, and sit. The employee is occasionally required to use hands to finger, handle, or feel, reach with hands and arms, and stoop, kneel, crouch, or crawl. The employee must frequently lift and/or move up to 40 pounds. The employee must drive safely and maintain all legal driving requirements.
Work Environment: The work environment characteristics described here are representative of those an employee encounters while performing the essential functions of this job. Reasonable accommodations may be made to enable individuals with disabilities to perform the essential functions.
While performing the duties of this Job, the employee is frequently exposed to outside weather conditions. The noise level in the work environment is usually moderate.
HOW TO APPLY: For interested candidates, please submit resumes via email to [email protected]
Mobile: To See The Latest Stories or to share this article, scroll below