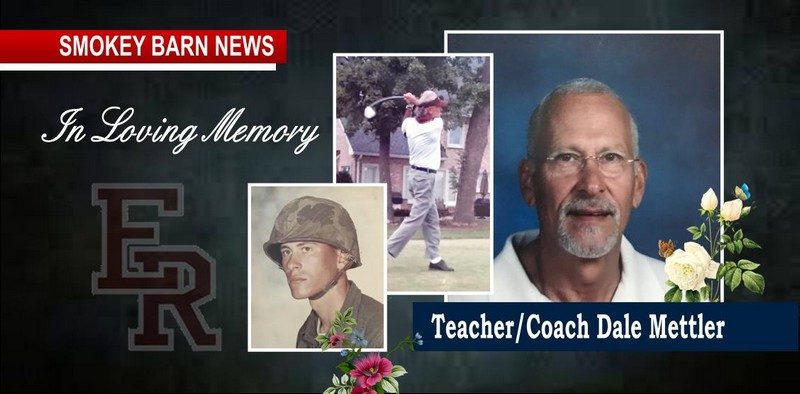 Beloved Teacher, Coach, & Vietnam Vet, Dale Mettler Dies, He Was 71
STORY UPDATED: Service time and location have been added below.
ROBERTSON COUNTY TENNESSEE: (Smokey Barn News) – After a fierce battle with A.L.S., and just weeks after an interview with Smokey Barn News, local teacher, coach, and Vietnam Vet, Dale Mettler has died, he was 71.
Mr. Mettler passed away at his home in Cross Plains on Saturday around 1:30 pm.
Smokey Barn News met Mr. Mettler at his home in Cross Plains back in September, we have added the video at the bottom of this report. Mr. Mettler wanted to reach out to the community, mostly to show his appreciation but he also wanted to talk about the disease that, in just weeks, would take his life, Amyotrophic Lateral Sclerosis, "A.L.S.."
During our interview with Mr. Mettler, he spoke of his love for teaching, coaching and Robertson County. Knowing that his time was short, Mr. Mettler wanted to thank Robertson County for welcoming him with open arms as he began his teaching career at East Robertson High School years ago.
Mettler's passing comes just five months after his A.L.S. diagnosis. After we released our interview with Mr. Mettler it was clear by the outpouring of love that he had touched many lives.
It was just three weeks ago that Mr. Mettler felt well enough to attend an A.L.S. golf charity event at The Legacy Golf Course in Springfield Tennessee. The event raised $25k for A.L.S. research. Mettler was featured on hole 15. FUL STORY
Dale Mettler was a hobbyist and loved riding horses, restoring cars and was an avid golfer.  Dale even collected Native American artifacts and turned them into jewelry.
Back in June, Doctors told Dale that he has little time left but his passing still came as a shock. With the clock ticking and while he was still able to effectually communicate, Dale wanted to reach out to the community about A.L.S. and a possible connection for Vietnam Veterans exposed to Agent Orange. He also talked about his fond memories at East Robertson High.
If you haven't seen our interview with my Mettler we have added it for you below.
Austin & Bell Funeral Home will be handling the arrangements. According to Metters' family, a special service open to the public will be held on Sunday, November 10th at 2:30 pm in the gymnasium at East Robertson High School.
Chaplain Joe Eden will officiate the service. Visitation is planned for Sunday, November 10, 2019 1:30-2:30pm in the gymnasium, with military honors.  Inurnment will be at a later date in First Presbyterian Church Columbarium in Tecumseh, MI.
Memorial contributions are requested to A.L.S. Foundation P.O. Box 40244 Nashville, TN 37204-0244 or to Amedysis Hospice 400 Royal Parkway Nashville, TN 37214
For Dale's full online Obituary click here.
The thoughts and prayers of the staff at Smokey Barn News will be with the Mettler family as they face the days ahead.
VIDEO BELOW: Former East Robertson Teacher Dale Mettler Talks About Facing A.L.S.
RELATED: For the community's response to Smokey's original interview with Mr. Mettler on social media CLICK HERE.
Smokey Barn News (Sponsor/Advertisement)
Smokey Barn News (Advertisement)
We bring you ALL the News in and surrounding Robertson County, Tennessee.