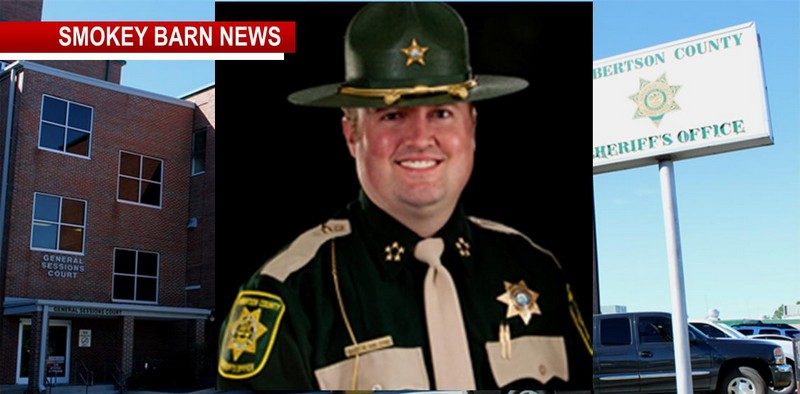 Chief Deputy Van Dyke Announces Run For R.C. Sheriff
ROBERTSON COUNTY TENNESSEE: (Smokey Barn News) – On August 6th, Robertson County Sheriff Bill Holt announced his retirement after many years of service in law enforcement. During that announcement Holt endorsed his Chief Deputy Michael Van Dyke for the job.  FULL STORY 
On Tuesday Van Dyke made his intention to run for Robertson County Sheriff official.
"Over the past several years during my time as Chief Deputy, many fellow Robertson Countians have encouraged me to run for sheriff when Sheriff Holt retires," said Michael Van Dyke. "They have complimented our team's accomplishments and professionalism and want that to continue."
"With Sheriff Holt announcing his retirement, the time has come for me to formally announce that I will seek the office of sheriff for Robertson County in 2018."
Van Dyke, an 18-year law enforcement veteran, has been serving as the Chief Deputy Sheriff for Robertson County for the last seven of those years. The chief deputy is the second in command of all sheriff's office operations. During that time, he has trained hundreds of hours alongside sheriffs from across Tennessee. Chief Van Dyke is also responsible for assuming the duties of the Sheriff in Sheriff Holt's absence.
Van Dyke is running for sheriff to continue the success over the past seven years.
"We have seen a tremendous drop in our property and violent crime levels across the county," said Van Dyke. "We believe we have been very effective with our proactive enforcement tools and community programs."
Since being appointed as Chief Deputy in 2010, the sheriff's office has reduced property crime by 53% and crimes against persons by 38% in the county. Crimes solved or cleared have also been increased from 21% to 75%. The sheriff's office has also incorporated several programs in the detention facility in an effort to reduce recidivism such as GED classes, Alcoholics Anonymous, Narcotics Anonymous, and enhanced the jail ministry program.
"My vision for Robertson County is to have the safest county in the country where you can raise a family, work, shop, play, and retire," said Van Dyke. "I am dedicated to tackling the issues that threaten that vision. I know it is about the working relationships with our citizens, partnering law enforcement agencies, local business leaders, and other organization with a vested interested. I believe I have developed many of those relationships and have the ability to expand on what we have built. When we reduce crimes by those margins and receive awards for TN Sheriff of the year, TN Jail Administrator of the Year, and TN Training Officer of the year twice, since taking office, I believe we are doing many of the right things, but there is more to be done."
When describing himself Van Dyke said, "I have always tried to be an innovator, constantly looking for new and better ways to conduct business and provide service. I often question why we do things this way and respond to ideas of change with why not?"
Chief Van Dyke wants to see more community engagement, education, and programming for preventing crime and increasing public safety. He also expressed that he wants to see additional tools put into place for our citizens to be more informed and open communication lines even more.
"Since redeveloping our website, launching Facebook and Twitter accounts, we have seen a major increase in information sharing with our citizens. I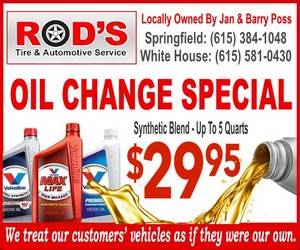 would like to expand even further and develop a smart phone app where the sheriff's office can push notifications, provide information, and engage our citizens at their convenience. We are also preparing to release a brand new Farm Watch program that will incorporate some of the latest crime fighting technologies. I am excited to see the results of the program over the next several years."
In closing, Van Dyke sees great things for the future of the sheriff's office and our county.
"The sheriff's office needs to continue our team's mission of enhancing and protecting the quality of life for our citizens. My vision is to continue planning for the growth of our county, always looking for ways to be more effective and efficient, concentrating on providing high quality services, and being good stewards of tax dollars. We have been very active in the community and I want to see our team continue to focus on maintaining and building community relationships and partnerships. With many members of my family being educators, I highly value are co-operative relationship with our school system and want to see us continue our expansion of the School Resource Officer Division until all schools are covered. I know that getting assistance to young children can positively change their future ultimately changing our county's future for the greater good."
About Van Dyke…
Michael Van Dyke began his career in law enforcement over 18 years ago one week after graduating from Jo Byrns High School with the Robertson County Sheriff's Office. He served as a Reserve Deputy volunteering hundreds of hours patrolling Robertson County. He worked his way through college as a full time police officer with the Austin Peay State University Police Department and the Clarksville Ranger Division. Upon graduation from APSU with a Bachelor of Science Degree, he was appointed as the chief law enforcement officer of the Clarksville Rangers. After the City of Clarksville consolidated the Ranger Division and the Police Department, Chief Van Dyke went to work for the Montgomery County Sheriff's Office until his recent appointment.
Chief Van Dyke has spent the vast majority of his career in law enforcement management and administration. He has a vast knowledge and experience in budgeting, human resources, financial management, purchasing, inventory, performance measurement, statistics, organization structuring, agency liability, jail operations, coordination of multiple agency operations, policy writing, and community relationship building. Although he always enjoyed patrolling the streets, making cases, investigating crimes, and arresting violators, he found that his strengths and talents were serving his fellow officers by providing them the tools, supplies, direction, training, and leadership they needed to do their job.
He has attended numerous specialized schools over his career, some of which are Law Enforcement Management and Administration, Command Decision, the University of Tennessee's Municipal Management Academy, Internal Affairs, Tennessee Law Enforcement Executive Development, FBI Executive Leadership, Crime Prevention Through Environmental Design, Internal Affairs, Jail Liability, NASRO School Resource Officer Certification, and many others. Chief Van Dyke is also a graduate of Leadership Robertson County and Leadership Middle Tennessee.
He is an Eagle Scout, a honor graduate of Jo Byrns High School, and a Magna Cum Laude graduate of Austin Peay State University. Van Dyke received membership in the Delta Tau Alpha Agriculture Honor Society, State of Tennessee Award of Merit, United States Certificate of Special Congressional Recognition, and other awards and commendations.
Chief Van Dyke is married to Marissa Highsmith Van Dyke and has three children. He attends Cedar Hill Baptist Church. He serves as a TN Achieves Mentor and is an active member of the Tennessee Sheriffs' Association, National Sheriffs' Association, Robertson County Coalition, Robertson County Chamber of Commerce, and the Red River Masonic Lodge. Chief Van Dyke currently serves as the Warioto District Chair and Middle Tennessee Council board member for the Boy Scouts of America. He also serves on the board of directors for the Robertson County Chamber of Commerce and as President of Friends of the G.R.E.A.T. Summer Games. The Van Dyke's have a small family hay and cattle farm that he enjoys working with his wife and children.
Van Dyke is the second candidate to announce candidacy for Robertson County Sheriff.  Joe Macleod, a 27 year veteran of law enforcement that currently holds the title of Sergeant with the Springfield Police Department, announced his candidacy for Sheriff on July 4th. FULL STORY
Are you planning to run for office in Robertson County? Email us at [email protected] or call us at 615-513-8844.

Smokey Barn News (Sponsor/Advertisement)



We bring you ALL the News in and surrounding Robertson County, Tennessee.
VANDYKE VANDIKE