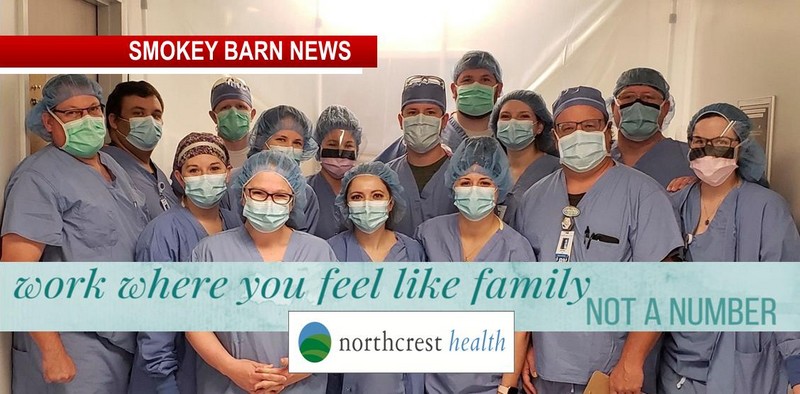 (Sponsored)
Choose Community With A Career At NorthCrest Hospital
ROBERTSON COUNTY TENNESSEE: (Smokey Barn News) – If you ask them, NorthCrest Hospital will tell you their vision is to be the best 150-bed-or-less hospital in the country by enhancing community and patient wellness through the teamwork of skilled and compassionate employees and physicians.
A seldom talked about fact in the medical field is that many physicians and nurses battle more than patient injury and disease on the job, and it has a name. It's called workplace burnout. Some are calling it an epidemic and that was before COVID. Back in 2016 Us News and World Report published an article in which hospital CEOs referred to the growing problem as a "Health Crisis."
According to the report, the cause is -workplace stress, characterized by emotional exhaustion, cynicism, and diminishing feelings of accomplishment. It's coupled with the fact that physicians and nurses employed in large hospitals may never see the same patient more than once. NorthCrest, by the very nature of its location and philosophy, is taking those issues head-on.
Parked in the middle of Robertson County, POP 75K, NorthCrest Medical physicians and nurses not only see the same patients regularly but they even know them by name. If you work in an urban-based medical facility, ask yourself, when was the last time you ran across a patient at the supermarket? At NorthCrest, it's the norm.
At NorthCrest Hospital we believe that healing is an art, not a drive-through service for patients that have no names. Work for an urban hospital and you can develop a reputation with other medical facilities. At NorthCrest Hospital, the community will know your name.
If you love the medical field, rediscover that love in a community where your success is measured one patient at a time.
NorthCrest Hospital Careers: 

NorthCrest offers an RN Career Ladder with various learning opportunities including monetary rewards.
Integrity – Maintaining the highest standards of behavior. Encompasses honesty, ethics, and doing the right things for the right reasons.
Innovation – Capable of extraordinary creativity and willing to explore new approaches to improving quality of life for all persons.
Superior Service – Committed to providing excellent service and compassionate care.
Teamwork – An abiding respect for others, and a sustaining commitment to work together.
Stewardship – Dedicated to responsible stewardship of NorthCrest Medical Center's assets and financial resources, and to community service.

About NorthCrest
NorthCrest is a not-for-profit, 109-bed community hospital serving Northern Middle Tennessee and Southern Kentucky. Located in Springfield, Tennessee, this hospital has been built to serve the community. Every year NorthCrest supports the community beyond the walls of the medical center. Through sponsorships, health screenings, support groups, educational classes and more, Northcrest donates thousands of hours and dollars in service to the surrounding community in promotion of good health and well-being.
For work, our employees travel as close as right down the street and as far as Clarksville, TN and Hopkinsville, KY. Some employees spend hours on their commutes. They happily drive the distance every day because NorthCrest Medical Center looks and feels like home to them.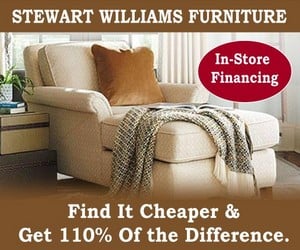 While NorthCrest is a great place to work based on its people, it also offers benefits to employees that promote a comfortable, fulfilling life. To provide expert care to patients, our employees must be cared for themselves. NorthCrest is continuously working to create an environment that elevates the well-being of employees. A balanced work environment and proper benefits provide employees the opportunity to work harder and smarter on behalf of our patients.
Award-winning workplace | Community feel | Health, dental, vision insurance | Life insurance | Retirement |
Is NorthCrest right for you?
At NorthCrest, our focus is providing quality healthcare in a safe, welcoming environment. We put the patient first through personal attention and expert medical care. We smile and greet everyone we meet – from patients, to coworkers, to visitors – and do it because we want to. Everyone who steps foot in this hospital is like family. We are warm, friendly, helpful, and supportive—we want the best for you, and we want to see you excel in your position. Our HEART Standards of Performance stand as the backbone for our organization and the practices we commit to following every day.
If you want to love coming to work every day, to an organization where you feel wanted and can make a difference in the lives of our community, then NorthCrest is for you. If NorthCrest sounds like home, we invite you to review and apply to an open position.
Awards & Recognitions
NorthCrest has been nationally recognized as a Military Friendly Employer, Military Friendly Spouse Employer, and a 2019 Top Work Place by The Tennessean. These awards are all based on our own employee feedback. Additionally, NorthCrest is accredited by The Joint Commission with the Gold Seal of Approval for Chest Pain Certification and Advanced Certification for Primary Stroke Centers, and is a Blue Distinction Center+ for Knee and Hip Replacements and Maternity Care as recognized by Blue Cross Blue Shield.
CAREERS AT NORTHCREST HEALTH
Position: RN – MED SURG 3 $5000 Sign on Bonus
Springfield, TN
RN – MED SURG
$5000 – Sign on bonus for Full Time Med Surg Nights – for 2 yr commitment – This is for MS3 only
POSITION RESPONSIBILITIES:
 Demonstrates knowledge of human growth and development the and care of patients appropriate to the ages of patients served
 Conducts and documents nursing assessments through the collection and analysis of data
 Develops and revises the individualized plan of care based on assessment, desired outcomes, and knowledge
 Provides patient/family education based on plan of care and identified needs
 Promotes customer service initiatives
 Demonstrates ability to perform technical skills and procedures
 All other duties as assigned
QUALIFICATIONS:
 Current RN licensure
 Current BLS certification (or obtain prior to the completion of orientation)
 Current ACLS certification (applies to charge nurse & RN team leaders)
For full, detailed job description, click –> Here.
ADITIONAL OPENINGS
Wound Healing
Women's Services
Surgery
Sleep Lab
Security
Respiratory Therapy
Physician Services
Nutritional Services
Nursing
Medical Imaging
Med Surg 2
LAB
Informational Security
Infection Control
Environmental Services
Emergency Department
Education
Coding
CCU
Cath Lab
Cardiac Testing