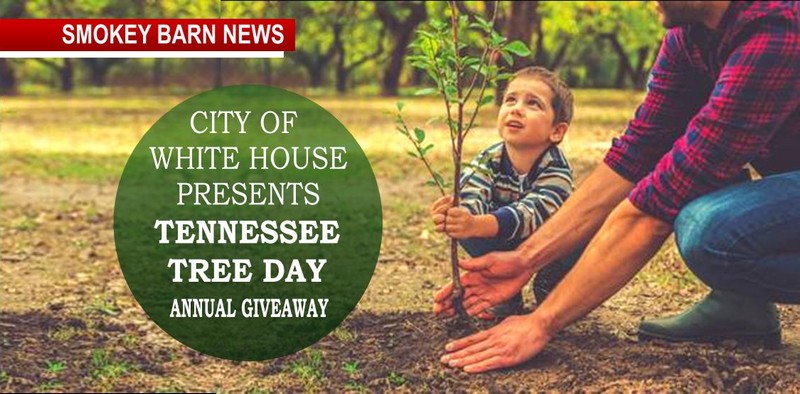 City Of White House Annual Tree Giveaway (Tenn. Tree Day)
WHITE HOUSE TENNESSEE: (Smokey Barn News) – The city of White House will be holding it's annual tree giveaway on May 16th. The city will give away up to 300 native trees!
WHEN: May 16 – Saturday at 10 AM – 2 PM
Tennessee Tree Day
WHERE: Hosted by City of White House, Tennessee Public Service Dept. – 725 Industrial Dr, White House, TN 37188
Why is planting trees so important to us as an organization?
The U.S. Forest Service found that more than two million acres of Tennessee's native forests have been cut and more than 500 thousand acres of forest were converted to other uses.
Planting 30 trees each year offsets greenhouse gases from your car and home.
In 50 years one tree provides $130,750 in total benefits including oxygen, air pollution control and stormwater drainage.
​Our Tree Project total now stands at 637,100 trees planted in Tennessee, providing the following ecological benefits:
• 2300 acres of new tree canopy providing wildlife and pollinator habitat
• 11,000,000 tons of carbon dioxide captured
• 26,000,000,000 gallons of rain water filtered, and enough oxygen for more than 2 million Tennessee residence every year.
• Each year, the city will give away up to 300 native trees to promote their initiatives.
*While supplies last. Limit 1 per family. Species include Indigo Bush, Yellow Poplar, Sycamore, and Oak-Northern Red.
Native Trees of Tennessee
Tennessee is home to a wide variety of trees, some living no where in the world, not to mention some of the oldest and longest living in the world. The state distribution maps in the species info boxes below are from the USDA NRCS PLANTS Database at plants.usda.gov. In instances where state specific maps are unavailable, the US distribution map will be used in its place. Also, the PLANTS Database website states "Our county data are based primarily on the literature, herbarium specimens, and confirmed observations. However, not all populations have been documented, so some gaps in the distribution shown above may not be real. Remember that only native and naturalized populations are mapped!" Tree families in Tennessee are:
A to Z list by scientific name