Clever Kroger Gas Station Scam Nets Cash In White House Wednesday
UPDATE – SUSPECT IN CUSTODY:
WHITE HOUSE TENNESSEE: (Smokey Barn News) –  According to White House Police, a man approached the booth at the Kroger gas station on Hwy 76 in White House Wednesday evening around 6:45pm and knocked on the door. The employee asked what he wanted and the man replied. "The manager sent me up here, they need you in the store." The employee believed the man and headed across the parking lot for the Kroger store.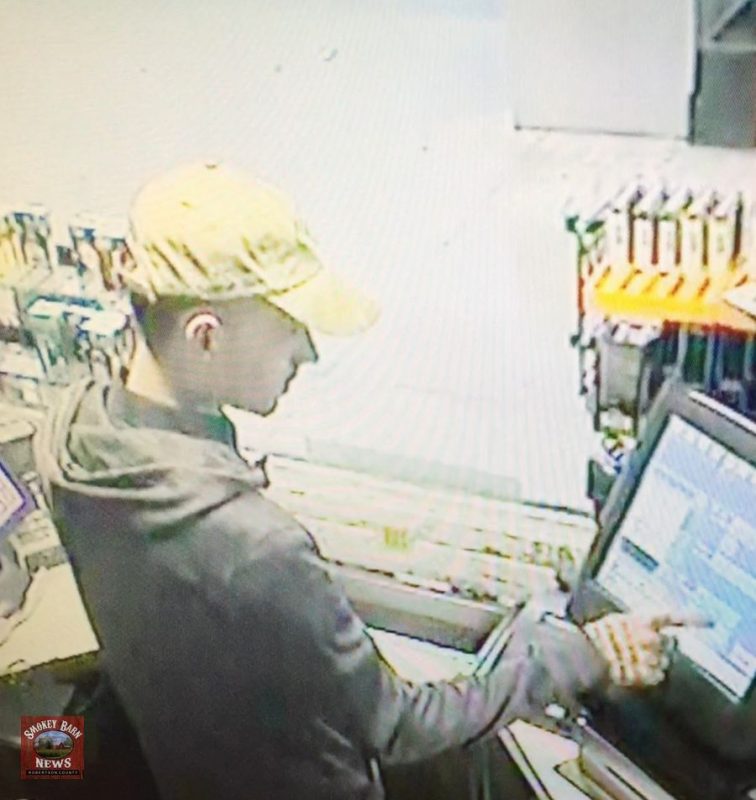 As the employee left the booth, the suspect, now identified by police as Joshua Thomas of White House, was able to keep the door open and gained entry. Once inside the booth the suspect was able to gain access to the cash register and fled on foot with an undisclosed amount of cash.
When the employee returned they realized that a burglary had taken place and police were contacted.
Upon review of security footage of the incident, White House police were able to identify a suspect and expect to have him in custody soon but in the mean time police are asking the public to be aware of the scam in case the suspect attempts it at another location.
The suspect is described as a white male, about 21 years of age, wearing jeans, a grey jacket with a hood, yellow hat, and tattoos on the back of his right hand.
Thomas will be facing charges of Burglary and Theft but because the booth was empty he will not face robbery charges.
White House Police Chief Pat Brady told Smokey Barn News that they have ID'd a suspect and should have him in custody soon.
Police say that other than the money, no other items or merchandise were taken.
UPDATE – SUSPECT IN CUSTODY: Joshua Thomas was arrested early this morning around 1:00am in Davidson County on drug charges. White House Police will be placing a hold on him in Robertson County so when he's released from Davidson County he will be served with the Robertson County charges.
Anyone with any information regarding this crime is  encouraged to contact White House police at (615) 672-4903.
Smokey Barn News (Sponsor/Advertisement)

We bring you ALL the News in and surrounding Robertson County, Tennessee.