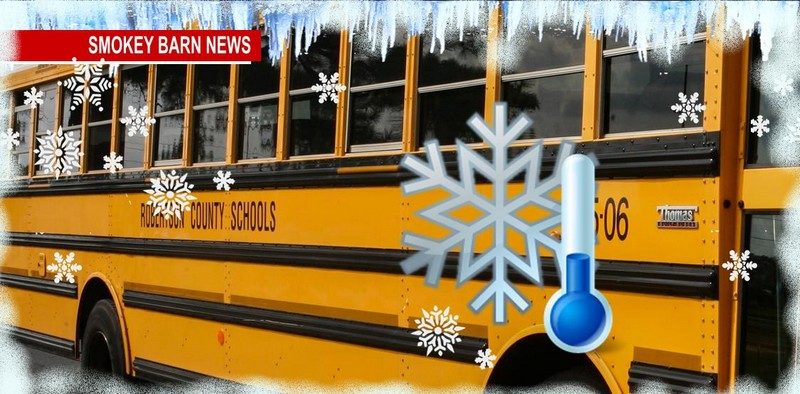 Cold Temps Possible Snow As R.C. Students Head Back To School
ROBERTSON COUNTY TENNESSEE: (Smokey Barn News) – As Robertson County prepares to send students back to school this week following the holidays, they will be greeted by some chilly temperatures and maybe even a little snow.
The first snowfall of the season is possible Thursday afternoon through Friday night according to the National Weather Service. As cold temperatures settle into the region late this week with ,ows in the mid 20's and highs in the mid 30's, middle Tennessee will have its first opportunity for accumulating snowfall.
Starting Thursday afternoon and ending Friday night, the Cumberland plateau is likely to see the majority of any snowfall we experience. Snowfall totals of an inch or slightly more are possible through this time frame.
Robertson County along with everyone else across middle Tennessee is more likely to see a dusting up to one inch of snow. While snowfall totals are not expected to be excessive by any stretch, any amount of snow will cause at least minor travel impacts across the mid-state. However, with higher totals on the Cumberland plateau, moderate travel impacts could be experienced both Friday and Saturday mornings.
Robertson County Schools have 10 snow days available.
Smokey Barn News will be in constant contact with school and weather officials for our area. For the latest weather and school info check out Smokey's website or follow us on Facebook and Twitter.
Continue reading below…

UPDATE Winter Weather Advisory 3:46pm Wed. 1/4/2017
Winter weather advisory remains in effect from noon Thursday to midnight CST Thursday night… * timing… Thursday afternoon and evening. * main impact… Slick roads… Especially during evening rush hour Thursday evening. A winter weather advisory means that periods of snow will cause travel difficulties. Be prepared for slippery roads and limited visibilities… And use caution while driving.
Snowfall accumulations and slick highways are likely Thursday afternoon and evening… .An upper level low pressure area will sweep across middle Tennessee Thursday afternoon and evening… Ushering in a reinforcing shot of cold arctic air… Along with patchy snow. Temperatures will be mainly in the 30s during the daylight hours on Thursday… With snow becoming likely during the afternoon and continuing into the evening. Once the snow starts… Temperatures will quickly cool to the upper 20s to lower 30s… With slick spots developing on area roadways. Most travel impacts are expected to be during rush hour on Thursday and into Thursday night. By Thursday evening… Temperatures will be mainly in the upper 20s across much of the advisory area. Total snow accumulations through Thursday evening are forecast to range from one to two inches along the Cumberland plateau… To between one half and one inch elsewhere. Most of the accumulation is expected to be on grassy areas and rooftops. However… Some minor accumulation on roadways is also possible… Especially along the Cumberland plateau.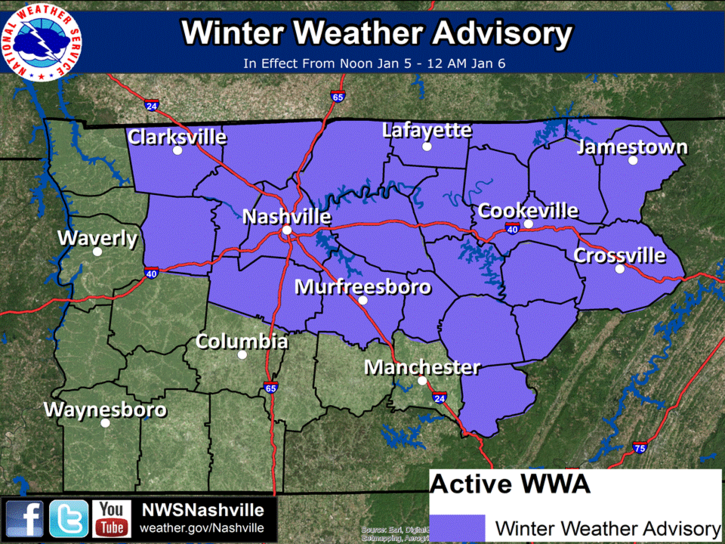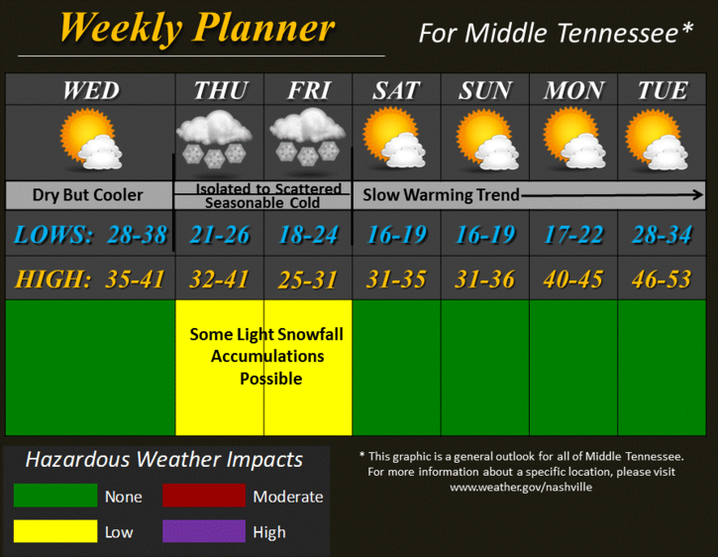 Smokey Barn News (Sponsor/Advertisement)
We bring you ALL the News in and surrounding Robertson County, Tennessee.