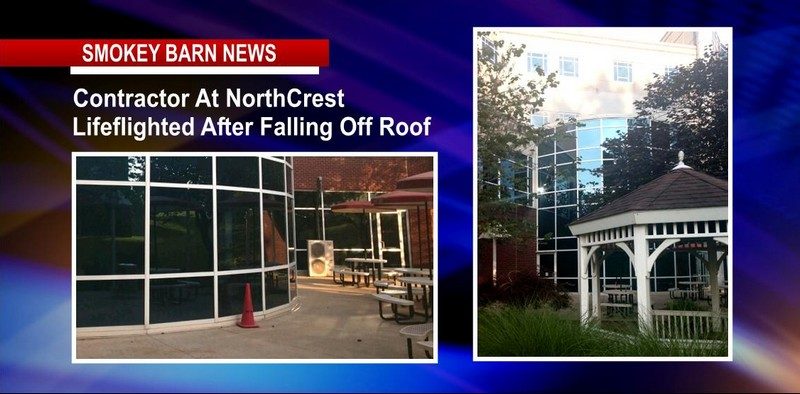 Contractor At NorthCrest Lifeflighted After Falling Off Roof
SPRINGFIELD TENNESSEE: (Smokey Barn News) – A 26-year-old contractor working on the exterior of NorthCrest Medical Center in Springfield was injured after he fell off a secondary roof platform Saturday afternoon.
The worker was initially treated by NorthCrest emergency medical personnel and then life-flighted to Vanderbilt Medical center in Nashville for further treatment. The accident occurred around 3:30 pm on Saturday afternoon.
According to Randy Davis, CEO/President, NorthCrest Medical Center, the worker, employed with US Exterior Solutions out of Nashville, was applying a sealant to the exterior of the building when the accident occurred.
According to Davis, the worker was using a roller on a long extension pole sealing a side wall above the cafeteria when he stepped backward and fell off the roof. Davis said he fell some 30 feet onto concrete below. By his injuries, it appears to be a forward fall. The gentleman landed on the patio of the eating area outside the cafeteria, Davis said.
Other workers heard the fall and rushed to his aid. The accident occurred in an area adjacent to NorthCrest's ER Department allowing medical staff to respond quickly. NorthCrest Doctors were able to stabilize the man and treat his injuries. After further evaluation, medical staff felt he was stable but critical so he was transferred to Vanderbilt's trauma center in Nashville via LifeFlight. An update on his condition was not immediately available.
"We at NorthCrest Medical Center would like to wish the young man the best. His coworkers reacted quickly allowing our medical team to start treatment immediately. As he faces the hours and days ahead he will definitely be in the hearts and minds of the staff here at Northcrest." Randy Davis, CEO/President, NorthCrest Medical Center

Smokey Barn News (Advertisement)
Smokey Barn News (Advertisement)
We bring you ALL the News in and surrounding Robertson County, Tennessee.