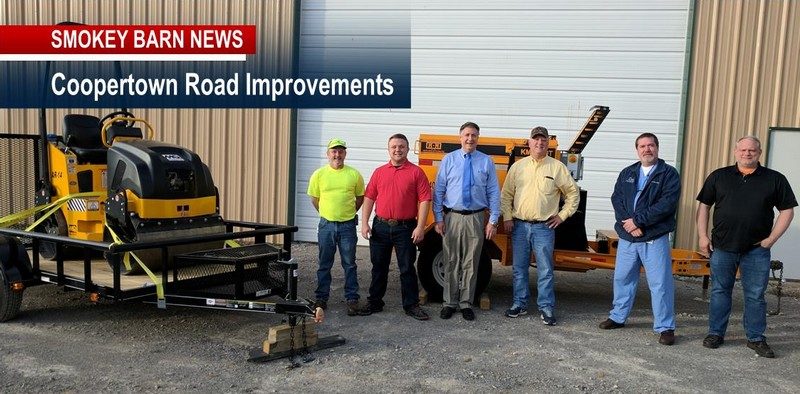 Photo: left to right – Mark Shelton – Road Supervisor, Lucas Decker – Alderman Ward 2, Mayor Glen Guyor, Robert Dale Anderson – Alderman Ward 1, Dr. Kevin Davis – Alderman Ward 2, and Mike Jones – Alderman Ward 1
Coopertown Road Improvements Underway
COOPERTOWN TENNESSEE: (Smokey Barn News) –  Coopertown city leaders are tackling road conditions in the city head-on with the purchased Honda GX630 Ride on 36" wide roller and a 2-ton diesel hot box dump trailer in the pothole repair arsenal.
Switching from cold patch to hot patch saves the Town from re-visiting the same pot holes year after year.
"As part of the resurfacing program, the hot patch would allow the new surface laid on top of the patch, thus saving the Town even more money by not having to contract the work," said Coopertown Mayor Glen Guyor.
As far as repaving,  DeWeese Construction has been awarded the contract for $164,811 to re-pave the following roads in order:
1) 0.8 miles – 4130 Old Coopertown Rd to 4547 Martins Chapel Rd
2) 0.3 miles – 1699 Martins Chapel Church Rd to 1791 Martins Chapel Church Rd
3) 0.4 miles – 1645 South Walker Rd to McMahan Hollow Rd
4) 0.6 miles – 3385 Cooper Nicholson Rd to 3530 Cooper Nicholson Rd
5) 0.2 miles – 4137 Martins Chapel Rd down Frey Ford Rd
This is a total of 2.3 miles of road work to begin the end of May 2018.
Sometime in July 2018, TDOT will be resurfacing SR-49 from York Rd. to Sandy Springs Rd. Also, included is drainage improvements and resurfacing of the intersection at Burgess Gower Rd and Old Coopertown Rd.
"This is a result of the Town of Coopertown's property tax at work along with Governor Bill Haslam's Improve Act," Guyor said..


Smokey Barn News (Sponsor/Advertisement)


We bring you ALL the News in and surrounding Robertson County, Tennessee.