COVID-19 Vaccine Distribution In Robertson County
UPDATE 1/6/2021 2:20pm
Online Sign Up & NEW Hotline For COVID Vaccine NOW available with the Tennessee Department of Health.
.
Currently, in Robertson County, the COVID-19 Vaccine is being distributed to those in the 1a1 and 1a2 category as well as those 75+. (1a1 means "Inpatient and other high exposure healthcare workers, residents and staff of Long term care facilities, >18 year old unable to live independently, and first responders. 1a2 means All other healthcare workers, Funeral/mortuary.")
If you fall into the categories listed above, and live in Robertson County, you can click on this link to be put on a list to schedule an appointment or you can also call the hotline number 866-442-5301 to be put on the list to be scheduled an appointment as soon as appointments are available based on vaccine supply. The hotline will only place people on the list if they are meet the current phase or age criteria.
If you live in Sumner County, click this link or call the new hotline 866-442-5301
For all other counties, click the interactive map link (FYI, currently, the interactive map is only working via mobile devices.)
Original Report:
ROBERTSON COUNTY TENNESSEE (Smokey Barn News) – Smokey Barn News has been communicating with the Robertson County Health Department and other officials as they work to administer the COVID-19 vaccine.
As we reported earlier, the Robertson County Health Department has begun administering vaccinations to local health care workers.  Currently, in Robertson County, the COVID-19 Vaccine is being distributed to those in the 1a1 and 1a2 category as well as those 75+. (1a1 means "Inpatient and other high exposure healthcare workers, residents and staff of Long term care facilities, >18 year old unable to live independently, and first responders. 1a2 means All other healthcare workers, Funeral/mortuary.") See the full chart below.
To date, many senior and assisted living centers, as well as healthcare workers, first responders, and other accelerated risk related occupations, have been vaccinated- or will be shortly.
As officials move into other groups, to ensure the Robertson County Health Department has enough vaccine prepared ahead of time they are working by appointment ONLY and only for those in the 1a1 and 1a2 categories as well as those 75+. Those who would like to schedule an appointment should contact the Health Department. (see info below) Understandably, call volume to the Health Department has been very high so they are asking for patience. For those with appointments, vaccinations will be administered at the Robertson County Fairgrounds. *Please do not go to the fairgrounds without an appointment.
According to the Robertson County Health Department, organization and scheduling has paid off. So far the agency has not had to waste any vaccine.
At the state level: "Tennessee's COVID-19 Vaccination Plan focuses on providing vaccines to those at highest risk of becoming infected with the virus and suffering from life-threatening disease, and we are working as quickly as possible to provide vaccines to Tennesseans according to the phased approach set out in the plan," said Shelley L. Walker Tennessee Department of Health Director, Office of Communication and Media Relations. "At this time, vaccine supplies are still very limited, and Tennessee like other states has experienced delays in receipt of vaccines from federal partners. As vaccine supplies become increasingly available, we look forward to accelerating through our priority phases to cover the maximum number of Tennesseans in the shortest time possible."
To see the full Vaccination plan for Tennessee, click –> Here
Robertson County Health Department is located at 800 S Brown St, Springfield, TN 37172.
Hours are Monday – Friday 8 AM–4:30 PM. Phone: (615) 384-4504.
SPECIAL NOTICE FROM THE RC HEALTH DEPT
"In order to protect our clients, health department staff, and communities and to better shift our focus on our coronavirus (COVID-19) response, the Robertson County Health Department is limiting services to only the most essential public health services. These services include, but are not limited to: WIC (over the phone), high risk primary care services, and immunizations for children and high risk populations. Please contact your local health department for more details on specific services. We regret this inconvenience, but we are working to provide a safe environment for high quality care to our patients."
For more information on other services provided by the Robertson County Health Department, click –> Here
RELATED:
COVID-19 Vaccine Arrives In Robertson County
Covid-19 Daily Case Number Report (Robertson)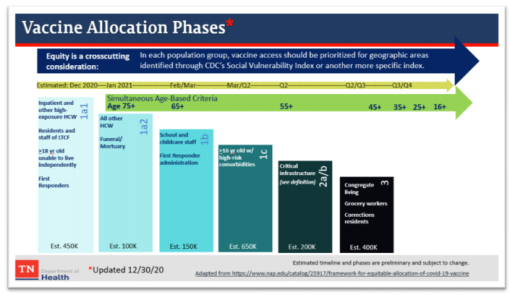 SUMNER COUNTY HEALTH
The Sumner County Health Department is currently working very hard to get community members scheduled and vaccinated.
Currently, only those who are 75+ are eligible and appointments are REQUIRED.
Do not just show up. They realize there are challenges with the appointment process and are working to revamp it. If you or someone you know are unable to get an appointment at this time, please stay tuned for further instructions.
Most importantly, they ask that you be patient and we ask that you be kind. They are doing their best to navigate the process at hand.
Please direct any COVID questions to 1-877-857-2945. A new 877 number specific for the vaccine should be up for callers soon.