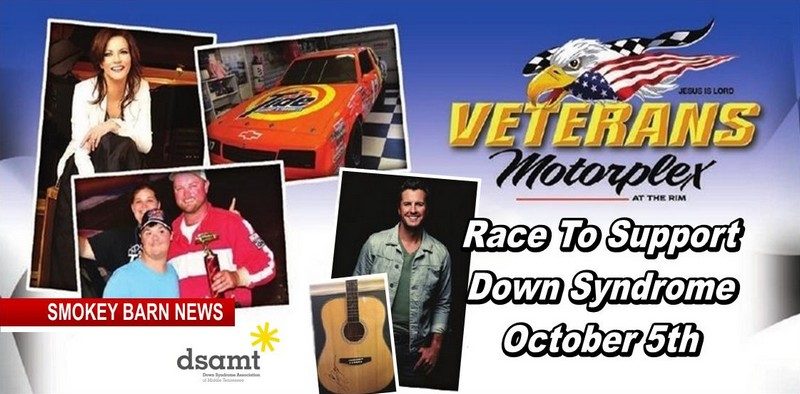 Down Syndrome Event Puts You In The Cockpit
(Auction, games, fun for all)
ROBERTSON COUNTY TENNESSEE: (Smokey Barn News) – Jerry Criswell, Owner of Veterans Motorplex, is hosting a benefit race night, called "The Race to Include."
The big event is set for Saturday, October 5 at 6 pm, gates opening at 4 pm.  "We hope you will be a part of this inaugural event! In addition to the race itself, there will be concessions, a silent auction, games, ride-a-longs and much more," said track owner Jerry Criswell.
"We all likely know of someone with Down Syndrome. A single father that works for me has a son with Down Syndrome. His name is Jeremy and he loves racing. I also have a family member with Down Syndrome. His name is Lucas Williams. Lucas is just two years old. He's featured (right) on this flyer at the bottom of this article. He is an absolutely awesome young man. I would like for the Veterans Motorplex nation to help raise awareness to include these individuals in our everyday activities."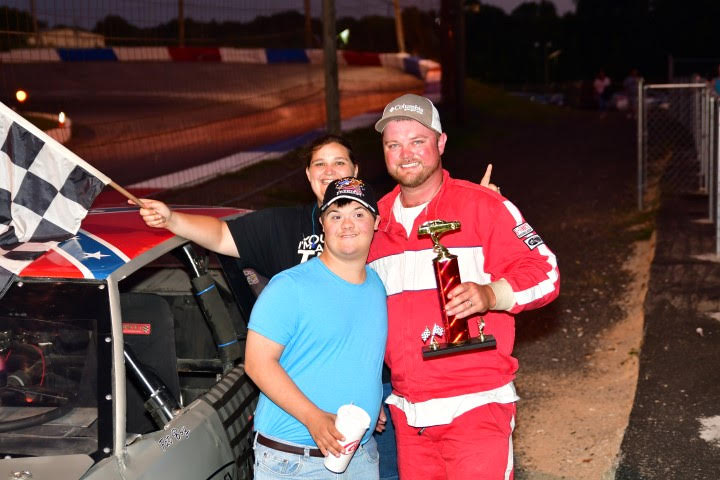 "This will be a fun night in which individuals with Down Syndrome will be given the opportunity to be included in staff positions at Veterans Motorplex such as the Official Flagman, Trophy Queen, Official Starter, Grand Marshall and be invited to get in the win photos with the teams and drivers."
All the Individuals will have an opportunity to sit in real race cars and get their photos taken with the winning drivers.
We will be debuting our big Veterans Motorplex HOT WHEELS Race Track so bring your fastest HOT WHEEL car on out and give this thing a try. Or you can use one of our cars for free… Prizes for the winning cars..‬
Auction, Face Painting, Jumpy house, fun and games and plenty of racing for everyone ‪Saturday, Oct 5th‬ ‪beginning at 4 pm‬.. Races begin ‪at 6 pm‬
Everyone come on out ‪Oct 5th‬ as Mike Displays the " Mackvador " and signs autographs. Get your photo taken with Mike Morgan and " Mackvador " at the BIG Down Syndrome Race to Include night.
This is the same 88 Mike Morgan BIG Rig that made national news when he went out of the Race Track a few years ago coming off turn 4 taking out several feet of catch fence, a catch cable, and a couple of telephone poles on his way out before the remaining cables and catch fence did its job stopping him only feet from the crowd. (SEE VIDEO HERE) Mike Won won the first event and he is not afraid to put the pedal to the metal…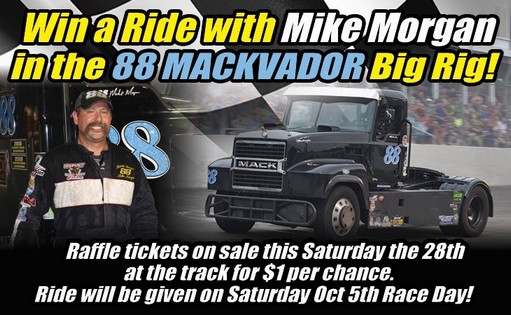 Now the question is… are you man or woman enough to ride 5 laps with Morgan in the Mack Vador? If you think you have the courage to go 5 laps on the high banks of Veterans Motorplex with Morgan at the wheel, be sure to get your self a raffle ticket, they're only $1 each! One winner will be chosen. More than one ticked is more than one chance to win.  All proceeds go to the Down syndrome association of middle Tennessee
Come on out and thank Mike Morgan for doing this to benefit the Down Syndrome Association of Middle Tennessee.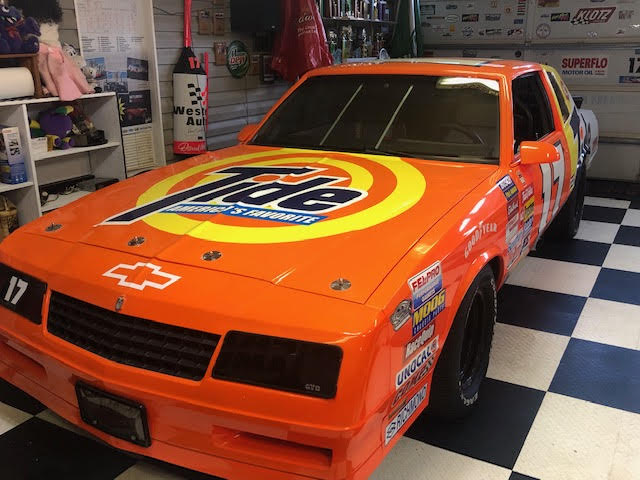 We have a Darrell Waltrip Show Car coming to give the individuals the ride of their life around the high banked 1/4 mile asphalt oval.
Sponsorship openings are still available for the night, products, gift certificates, services etc that can be donated to be auctioned off for this great cause.
Donations are 100% tax-deductible. Down Syndrome Association of Middle TN will receive 100% of all the money the auction generates!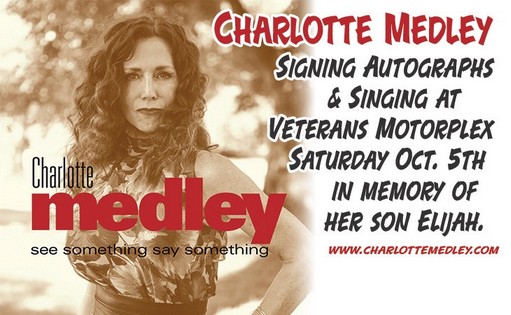 Here is a sample of some of the items already donated for the auction:
• Autographed Guitar donated by country music artist Martina McBride
• Autographed Guitar donated by country music artist Luke Bryan
• $800 Cornwell Tool set
• $500 McGriff Tires gift Certificate
• $200 NAPA Gift Certificate Several nice Bibles O Custom Blankets
• Charlotte Medley will also perform and sign autographs.
• Down Syndrome Association of Middle Tennessee (DSAMT) representatives will also be on hand selling jewelry.
See more auction items —>> HERE
If you know of a young man or lady with Down Syndrome that might want to participate in the flagging or presenting trophies we still have a couple of spots left.
The young ladies (down syndrome) (any age) will receive their own custom sash that says Miss Veterans Motorplex at The Rim plus a Tierra to carry home with them after the event.
As the event flyer shows… Together we can make a difference.. This photo was done at our shop and the children were great…. Our sport has some really talented driver, crew chiefs, car owners etc… and I know EVERYONE will want to jump on board and make this a huge deal.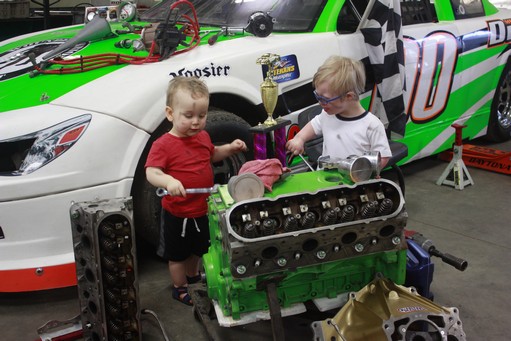 We will be giving a percentage of the front gate ticket sales to the Down Syndrome association "Dsamt " and 100% of all the money raised from the auctioned items will go directly to Dsamt and it is 100% Tax deductible.
We are setting ourselves a lofty goal for Veterans Motorplex of raising a minimum of $10,000 for the Down Syndrome on Oct. 5th. PLEASE HELP US help them.
Jerry Criswell, Owner, Veterans Motorplex
Veterans Motorplex/Highland Rim Speedway is a 1/4 mile oval asphalt track located off Exit 104 on I-65, just 20 minutes north of Nashville, TN. 6801 Kelly Willis Rd, Greenbrier, TN 37073
Phone: (615) 643-8725
Tickets are available at the track on event days.
** Family Pack Special **
$30 for 2 Adults and up to 6 minor children ( less than $4.00 per person )
Pit admission is $35 per person.
Regular Events Grandstand Admission: Adult $12.00
62+ Senior $10.00
Military ID $10.00
13-17 Students $10.00
6-12 Youth $5.00
Children ages 5 and under are always free with a paid adult
FREE PARKING !!!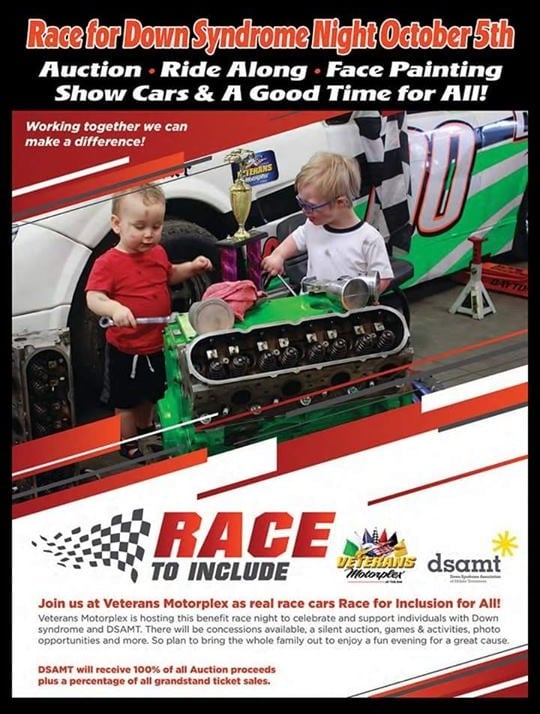 We bring you ALL the News in and surrounding Robertson County, Tennessee.