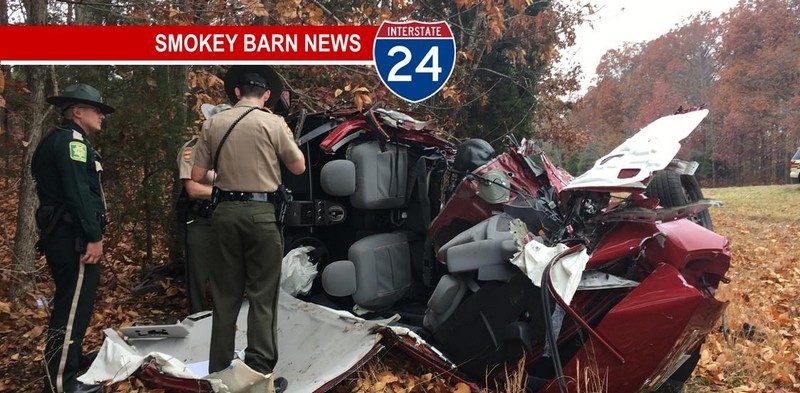 Driver Survives I24 Rollover Crash Thanksgiving Day
COOPERTOWN TENNESSEE: (Smokey Barn News) – A rollover crash on I24 left a vehicle barely recognizable Thanksgiving day.
Somehow the vehicle was able to provide enough protection for the driver that he was alert and talking to medics during the 10 minute extrication process to free him from the tangled wreckage, according to Chief P.J. Duncan with the Pleasant View Volunteer Fire Department.
Officials say there was just one occupant in the vehicle at the time of the crash that occurred just after noon Thanksgiving day. The wreck occurred near mile marker 23 in the Westbound side of I-24, the vehicle heading towards Clarksville. The identity of the driver has not been released but we can tell you that the vehicle was carrying Sumner County Tags.
When first responders arrived the vehicle was on it's side, the driver still in the drivers seat with his seatbelt still on. "We had to extricate him, we had to cut the roof off the car to get him out," Chief P.J. Duncan said.
Lifeflight was called but unable to fly due to weather conditions so the driver was taken via ground to Skyline Medical Center in Nashville, Chief Duncan said.
Officials were not able to provide exact details on the condition of the driver citing that it will take a hospital exam to determine if there are any internal injuries.
The accident occurred in the center median. We do not know why the driver lost control of the vehicle. One lane of I-24 West was closed initially but both lanes are now open, however officials say that at least one lane will be temporarily closed again when the vehicle is removed from the Interstate following the THP's investigation of the crash.
Traffic on I-24 is very heavy due to holiday drivers, if you are out today please drive with caution.
The Pleasant View Volunteer Fire Department, the Robertson County Sheriff's Office, Robertson County EMS, the Robertson County Emergency Management Agency and the TPH all responded to the call.
Officials say it may take until after 2:pm before the wreck is completely cleared.
PHOTOS: P.J. Duncan
We bring you ALL the News in and surrounding Robertson County, Tennessee.