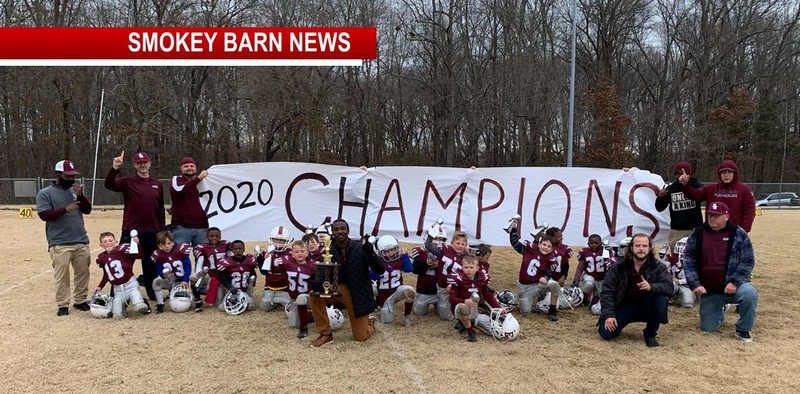 East Robertson Indians (7U) Win Jr Pro Super Bowl Championship
ROBERTSON COUNTY TENNESSEE: (Smokey Barn News) – The East Robertson Indians Jr Pro (7 & Under) football team has won the Super Bowl Championship in a spectacular game Saturday.
With a season record of 10-0 and an amazing stat of 398 total points scored and just 67 points allowed all year, the team has surely secured a place in the record books.
"They played 8 regular-season games. One playoff game to get to today's game, then the Super Bowl today. They were down 15-14 at half time today. Played an awesome second half to pull away with a 28-15 win today," said East Robertson Jr Pro Football President Brent Hyman. "This year was only possible because Patrick Hughes, Jeremy Pilkerton and myself Brent Hyman. We contacted the other city's and put together a season after our league decided not to have a season."
Hyman told Smokey Barn News that the team went by the TSSAA and school board covid precautions. Thruout the season, each team had boys out for Covid contact tracing but all were able to play today.
Martez Dowlen is the team's Head Coach with Tyler, Kelly, Taylor, John, Chris, Jeremiah acting in the capacity of Assistant Coaches. East Robertson Jr Pro Football Vice President is Jeremy Pilkerton
and Commissioner Patrick Hughes.
Players: Trendon Bolstad, John Waylen Richardson, Camden Eden, Braden Kellogg, Lucas Oatman, Ayden Harp, Carson Miller, Isiah Prince, Beckham Lynch, Cooper Parrigin, Jamelle (JR) Dunn, Easton Duncan, Blaine Binkley, Randerickus Turner, Hudson Posey, Parker Schutte, Trace McCormack, Reid Pilkerton, Dominique Black, Lindon Lunsford, Ayden Vaughn, Jackson Donoho, Levi Nuckles.
Photos: Brent Hyman