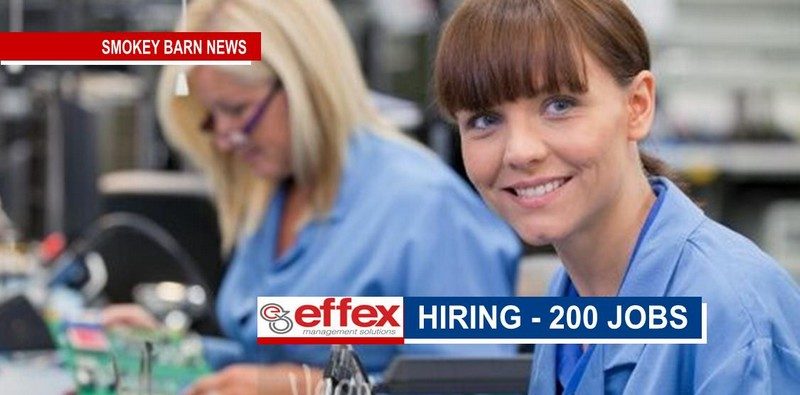 (Sponsored Ad) 
Effex Management Solutions – 200 Positions Open In Springfield
SPRINGFIELD TENNESSEE: (Smokey Barn News) – Effex Management Solutions is Hiring for Electrolux who is a global leader in household appliances and appliances for professional use, selling more than 60 million products to customers in more than 150 markets every year. The company focuses on innovations that are thoughtfully designed, based on extensive consumer insight, to meet the real needs of consumers and professionals.
If you believe these qualities apply to you, we encourage you to find your place at Effex Management Solutions today.
Get $100 for each referral!! Refer a friend to work for Effex Management Solutions. If they are hired, you get $100 per person after completion of 60 days.
Requirements for employment opportunities:
• Pass a Background Check
• Pass a Drug test
• Be able to lift up to 40lbs
• Assembly & Production positions
Benefits available to you as an Effex Management Solution associate include:
• Medical Coverage – Access to affordable and comprehensive group medical coverage plan
• Vacation Bonus – Rewarding employees who make an extended work commitment
• 6 Paid Holidays – based on accrued hour requirements
Applicants can now apply via text using a smart code.
All you have to do is text EFFEXMS 12 to 313131. The text must be in all CAPS and you must enter a "space" between the word 'EFFEXMS' and the number 12.
OR Apply in person at 2 Locations:
• WorkForce Essentials 299 10th Ave E, Springfield, TN 37172
• WorkForce Essentials, Inc. 523 Madison Suite B, Clarksville, TN 37040

Smokey Barn News (Sponsor/Advertisement) 


Utility Worker, Seasonal Worker – The City of Ridgetop
Experienced Cooks and Health Officers – Girl Scouts Summer 2017
Transmissions Mechanic – Transmission Exchange
Automotive Service Techs– Payne Chevrolet
Police Officers (Springfield, Millersville)
RN/LPN's, Certified Nursing Assistants – The Waters of Springfield
Millwork Specialists (Career Fair)
Adjunct Instructor – Highland Crest
Leadership Sales – Wash me Express
Owens Corning – Now Hiring
Skilled machine setter/operators for automated welding machines, Material handlers/sit-down forklift drivers, Shipping clerk,
Firefighters, Car Salesmen & more…
We bring you ALL the News in and surrounding Robertson County, Tennessee.