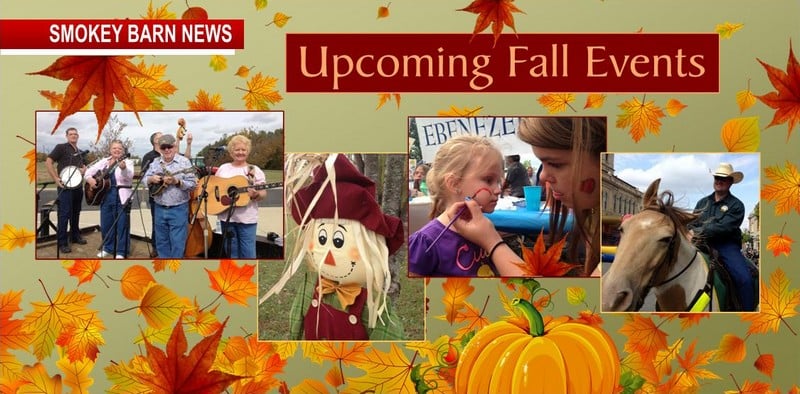 Events: Fall Fun You Don't Want To Miss
ROBERTSON COUNTY TENNESSEE: (Smokey Barn News) – Lots of fun fall Family events popping up all over the county beginning this weekend. Save the dates!
Community events may be submitted to [email protected]
New events will be added here and to our ongoing Community events calendar.

Two Area Fall Turkey Shoots Starting October In Robertson Co.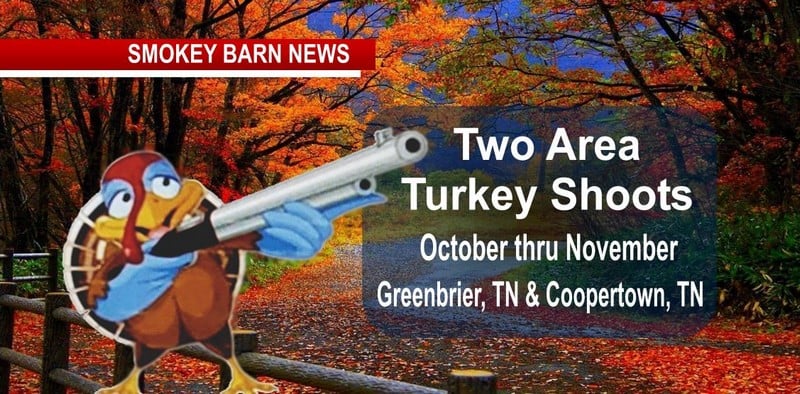 The Greenbrier American Legion Post 45 and the Coopertown Men's Club would like to invite everyone out to their annual Turkey shoots starting in October. There will be prizes, raffles along with food and refreshments. We have provided the full details below.
Greenbrier American Legion Post 45 Annual Turkey Shoot
American Legion Post in Greenbrier, TN (MAP) will be holding their annual traditional turkey shoot on Saturdays starting October 1st from 8 AM to 12 noon through November 26the from 8 AM to 12 noon.
Stock guns only. No custom guns or barrels over 36″. Prizes include but not limited to: Turkey, Bacon and Ham. Hot and cold refreshments will be available.
*Proceeds assist local veterans and the Greenbrier American Legion Post 45.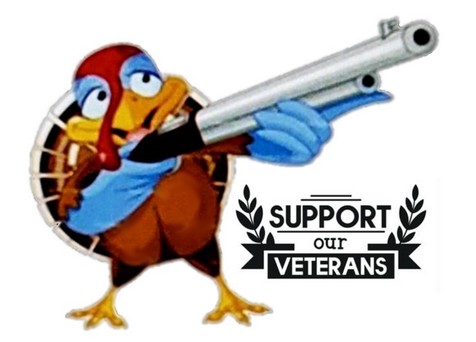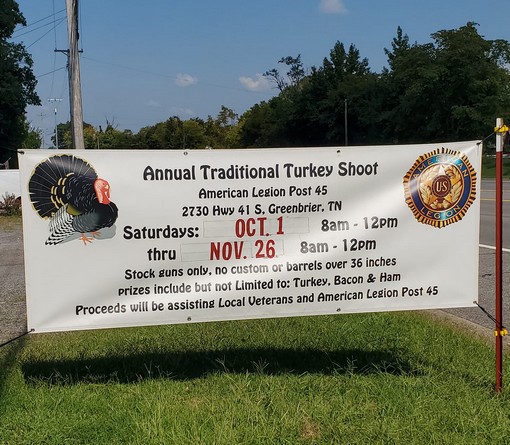 Coopertown Men's Club Annual Turkey Shoot
The Coopertown Mens Club will be holding their annual turkey shoot on Saturdays beginning October 22nd from 8am to 2pm through November 19th from 8am to 2pm at the Elelmentary school across from city hall (MAP) Directions: From Highway 49 turn onto Burgess Gower Road at the elementary school 2560 Burgess Gower Rd across from City Hall.
• Turkey shot $4 each for $20 gift card
• Ham shot $7 each
• 12, 16, 20 and 410 shells provided
• No outside ammunition allowed
• We have shotguns available for use if needed
• Academy Sports gift card for Remington 1100 Semi Auto 12 gauge shotgun. Raffle tickets $1
• Breakfast, lunch and soft drinks available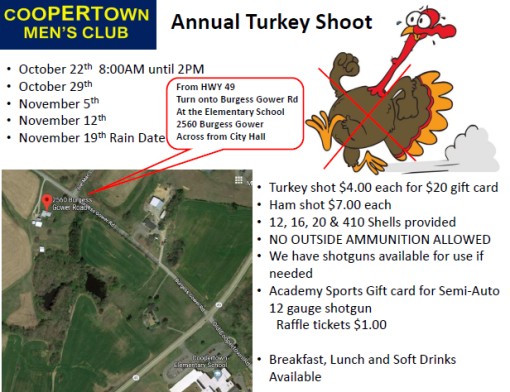 Community Announcement…
Tuesday Evenings: Parent Support Group for families of adult children dealing with substance use disorder
Tuesday 6:30 to 8pm at Springfield Baptist Church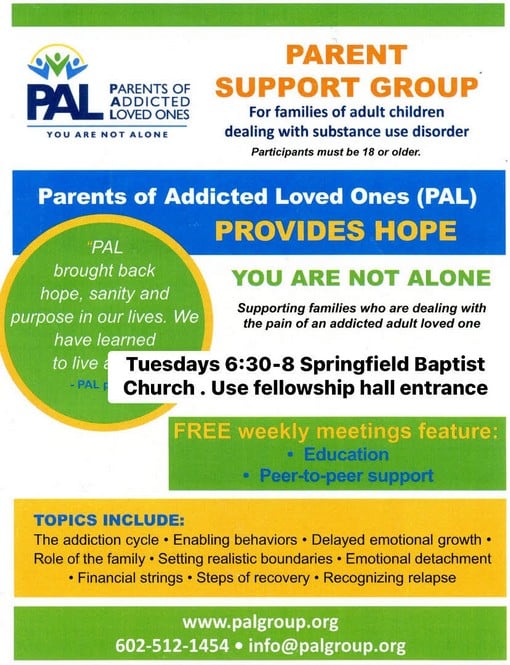 SEPTEMBER BOOK SALE – Runs through Oct. 2 at Greenbrier Historical Society Museum & Library on W. College Street.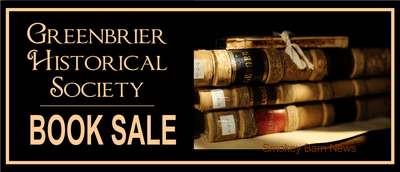 Open hours: Wed/Thur/Fri 10 AM – 4 PM and Sat 10 AM – 1 PM.
Thousands of books for all ages!

Community Announcement
Volunteers Needed for Robertson County Long-term Care Facilities
Do you want to make a difference for your senior neighbors residing in long-term care facilities in Robertson County?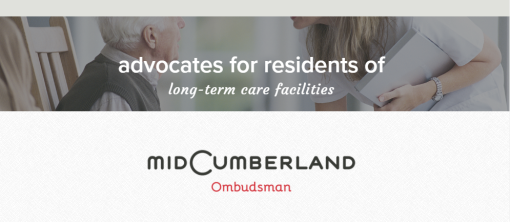 Mid-Cumberland Long-term Care Ombudsman Program advocates for the rights of residents in nursing homes, assisted-living facilities, and homes for the aged in Robertson County. Trained, certified Ombudsman volunteers pay regular visits to the facilities in Robertson County where they spend time with residents, monitor conditions, investigate complaints, educate regarding abuse and neglect and protect residents' rights.
Volunteer applicants must pass a background check and attend a 16 hour classroom training. The next training session will be Oct 20th and 21st, 2022.
Those interested in assisting have until Oct. 15th to contact the program by sending an email to [email protected] or by calling 615-850-3918.
We look so forward to you becoming part of the Ombudsman family!

Every Saturday Night: Racing in Robertson County


Every Wednesday – Classic Tin Cruise In – Springfield, TN
Located in the parking lot next to the Waffle House in Springfield. Every Wednesday night from 5-9PM. For more info call Shlby Horner at 615-336-2257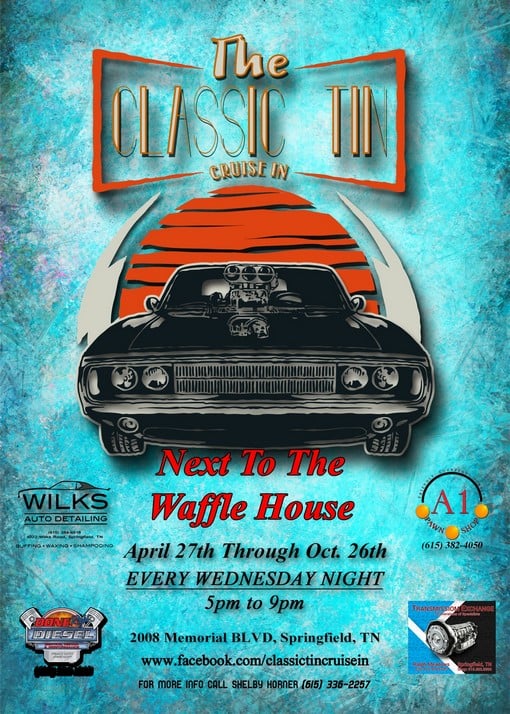 Revival Sept 25th thru 28th: Calvary Baptist Church in Greenbrier @ 6 pm
Featuring Dr Craig Edwards from Mount Airy, NC. Sunday school 9am, Sunday worship 10am. With 55 years in the ministry. Come be blessed.


October 8, 2022 – We're Back! October In Orlinda. The largest fall festival in this part of Tennessee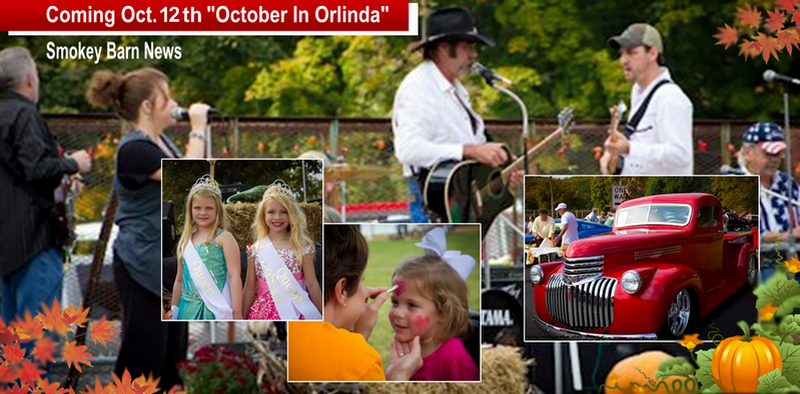 Saturday, October 8 from 10 AM to 3 PM in the Orlinda City park
Live music, festival foods and drinks, vendor booths selling a range of items, Miss October in Orlinda Beauty Pageant, Car related door prizes, Classic Car show/Cruise In,  kids corner, games and activities, fun and food for all ages!
There is still some booth space available for vendors, retail merchants or others interested in setting up.
Special music guest: "4 on the floor" band from 10 AM to 2 PM
For more info, contact Orlinda City hall at 615-654-3366 OR search October in Orlinda on Facebook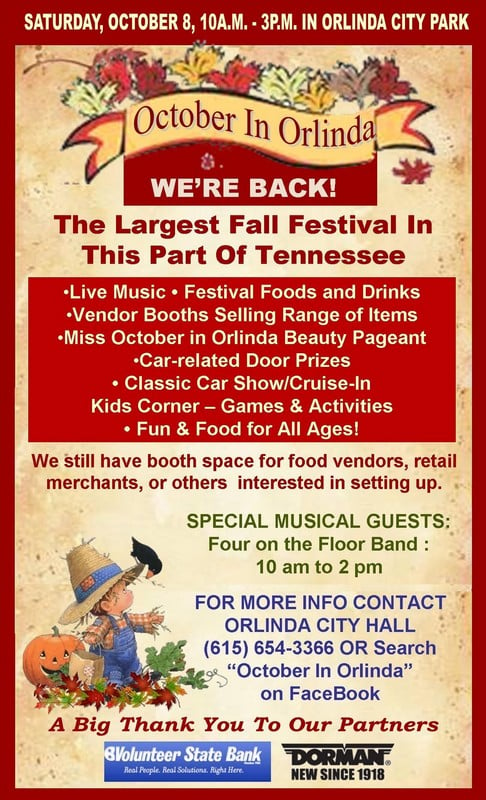 OCTOBER 8, 2022 Fall Festival Providence Baptist Church  AT 5 PM – 7 PM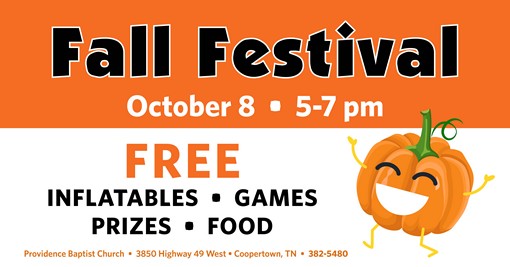 Location: 3850 SR-49, Springfield, TN 37172
Join us for free games, inflatables, food, balloon sculptures, a photo booth, and fun for all! We look forward to seeing there!

October 14th: Drive Thru Food Pantry Event Oct. 14th By United Ministries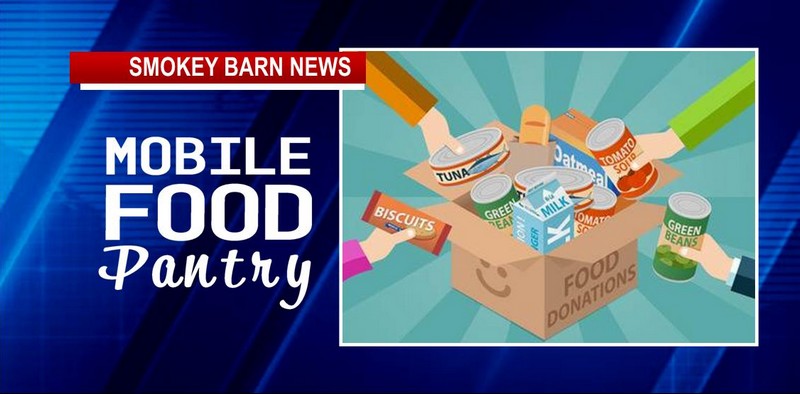 United Ministries of Springfield will be hosting a Drive Thru Food Pantry on Friday, October 14th.
They will be in the parking lot behind Springfield Baptist Church. The hours are 9:00 AM until 11 AM. Anyone with food insecurities are welcome to participate. Please have space in your vehicle for the food. They will also need your driver's license for correct information.
United Ministries has also partnered with Community Resource Center in Nashville. They supply hygiene products at no cost to communities with a need. They currently have many items like soap, shampoo, toothpaste, toothbrushes, deodorant, etc.
They also have feminine products to share with you.
Anyone can come to United Ministries for these much-needed products. They will be available for an ongoing time.
United Ministries of Springfield is located at 808 South Main Street(beside Cope). Hours are 10:00AM until 1:30PM, Monday through Friday.

October 15th: Chili Supper & Hayride at Calvary Baptist in Greenbrier

Saturday Evening – October 15th @ 5 PM. Chili & Hotdogs
COME & ENJOY FREE FOOD AND FELLOWSHIP
The Ball Brothers SINGING AT 6:00 PM
Bring Lawn Chairs, Free Fun For all Ages!

October 15th: The Old Country Church Bicentennial 1821-2021. Pleasant Grove United Methodist Church Celebrating 200 Years Of Faith
(Delayed In 2021 Due To Covid)
Location 3851 Pleasant Grove Road White House, Tennessee
Homecoming Worship Service Sunday, October 16th – 11:00am
Saturday, October 15, 2022, 2:00 Pm
History Of The Church Old Time Music And Praise Walk Through The Cemetery. Refreshments Will Be Served

October 15: CRUISE'N N GROOVE'N in Pleasant View, Tn
SATURDAY:  5 PM – 9 PM
2501 Pleasant View Rd, Pleasant View, TN 37146-8040, United States
**********NEW LOCATION************
Cruise'n N Groove'n cruise-in at the Pleasant View Community Park, 2501 Pleasant View Road, Pleasant View, TN.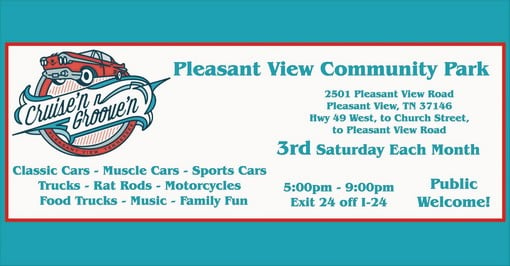 Starts May 21st thru October 15th. Times: 5pm – 9pm (or when the participants leave). We have DJ music, Food Trucks, "Pick of the Month" sponsored by O'Reilly Auto Parts.
At the October event, we will have our annual Trunk N Treat for the kiddos. For more info, contact 615-746-0600 or Jim Hutchens 615-517-1423 or Larry Rediker 615-419-5214.

October 18: Community Band presents "All That Jazz!" concert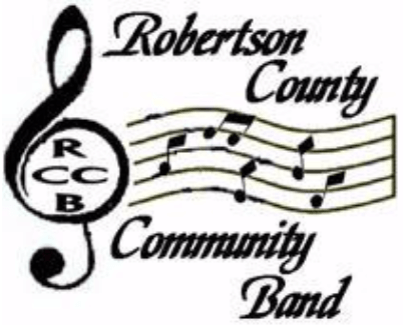 The Robertson County Community Band will present "All That Jazz!" – a concert that will feature well-known jazz pieces such as "Stompin' At The Savoy", "Serenade in Blue", "Fly Me To The Moon", "In A Sentimental Mood", and many pieces made famous by Benny Goodman, Duke Ellington and Frank Sinatra.
The concert will be held at the Byrum-Porter Senior Center, located at 9123 Highway 49E, in Orlinda on Tuesday evening, October 18th, 2022. The concert will begin at 7:00 pm and is free. Refreshments will be served during intermission.
The concert will feature vocalist Ken Ozimek on "Paper Moon" and "Blue Skies".
The Robertson County Community Band, in its seventeenth season, is always looking for new members. For more information about the concert, joining the band, or sponsorship, please call Janet Ozimek at (615) 973-5771. Ozimek can also be contacted at [email protected]
We invite everyone in Orlinda, Springfield and surrounding communities to come enjoy "All That Jazz!" with us!

October 22nd: Ace Hardware: Fall Festival & Trunk Or Treat! Businesses Invited To Participate
(Springfield/White House, TN)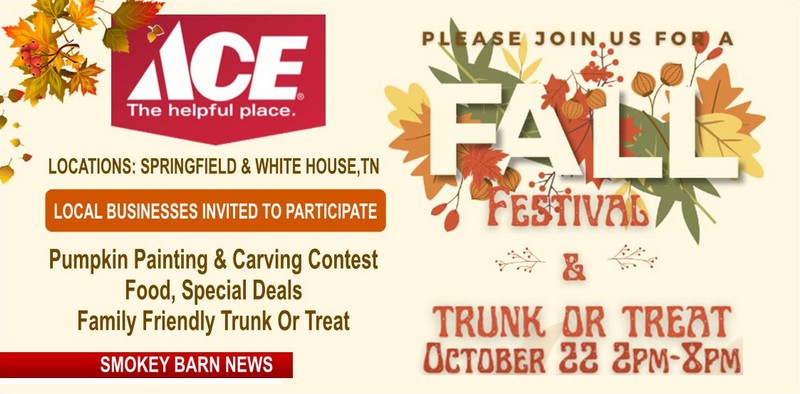 Ace Hardware is inviting the entire community to join them for a Fall Festival & Trunk or Treat and local businesses are welcome to join the festivities with their own booth/trunk!
The event(s) will be held on October 22, 2022, from 2 PM to 8 PM at the Ace hardware locations in Springfield and White House Tennessee with a Trunk Or Treat starting at 6 PM! MARK YOUR CALENDARS!!
Local businesses are encouraged to Partner with Ace Hardware's Trunk Or Treat 
Connections — Fun —Trunk Or Treat
Ace Hardware in White House & Springfield
"We are looking for local businesses and organizations to partner with on October 22, 2022, for our fall festival and trunk or treat. This partnership is completely free for you and will allow your company to get exposure to the community and create great business relationships. Your company is invited to participate! We want you to bring your vehicle decorate it and promote your business organization with us.
SIGN UP:
We have space for 15 trick-or-treat cars in our parking lot! If you are interested please contact us today for details and sign up. Contact email: [email protected] Or Phone 678-448-6338
LOCATIONS:
Ace Hardware Springfield:
400 Central Ave. E. in Springfield, TN 37172
Ace Hardware White House:
429 Highway 76 Whitehouse, TN 37188
EVENTS: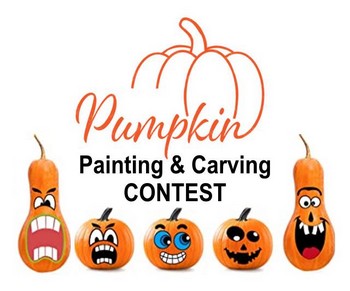 Pumpkin Painting, Pumpkin Carving Contest, Food, Special Deals, Family-friendly Trunk Or Treat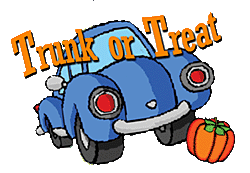 October 22: Greenbrier: 1st Annual Bobcat Rumble Car Show and Fall Fest. 
Oct 22. 10-2 at the Louise Martin Park for the 1st Annual Bobcat Rumble Car Show and Fall Fest. We have some really cool vendors, lots of cars expected, food trucks and live entertainment. Bouncy houses for the kids. Something for the whole family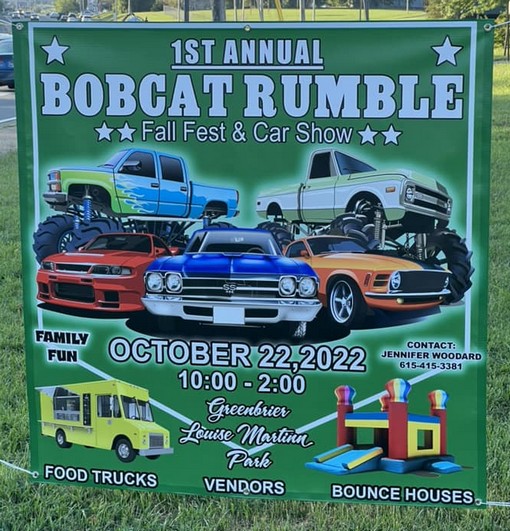 Car Show:
Door prize drawings for car show participants. For pre-register forms or booth rental info contact [email protected] or call 615–4 15–3381 all proceeds go to Greenbrier middle school PTO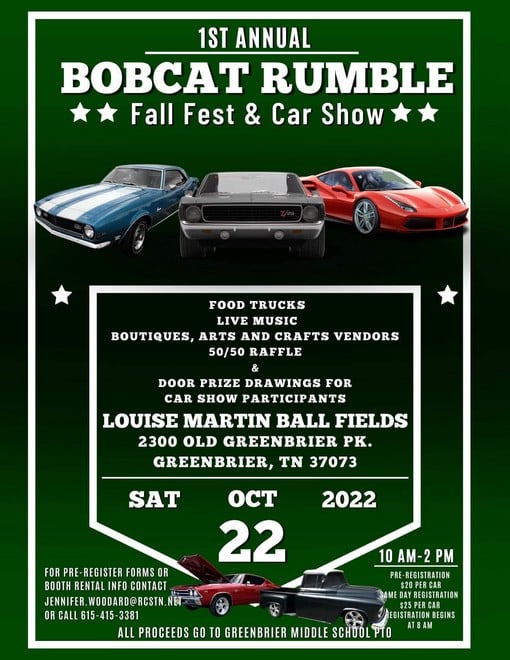 October 20: Cedar Hill Farmers & Community Market
From 5pm to 8pm – at 290 S. Main St. Cedar Hill, TN.
Nearly Two Dozen Vendors, Food trucks, Classic Car Cruise In, Live music by Joel Nulty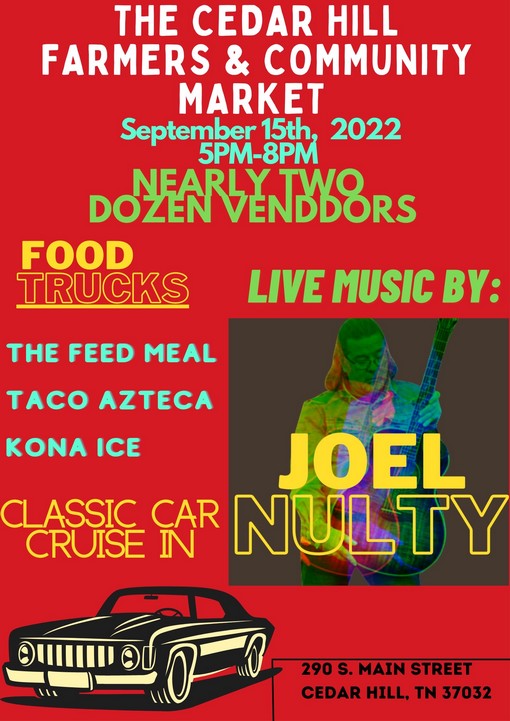 October 23: Bethlehem Harvest Festival
Bethlehem Baptist Church located at 5081 Bethlehem Rd in Springfield. From 5-8pm – Fun for the whole family!
Food, Trunk or Treat, Hayride, Petting zoo, face painting, Live music, Smores, inflatables and so much more!
Click flyer below for more details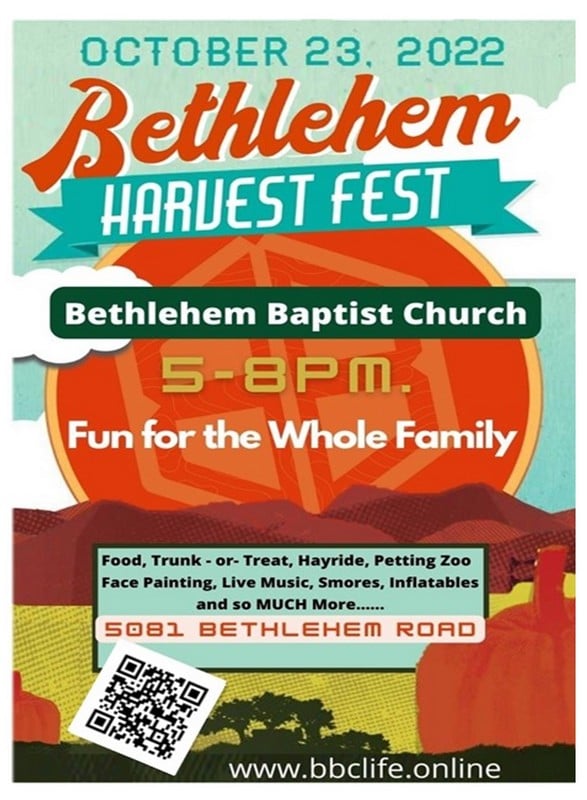 October 26: Classic Tin Cruise In Trunk Or Treat in Springfield from 6 pm to 8pm
Next to the Waffle House in Springfield, TN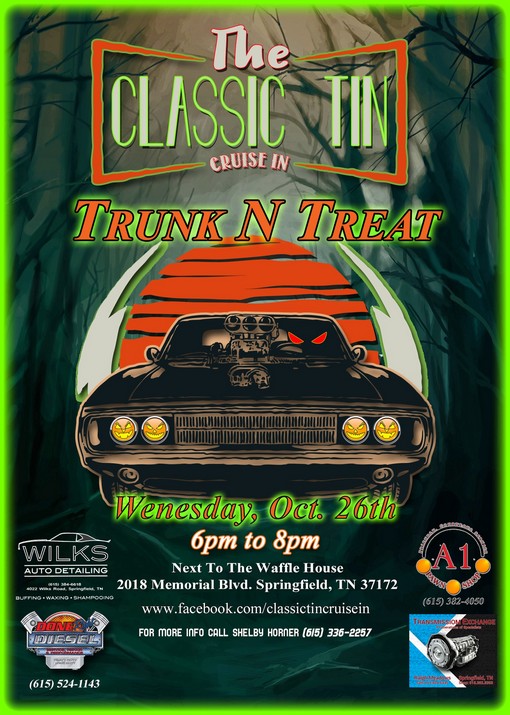 October 28-29-30, 2022: Morgan On The Rim- Civil War Reenactment – Ridgetop, Tn 37152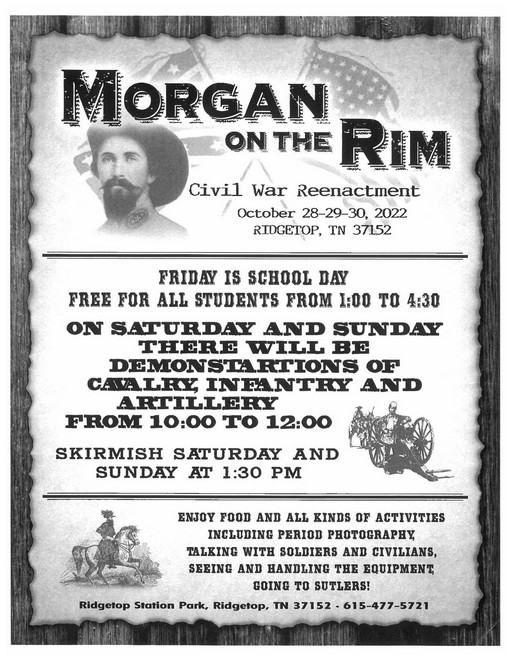 Friday Is School Day Free For All Students From 1:00 To 4:30 On Saturday And Sunday
There Will Be Demonstrations Of Cavalry, Infantry And Artillery From 10:00 To 12:00
Skirmish Saturday And Sunday At 1:30 Pm
Enjoy Food And All Kinds Of Activities
Including Period Photography, Talking With Soldiers And Civilians, Seeing And Handling The Equipment, Going To Sutlers!
Ridgetop Station Park, Ridgetop, Tn 37152
For more info: 615-477-5721
To See the video of the 2011 Reenactment click here
To see some past photos from 2011 click image below

OCTOBER 28-29 ADAMS 2ND ANNUAL FALL FESTIVAL
FEATURING MUSIC, FOOD, ACTIVITIES
FOR ALL AGES. – COSTUME COMPETITION, TRUNK-OR-TREAT
AND MUCH MORE! 
Friday OCT 28 3PM-8PM:
• 4-7pm Live music & Dancing
• 7pm Tractor pull
Saturday OCT 29  12PM-8PM:
12-7pm Face painting
3-8pm Live music
5pm Costume competition
6:30 Silent Auction & Raffle end
5-8pm Trunk or Treat
ALL FESTIVAL:
• Food
• Coffee Truck
• Games
• Vendors
WHERE:
AT THE OMER GENE BROOKSHER PAVILION AND BELL SCHOOL – 7617 US 41 N. ADAMS, TN 37010
FREE ADMISSION!!! DONATIONS ACCEPTED TO
HELP FUND FUTURE COMMUNITY EVENTS.
We would like to welcome anyone who wants to have a trunk in this year's Fall Festival Trunk-or-Treat. We expect another great turn out of Trunk-or-Treaters so let's fill their bags with candy!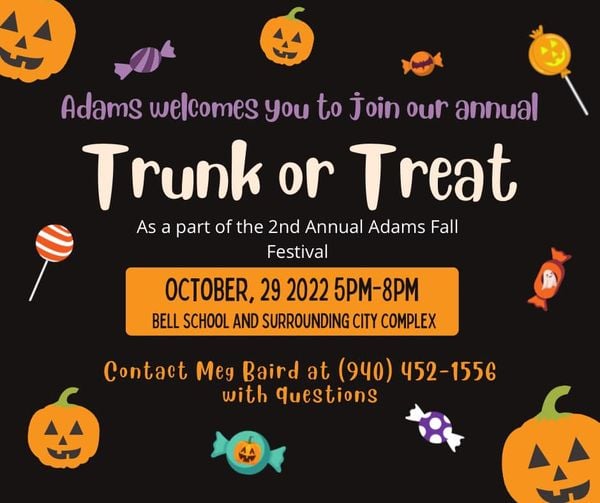 Saturday October 29th: Halloween Costume Dance Party Fundraiser from 6pm to 9pm – RC Senior Center
Where?
601 Locust Street Springfield, TN 37172
Admission $10
Fundraiser goes towards helping Robertson County Senior Center
Costume Contest Starts at 7:00
1st Prize: $100
2nd Prize: $50
3rd Prize: $25
~ Concessions will be sold
Thank you to all our sponsors who donated prize money to the Center for this contest.
The Joy Ride Band is a band of industry professionals with a huge song list comprised of every genre of music from Rock, Country, R&B to Jazz. Member's of the band have shared the stage with recording artists such as Bryan White, Robin Lee, and many more! The Joy Ride Band always "Brings the Party!" Come on out and hear this amazing band!!!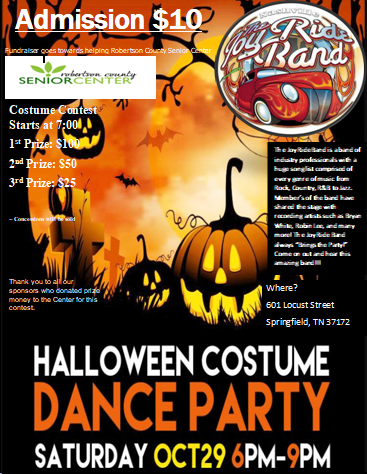 MONDAY, OCTOBER 31, 2022 Springfield's Payne Chevrolet  Trucks and Treats! AT 5 PM – 7 PM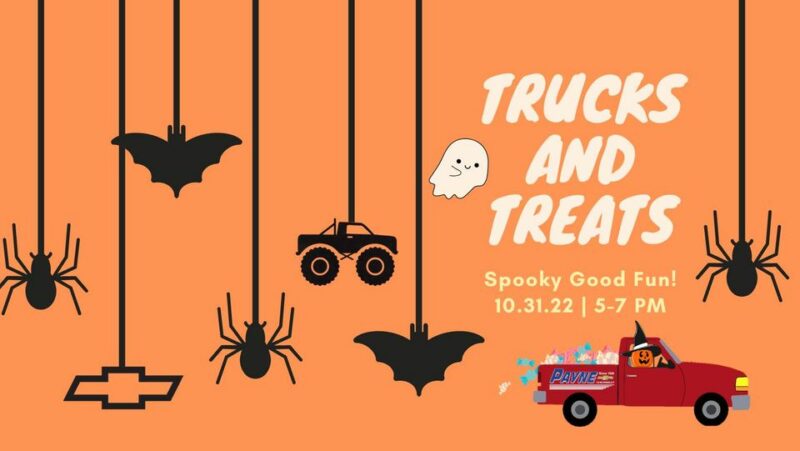 Payne Chevrolet in Springfield, TN – Come one, come all, to our annual Trucks and Treats!
All businesses, churches, and organizations are invited to come out and participate in our kid-friendly trick-or-treating event!
This is a safe environment for children to trick-or-treat in, surrounded by local community vendors. There will be plenty of treats to go around for all kids!
Important note: this is a completely free event and you DO NOT have to pay to become a vendor or to participate.
If you are interested in becoming a vendor, all you have to do is call Alex at 615-384-5573 and we will be happy to add you to the ever-growing list!
The event is from 5-7pm on Oct. 31st and vendor setup begins at 4pm!

October 31: Trunk Or Treat at Calvary Baptist Church in Greenbrier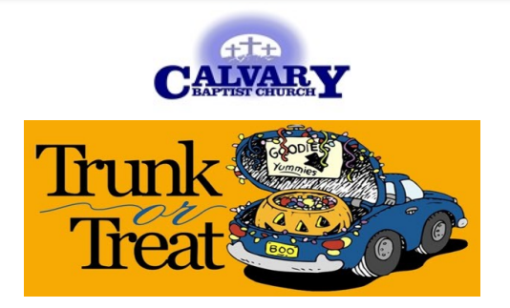 Rain or Shine In Our Gymnasium – Monday, October 31st 6:00 pm to 7:30 pm
Location: 2806 Hwy 41 S Greenbrier, TN

October 31: 3rd Annual Chili Off The Square – RC Senior Center
Chili, Hot Dogs, Corn Chips, Dessert, Drink – $10
This Fundraiser is open to the public. All proceeds raised will go to the Robertson County Senior Center for day-to-day operations.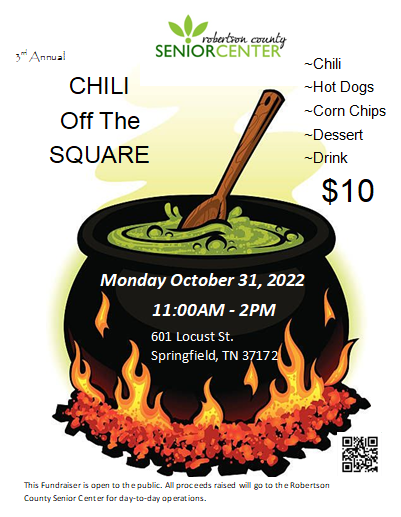 Mobile: To See The Latest Stories or to share this article, scroll below