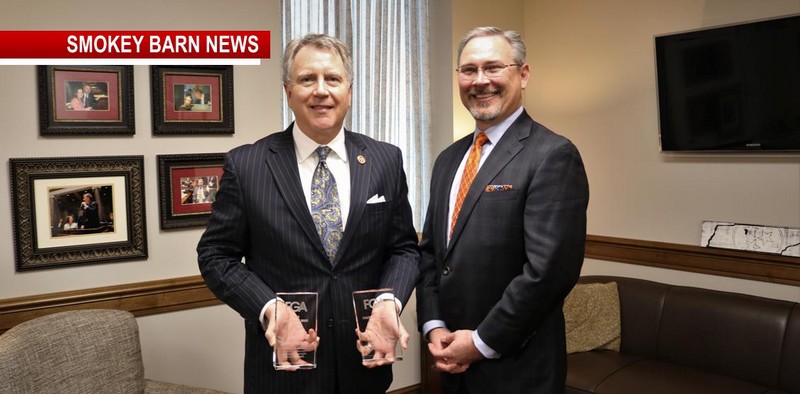 Foundation For Govt. Accountability Honors  Sen. Roberts
ROBERTSON COUNTY TENNESSEE: (Smokey Barn News) –Senator Kerry Roberts (R-Springfield) recently received two awards from the Foundation for Government Accountability (FGA) as the 2019 Legislator of the Year. The first is the Health Care Innovator Award, which honors his leadership in transforming Tennessee's health care system. The other is the Champion of Work Award, which credits his efforts in removing government barriers to meaningful work in Tennessee.
"It is an honor to receive these awards," said Senator Roberts. "Transparency in medical billing is extremely important to developing a consumer-driven health care system. I was proud to sponsor the Right to Shop Act in 2019 as a step in the right direction to ensure patients have the ability to shop for health care services such as laboratory services, physical therapy, radiology and other non-emergency outpatient services."
Senator Roberts received these awards for sponsoring Tennessee's new Right to Shop law. It calls on health insurance providers to implement a shopping and decision support program which discloses the costs on non-emergency outpatient services or procedures to their enrollees. This program helps patients make informed choices that fit within their budget or deductible.
"Calling out a broken system is one thing–offering positive solutions is another, and that's where Senator Roberts excels," said Tom Newell, government affairs director at FGA. "Senator Roberts understands the needs of his constituents and works tirelessly to produce real results—from offering more affordable health care options to removing the red tape that traps Tennesseans in dependency. This recognition is well-earned—when there's a job to be done, Kerry Roberts is the man to do it."
In 2018, Roberts also passed the Fresh Start Act to reduce red tape in Tennessee through occupational licensing reforms for those leaving prison and legislation establishing apprenticeship programs that lead to professional licenses.
"There is still work to be done in Tennessee to improve transparency in medical billing, as well as decrease government dependency by increasing access to fulfilling work. But I am proud to be a part of our progress. We will continue to work to ensure Tennessee is the best place in the country to live, work and raise a family," added Roberts.