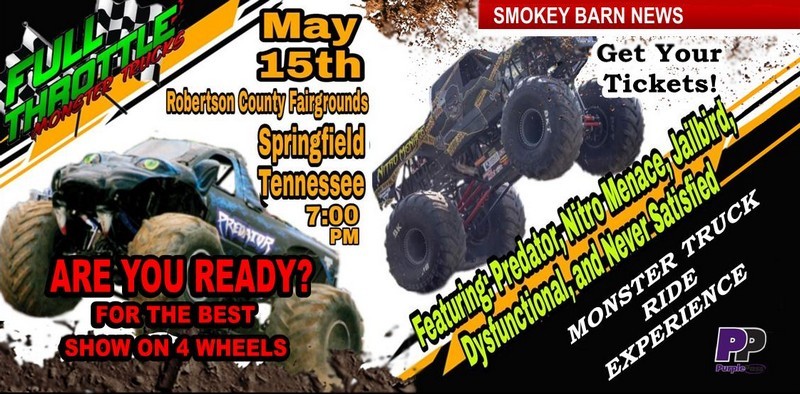 Full Throttle Monster Trucks Coming To Robertson County
UPDATE 5/14/21:
Monster Trucks Tomorrow…What You Need To Know.
We just got off the phone with the Full Throttle, Monster Trucks from across the region are currently headed to the Robertson County Fairgrounds, they tell us it will be a spectacular show!
Shows like this along with our county fair are made possible by the incredible staff of volunteers with the Robertson County Fair Assoc.
Answers to some questions for Saturday's Monster Truck Event:
Can we come for the Pit Party at 3 PM, leave, and come back for show at 7 PM? Short answer, yes. However, due to traffic constraints at the gate we can only do passes back out from 3-5 PM. Entry after 5 PM will be for the show beginning at 7 PM.
Can we buy tickets online the day of the event?
Yes. But the Family Pack discount ends Friday (Today). Individual tickets can be purchased online up until show time.
*********All purchases at the gates are CASH ONLY.
ROBERTSON COUNTY TENNESSEE: (Smokey Barn News) – Better watch out because here they come! It's Monster truck "Full Throttle" heading to the Robertson County Fairgrounds and it's just two weeks away!!
Here's the WHAT, WHERE & WHEN but you already know why!! Because they're big, loud, and over the top!
WHAT Full Throttle Monster Trucks By The Robertson County Fair, TN
WHEN: Saturday, May 15, 2021, 7 PM
WHERE: Robertson County Fairgrounds – 4635 Hwy 41 North, Springfield, TN (Map)
Tickets – Click Here
Meet the drivers!!!! Pit Party 3 pm to 5:30 pm:
What is pit party?… This is your chance to get up close and personal with the Trucks and Drivers. Take pictures, get autographs, MEET THE DRIVERS!!! Every Ticket includes a free pass to the Pit Party Courtesy of the Robertson County Fair!
Who's coming? The Predator, Nitro Menace, Jailbird, Dysfunctional, and Never Satisfied!!
Adult Ticket plus Pit Party Pass: $15.00
Kids Ticket plus Pit Party Pass: $12.00
3 & Under: $0.00
Family 5 pack: $60.00
Ages? All Ages Welcome!!
Take a ride on the wild side!!! Ride the Predator Ride Truck!!! (Additional Fees Apply)
Don't forget to tell your friends!!!
Mobile: To See The Latest Stories or to share this article, scroll below