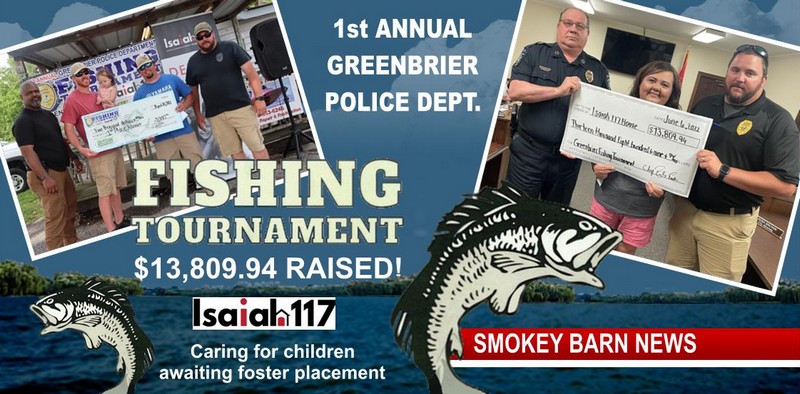 Greenbrier Police Raise Over 13K In Fishing Tournament For Isaiah 117 House
GREENBRIER TENNESSEE: (Smokey Barn News) – In April, the Greenbrier Police Department held its first-ever annual benefit fishing tournament. The beneficiary was the Isaiah 117 House of Robertson County.
"On April 30th, 2022 the Greenbrier Police Department held its first annual Greenbrier Police Department Benefit Fishing Tournament," said event representative, Buster Locklayer of  Greenbrier Police Department's Criminal Investigation Division. "This year's beneficiary was the Isaiah 117 House, a non-profit organization that assists with the transition of children removed from harmful environments including but not limited to drug exposure, abuse, and neglect."
The Isaiah 117 House works hand in hand with Child protective services, DCS, and law enforcement by, "Providing physical and emotional support in a safe and loving home for children awaiting foster care placement."
"It is with great pleasure and pride that we are able to donate 100% of the raised proceeds to the Isaiah 117 House in the amount of $13,809.94," Locklayer said.
CONTINUE READING BELOW PHOTOS………………….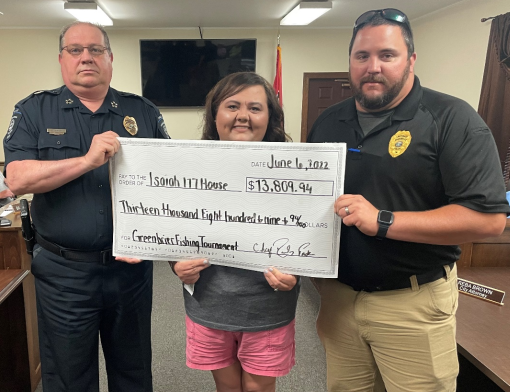 Blast off was from Flippers Bait and Tackle, (200 Odom's Bend Rd, Gallatin, TN.) and we had a great time!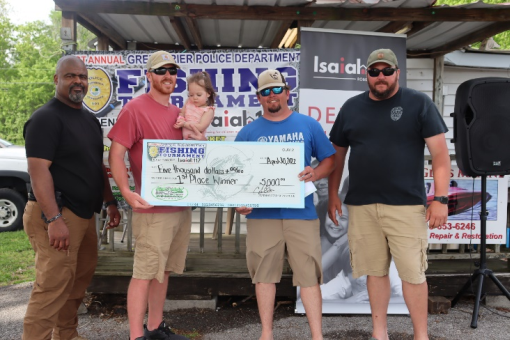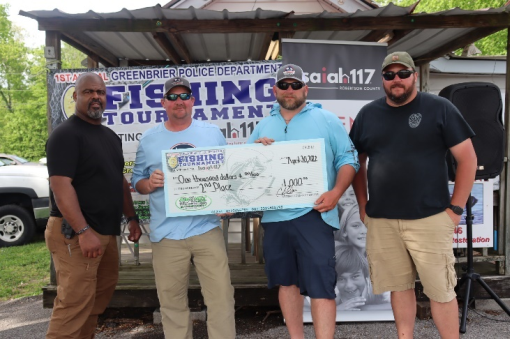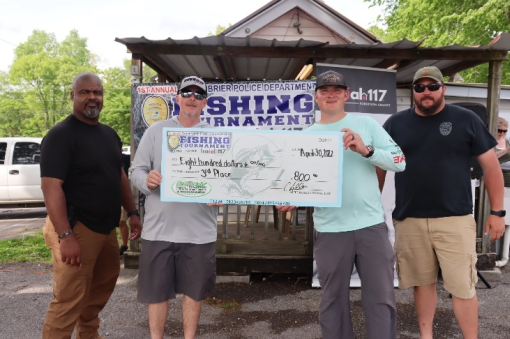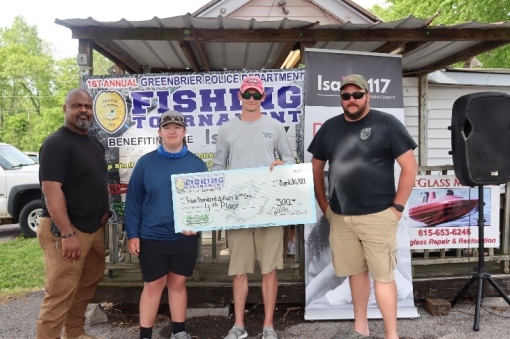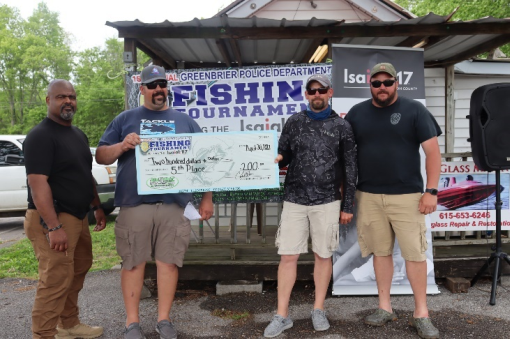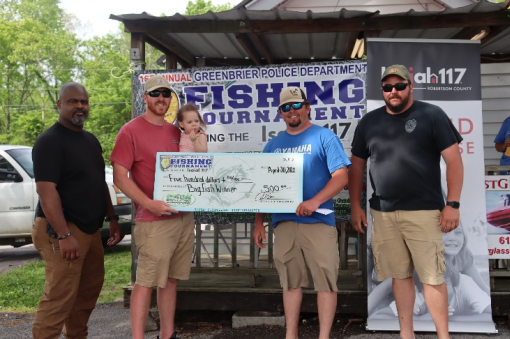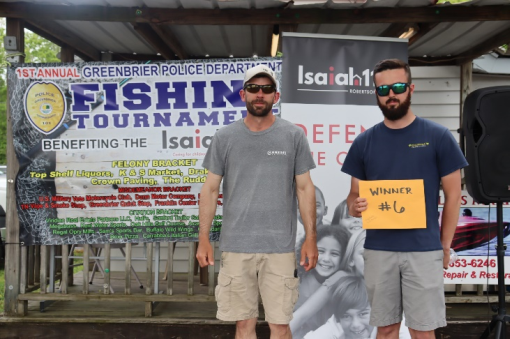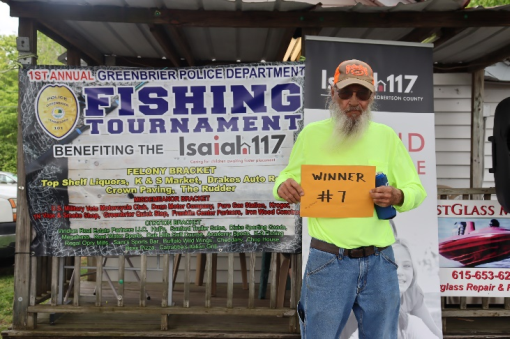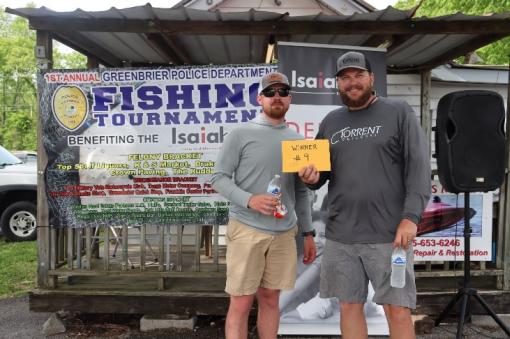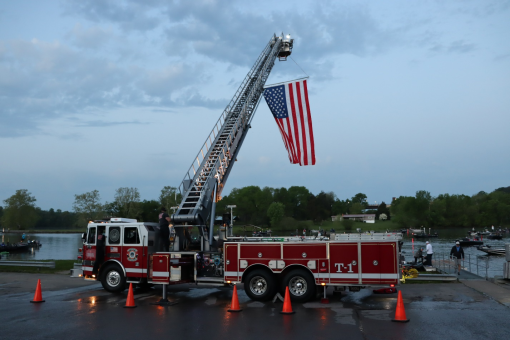 "The Greenbrier Police Department would like to thank all who were involved in making this donation a success. We would also like for you to help support the generous sponsors and donors that made it possible" Locklayer said.
Anyone wishing to donate or further support the Isaiah 117 House, can visit their website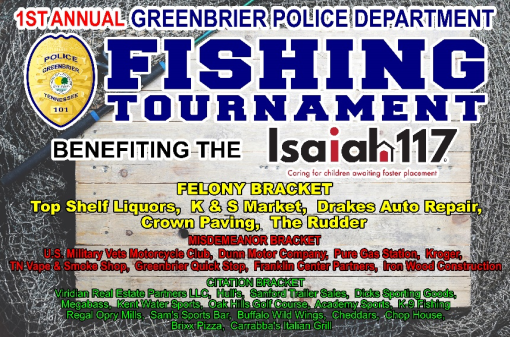 FELONY BRACKET DONORS ($1000-$2500):
• K&S Market
• Top Shelf Liquors
• Drakes Auto Repair Inc
• Crown Paving
• The Rudder Lakeside Restaurant
MISDEMEANOR BRACKET DONORS ($500-$999):
• US Military Vets Motorcycle Club TN5
• Dunn Motor Co.
• Phillips 66 Greenbrier, TN
• Anderson Marine
• Grace Baptist Church
• Torrent Outdoors
• Kroger Marketplace Gallatin, TN
• Greenbrier Quick Stop
• TN Vape & Smoke Shop Greenbrier, TN
• Franklin Center Partners
• Iron Wood Construction
CITATION DONOR BRACKET ($100-$499):
Viridian Real Estate Partners LLC
Hull's Environmental Services
Sandford Trailer Sales
Dick's Sporting Goods Hendersonville, TN
MegaBass USA Fishing Equipment
Kent Water Sports
Oak Hills Golf Course
Duckett Rods
Brixx Wood Fired Pizza Hendersonville, TN
BS Brew Works Inc
Academy Sports Rivergate
K-9 Fishing Products LLC
Carrabba's Italian Grill Hendersonville, TN
Regal Cinema Opry Mills
Sam's Sports Grill
Buffalo Wild Wings Hendersonville, TN
Cheddars Hendersonville, TN
Chop House Hendersonville, TN
Alderman Chris Davis
Mr. Wendell Lassiter
Mr. Corey Allgood
Mr. Marty Wall
Mobile: To See The Latest Stories or to share this article, scroll below