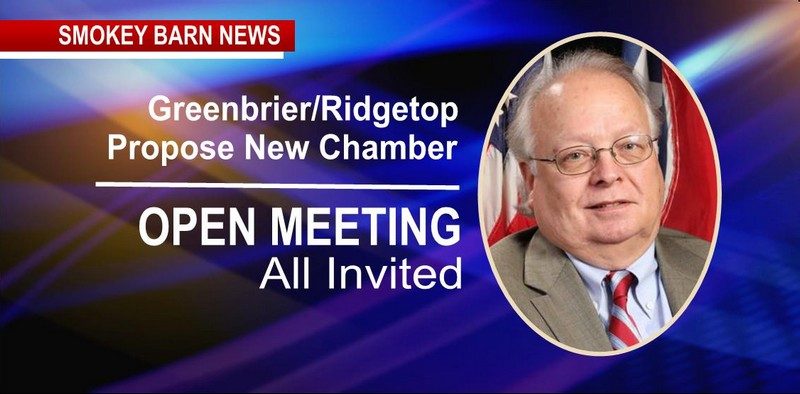 Greenbrier/Ridgetop Propose New Chamber: Open Meeting, All Invited
GREENBRIER/RIDGETOP TENNESSEE: (Smokey Barn News) – Officials in Greenbrier and Ridgetop have begun the process of gauging interest in setting up their own Chamber of Commerce.
Robertson County Commissioner Dennis Wade will be making a presentation on the pros of Greenbrier and Ridgetop having their own Chamber at a special called meeting on June 13 in Greenbrier.
Currently, Robertson County is being serviced by four Chambers. Robertson, White House, Cross Plains, and the Portland Chamber, which has members on the Robertson side of 31w, according to their office. A Greenbrier /Ridgetop Chamber would be the fifth.
"We as a group down here want to be focused on Greenbrier/Ridgetop," said Commissioner Wade in a meeting with Smokey Barn News Monday afternoon.  Wade said he has nothing against the other local chambers. "We're just looking for local people to get involved" – "Robertson County does a great job, and a lot of us down here are members of the Robertson County Chamber. I don't see any reason to stop, and I'll tell them that when we do the presentation," Wade said.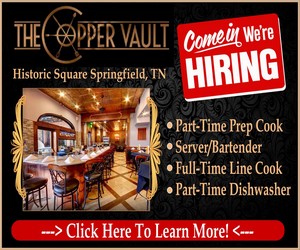 Commissioner Wade said he was contacted by a group expressing interest in starting a chamber for the Greenbrier/Ridgetop area some weeks ago and he's essentially become the arms and legs of the idea. According to Wade, since then both mayors (Ridgetop and Greenbrier) have shown an interest and have talked to him. "Both said they would love to have the help and resources," Wade said.
Commissioner Wade says he has a background of involvement with several Chambers. "I was an officer and a board member for the Goodlettsville Chamber of Commerce. I've been a member of both White House, Robertson County, Goodlettsville and Hendersonville chambers and the last time Greenbrier had a Chamber I was a treasurer there." Wade said back then the chamber dissolved due to a lack of interest but he believes that things might be different now.
"I'm going to be honest, we're going to pitch the idea and just see how much interest there is. If there's not enough interest we'll just go back to supporting our Robertson County Chamber. The new chamber would carry the name "GreenRidge Chamber of Commerce."
Wade says that initially, the Greenbrier/Ridgetop Chamber would be virtual until they got the ball rolling and set up an actual office with full-time staff. "There would be a monthly meeting if everybody wants to do it and when we can get to a size that we can sustain somebody we'll probably start with a part-time employee," Wade said.
Wade says the purpose of a Chamber is to educate its members about opportunities and promote the community to new businesses. "It's a way to promote new growth and new business in our community because that helps all of us," Wade said.
"We'll just see how many show up, that's going to be the key," Wade said."
The White House Area Chamber also has a strong presence in Robertson County with members all the way into Springfield. The President & CEO Mandy Christenson told Smokey Barn News that they don't discriminate, they have members all over Robertson County. In fact, about 75 percent of the White House Chamber members are located in Robertson County, according to Christenson.
"We have members in Springfield, Gallatin, Hendersonville, so we have members all around the White House area. Essentially, if people do business in the White House community we welcome them to become a part of our chamber," Christenson said.
Christenson says that when an area is more rural, having a central chamber makes sense so you can pull the areas decentralized resources together but as an area becomes more developed the need for cities to have their own chambers becomes more important for business development.
According to Christenson, the function of a county chamber can change as the cities within it experience growth. "It (a county chamber) may change, from networking and community development, more into advocacy with the state and local government or economic development."
If you would like to attend the exploratory meeting Wade says everyone is welcome. The meeting is on June 13th at 7 pm at the First Baptist Church Fellowship Hall. 2518 Hwy 41 South in Greenbrier. MAP  Questions: [email protected] or 615-859-5772
What do you think, should the Greenbrier/Ridgetop area have its own chamber? Will you be attending the meeting? Tell us in comments.
Smokey Barn News (Advertisement)
Smokey Barn News (Advertisement)
We bring you ALL the News in and surrounding Robertson County, Tennessee.