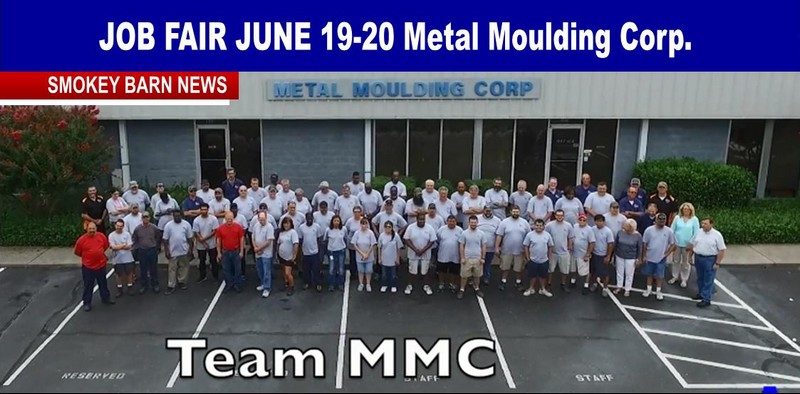 Growth Sparks Job Fair At Metal Moulding Corp In Madison, TN
MADISON TENNESSEE: (Smokey Barn News) – Metal Moulding Corporation is one of the leading custom metal and plastic fabricating firms for the marine industry within the United States. Due to continuous growth and expansion, we are hiring motivated individuals with manufacturing experience or a willingness to learn. Must be 18 years of age, dependable, have transportation to and from work, and able to pass a background check and drug screen. Experience with hand tools, drill presses, brake presses, etc. is a plus.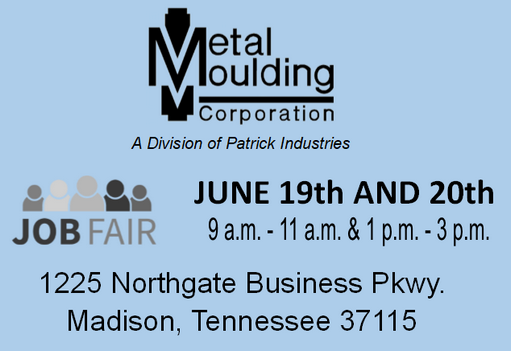 We are currently hiring for the following positions:
• General assembly work using hand tools (air drivers, sanders, grinders,
drills, etc.)
• Assembly Operators – Plastic and Metal Departments (drill press, band
saw, rivet machines, end mill, etc.)
• CNC Machines
• Laser Operators
• Paint Department – Painters, load and unload Operators
• Operators to run Tumbler Machine
• Welders (MIG and TIG)
The Plastic Department has four CNC routers. The Paint Department has an in-house appliance quality powder coating operation with a 5-stage wash system.
1st shift: Full time 5:00 a.m. – 3:30 p.m. or 6:00 a.m. – 4:30 p.m. at $12.00/hr. and up
Part-time 6:00 a.m. – 12:00 p.m.
2nd shift: Full time 3:30 p.m. – 12:00 a.m. at $13.00/hr. ($1.00 shift differential)
Part-time 3:30 p.m. – 10:00 p.m.
If you are unable to make the Job Fair…
You may submit a resume to us to our email address:
[email protected]
or mail it to us to our address:
Metal Moulding
1225 Northgate Business Pkwy
Madison, TN 37115
If you email your resume to us:
We will email you to let you know we received it.
If you don't hear from us within five (5) business days,
please contact us by phone.
Smokey Barn News (Advertisement)
Smokey Barn News (Advertisement)
We bring you ALL the News in and surrounding Robertson County, Tennessee.