Hiding In Plain Sight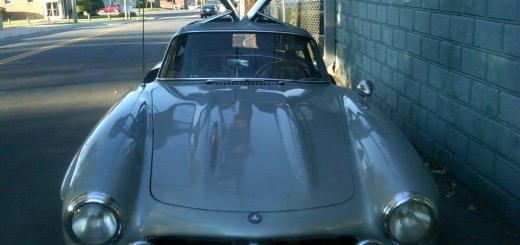 Hiding In Plain Sight
Half Million Dollar Car In Springfield
Jim Ball reporting October 9, 2012
Hidden right in plain sight in Springfield today was this 1954 300SL Gullwing Mercedes. As I drove by it today I said "oh look, there's a Gullwing Mercedes", then my face went white and I locked up my breaks, well almost. It's just a little strange to see one of these cars sitting on the side of the road.
Most of these cars are in private collections or museums. Funny thing is, back in the 80's these cars were not considered to be all that special and were often seen parked on the side of the road like any other car. That is until one day someone decided they were worth a half a million bucks. The Gullwing Mercedes is believed to be the world's first supercar and only 1,400 units of the Gullwing were made.
(See MORE Photos Below)
The Mercedes-Benz 300SL was the first iteration of the SL-Class grand tourer convertibles and fastest production car of its day. Internally numbered W198, it was introduced in 1954 as a two-seat sports car with distinctive gull-wing doors and later offered as an openroadster.
Built by Daimler-Benz AG, the fuel-injected production model was based on the company's highly successful yet somewhat less powerful carbureted 1952 race car, the Mercedes-Benz 300SL (W194).
The idea of a toned-down W194 tailored to affluent performance enthusiasts in the booming post-war American market was suggested by Max Hoffman. As such, it was introduced at the 1954 New York Auto Showrather than the Frankfurt or Geneva shows other Mercedes models made their debuts at. The "300" in its name referred to its three litre engine displacement, and "SL" stood for "Sport Leicht" (Sport Light).
The 300SL was best known for its distinctive gull wingdoors, first-ever consumer fuel-injection, and world's fastest top speed. The gull wing version was available from March 1955 to 1957, the roadster from 1958 to 1963. It was followed in the Mercedes line by the 230SL. Go here if you'd like more on the car's history –> http://en.wikipedia.org/wiki/Mercedes-Benz_300SL
So what's it doing here in Springfield? Let me answer that this way. If you live is Springfield for long you begin to realize that there is money here. At a glance you might miss it but think about it. How many buildings do you see going up? How often do you see building makeovers. The streets are always full of deliveries and semi trucks filled to the brim of who know's what. So there is money in Robertson County but it's what you call quiet money. In other words they're not running around in Ferrari's or Lamborghini's. Understatement is how RC does it. You may see a Hummer here and there or even a few 80 to 90K low key looking Merc's and Beemers that would seldom garner a second look, that is unless you play the game. Even this car is a tad low profile and could conceivably slip under the radar, until you open up those beautiful Gullwing doors and a crowd begins to gather. They're a little hard to hide. 
At any rate, I'm just glad I was lucky enough to spot her. By the way, she was parked at B & J Automotive at 1324 South Main Street in Springfield. The owner of B & J Automotive Dan Burdge spent a little time with me to chat about the car. The owner of the car (a local resident) found Dan via a recommendation from Mercedes. It was brought in to have some engine work done. Apparently she's running like a top after Dan's tinkering. Dan does high end restoration to include mechanical and full collision on the new stuff but according to Dan he's one of the few shops in the area that does restoration on the older high end collector cars. A quick glance in his shop confirmed that he does have some rare cars in there. Older high dollar collector car restoration or even engine work on them must be done properly. You have to follow the proper factory original specs or you can greatly impair the cars value. This car is rare enough that a simple wax job and detail before it was shown to a buyer could effect the price by 10 grand and I'm not joking.
The owner of the car says he has a collection of notes left on his windshield of offers to buy the car but it's absolutely not for sale. I guess I'm not the only one in RC to notice the cars charm. You will be glad to know that the owner actually drives the car and has no plans to completely restore it, he wants to drive it. So many times these cars just sit because they are so rare.
To give you an idea of the car's value let's compare it to the Lamborghini Countach. For many their first look at the Countach was in the movie Cannonball Run and it was love at first sight. The Countach is considered by many to also be a very early super car and some say the first. It's easily the most photographed that much is certain. The Countach was first shown in Paris in 1971 and it stole the show. In the Countach's entire production run from 1974-1990 less then 1800 units were made, so it too is very rare with similar production numbers, but yet this 300SL is worth 2 or 3 times that of a Countach ..
At any rate, what a treat.. Thanks Dan and the owner too for letting us all look over this beauty..
Jim Ball reporting October 9, 2012
Powered By
American Tire Company Springfield TN 37172
Tires and Much Much More!
 ——————–> FOR MORE PHOTOS CLICK HERE <——————–
Comments
comments