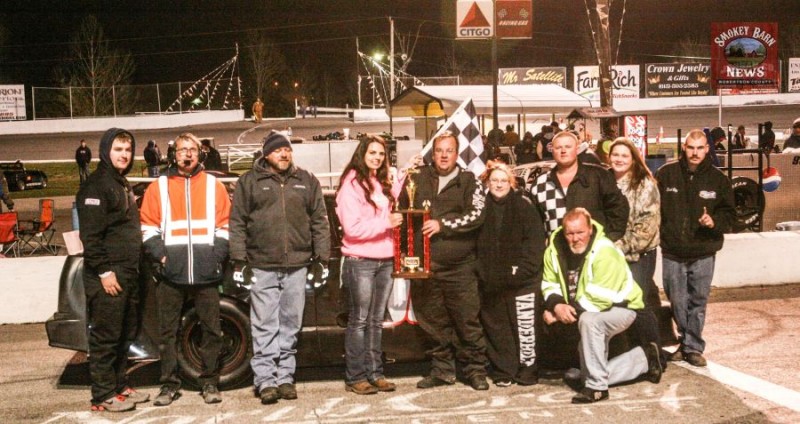 Highland Rim Speedway (This Week's Highlights) 
REFRESH PAGE FOR MORE HIGHLIGHTS AS THEY COME IN
GREENBRIER TENNESSEE: (Smokey Barn News) – What a winter we had in Robertson County, race-car drivers from across middle Tennessee have been chomping at the bit to get back out on the track.
Now that the snow and sleet is finally behind us, the professional drivers have exploded out onto the track at Highland Rim Speedway. The "Rim" is located at 6801 Kelly Willis Rd in Greenbrier, right here in the middle of Robertson County. MAP
This Saturday night kicked off the season at the Rim with winter nipping at heels of the drivers as the drivers poured out onto the track.  As the drivers hit the track the outside temperature was 40 degrees giving more experienced drivers an edge.
In spite of the weather, a good crowd was on hand for the Season opening event. Highland Rim is a favorite Robertson County hot-spot for some of the best Short Track Racing in Middle Tennessee.
After setting fast time, 2015 Pro Truck Champion Matt Spurlock got a good jump at the drop of the green flag battling side by side down the front stretch with Dustin Goodwin on his outside.
Spurlock used the preferred inside line to wrestle the lead from Dustin Goodwin going into turns 1 and 2. As Spurlock exited turn 2 he found himself leading the first event of the season. Dustin Goodwin kept close tabs on Spurlock the entire race as 14 year old Rookie Garrett Dies followed in the veterans tire tracks gaining experience and staying out of trouble in his first ever Pro Truck event.
The top three trucks ran nose to tail for the majority of the race with Spurlock taking the checkered flag followed by Dustin Goodwin with young Garrett Dies closing in on Goodwin on the White Flag lap trying a unsuccessful last lap maneuver off turn four for the second position.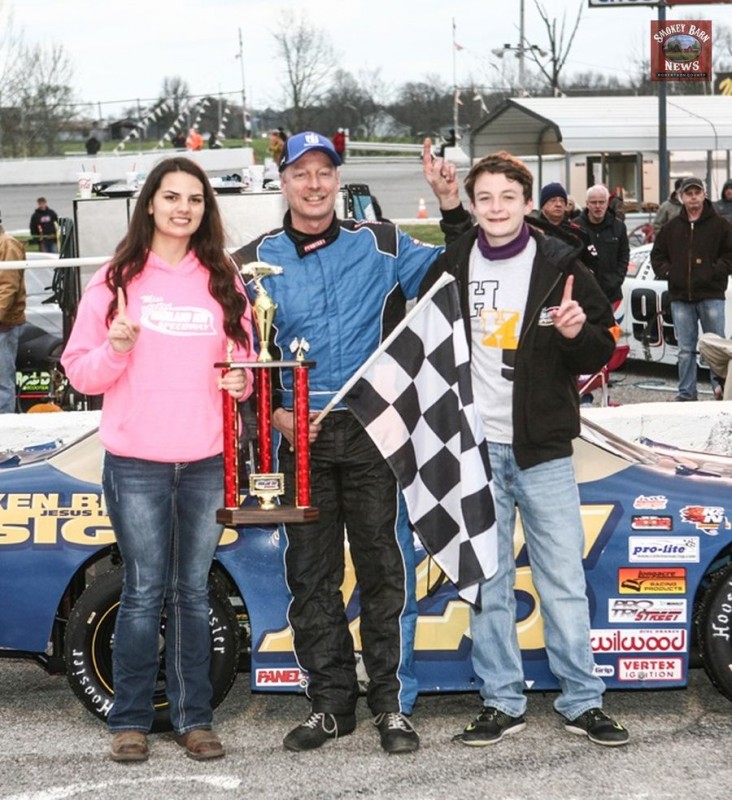 Next came the Baby Grand Division,  they also put on a great show with Hendersonville's Ronnie Binkley coming out on top.
Starting 3rd Binkley began to reel in the top two cars of Tim Vinsant and early leader Chris Willis.
After the first caution of the night Binkley got the jump on the restart running side by side with Vinsant first and then Willis for several laps in one of the most exciting races of the night to claim his first win of the season.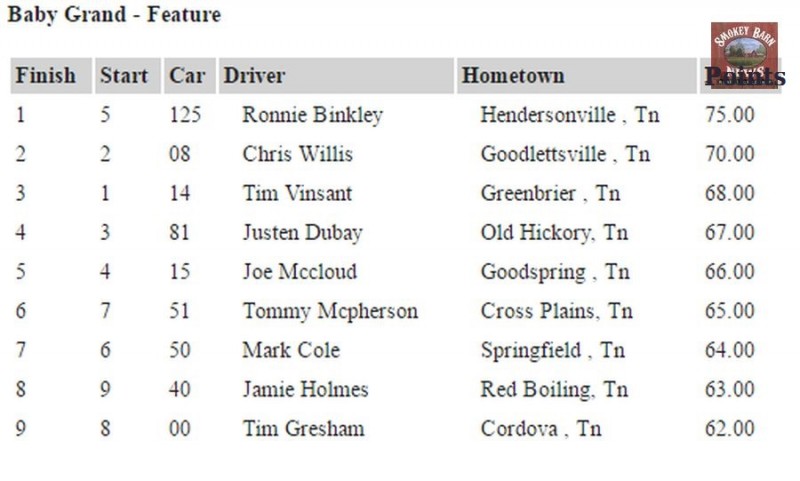 As more racing highlights come into our news room we will bring them to you.
Smokey Barn News (Sponsor/Advertisement)


We bring you ALL the News in and surrounding Robertson County, Tennessee.