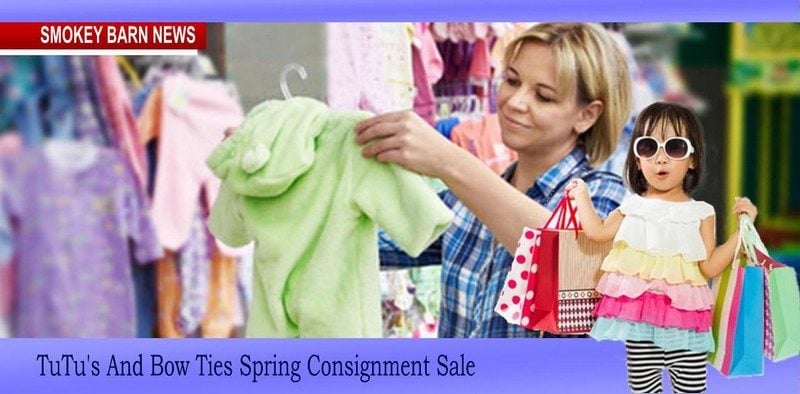 (Sponsored event)
Huge Spring Children's Consignment Sale, By Tutus & Bow Ties
SPRING SALE DATES ANNOUNCED!!!!!!!!!!!
🌸☀️🌸☀️🌸☀️🌸☀️🌸☀️🌸☀️🌸☀️🌸☀️
SPRINGFIELD TENNESSEE: (Smokey Barn News) – Tutus and Bow Ties Children's Spring Consignment Sale in Springfield TN is right around the corner. Lots & lots of Children's clothes, maternity items, baby furniture, bedding, books, movies, toys, clothing, shoes, accessories, outdoor items!
Location:
Inside Stewart Williams Furniture: 801 Memorial Blvd, Springfield, Tennessee
Drop Off:
Sunday Feb. 21st 12pm-4pm
Monday Feb. 22nd 11am-6pm
Tuesday Feb. 23rd 9-11am (appt required)
*Appointments suggested*
Pre-Sale:
Tues. Feb. 23rd
Volunteers 4pm-5pm
Consignors 5pm-8pm
Public Sale:
Wednesday Feb. 24th 9am-6pm
Thursday Feb. 25th 9am-6pm (Restock Day!!)
Friday Feb. 26th 9am-6pm
Discount Days:
Saturday Feb. 27th 25% off 10am-6pm
Sunday Feb. 28th 50% off 12pm-5pm
Tutus and Bow Ties is a Children's Consignment Sale located in Springfield, Tennessee. Consignment Sales are a great way to clear out your children's outgrown toys and clothing while making room for more at a HUGE bargain!
We accept both Girl's and Boy's clothing ranging from Newborn and Up. We will also be accepting shoes, toys, movies & books, bedding, toddler/baby furniture, and equipment! We do accept items previously tagged for other sales as well. Not only can you save money at our sale but you can MAKE money!! As a consignor, you receive 70% of the selling price!
Please email us to get your Consignor Number, and Tagging Information! If you have any questions or would like to speak with us, please email us and we will contact you promptly.
Email: [email protected]
Share with your friends below who would love to make some money and score some amazing items for the little ones in their lives! Follow us on FaceBook
Mobile: To See The Latest Stories or to share this article, scroll below