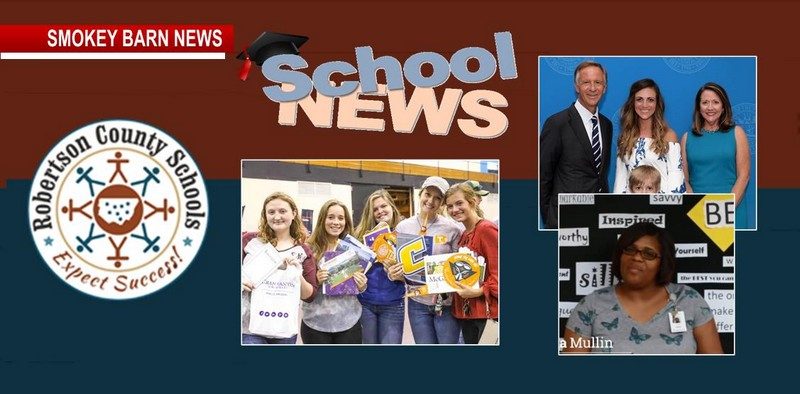 ROBERTSON COUNTY TENNESSEE: (Smokey Barn News) –Aug./Sept. 2018 In Robertson County Schools: ACT Counts, College Fair, Student/Teacher Achievements & New Social Workers
Community College Fair Provides Information For Potential Post-Secondary Students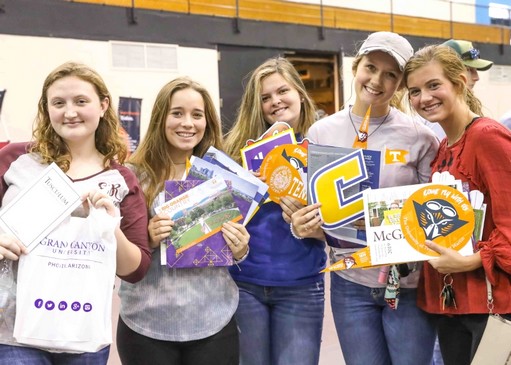 Nearly 150 high school seniors and Robertson County adults were able to collect student recruitment information and ask questions from representatives of 55 colleges, vocational schools, and universities on Wednesday, Sept. 12, at the Center in Springfield.
Local and regional institutions were well represented, with other schools traveling from as far away as North Carolina and East Tennessee. Grand Canyon University of Phoenix, Arizona was the most distant school represented at the event.
A number of students seemed to show particular interest in the Tennessee College of Applied Technology opportunities available. With the availability of two years of paid education through Tennessee Promise, more and more young people are opting for technical training in fields from electrical, to HVAC, to robotics, etc. After completion of the two-year training requirements, a student can enter their job field with expectations of attractive initial salaries.
Because of the attractiveness of TCAT courses, there is currently a waiting list of about 18 months, making it a wise choice for those who might be interested in the program to go ahead and consider adding their name to that list now.
The Community College Fair is offered yearly to provide current and complete post-secondary education information for anyone considering the option of education after his or her high school graduation.

Smokey Barn News (Advertisement)


Robert F. Woodall Student Recognized By Governor For Reading Achievement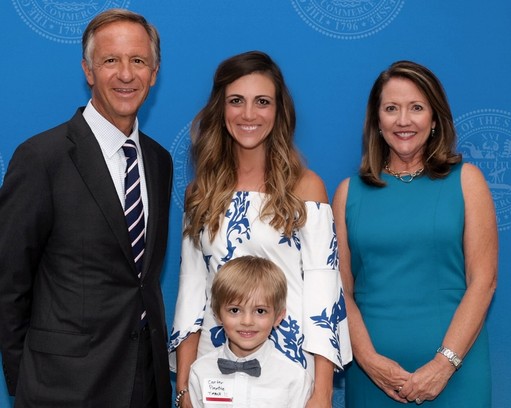 Robert F. Woodall Elementary School kindergarten student Carter Prentice was recognized recently for outstanding summer reading achievement, by Governor and Mrs. Bill Haslam.
During the months of June and July, Prentice logged 2,415 minutes of reading, one of less than five students statewide in his age group to receive this reward.
Carter, along with his mother, was a guest of Governor and Mrs. Haslam on Sunday, August 12, at a State Dinner, at the Tennessee Residency. While there, he, along with other students, was recognized and rewarded for his reading accomplishment.

Smokey Barn News (Advertisement)


Three Social Workers Join RCS
Starting in the 2018-2019 school year, Robertson County Schools increased the capacity to assist student needs with the addition of 3 social workers.
The RCS social workers team now consist of:
Missie Compton – RCS's most tenured social worker. Compton has served RCS students for the last 10 years as a school social worker. She now serves the northeast RCS schools and RCAP.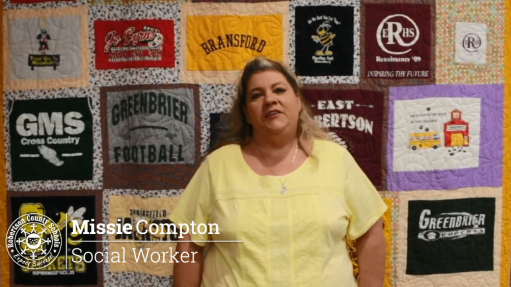 Sarah Evans – Evans joins the RCS team by way of Centerstone where she served RCS students. Evans now serves the western RCS schools.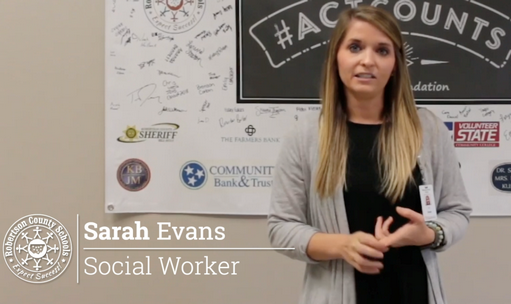 Jennifer Dusky – As a graduate of SHS, Mrs. Dusky is excited to return to her home county and serve the students of the Greenbrier cluster and Crestview Elementary.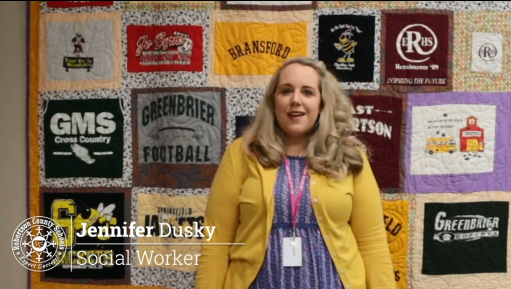 LaSonya Mullin – Mullin has joined RCS after previous serving students of Robertson County through the Department of Child Services. Mullin serves SHS, SMS, and Krisle.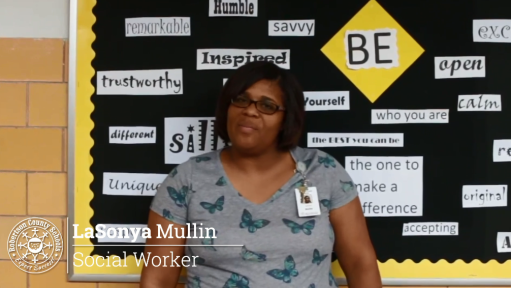 Smokey Barn News (Advertisement)


Krisle Teacher Named To Statewide STEM Collaborative
On Monday, August 21, Krisle Elementary School teacher Shelby Johnson was named to the 2019 class of the Tennessee Rural STEM Collaborative by the Tennessee STEM Innovation Network, which is, "… a public/private partnership between the Tennessee Department of Education and Battelle Education. This year, 43 educators representing 18 counties across Tennessee were competitively selected for the Collaborative.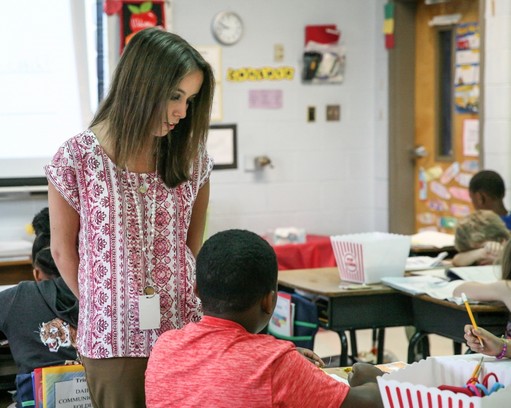 The group, a year-long, cohort-based training for rural educators, is designed to share promising practices in STEM education, seek solutions to local education challenges, and encourage the development of a targeted STEM solution for each community or school represented.
Johnson said she's honored by her selection and looking forward to the experience ahead of her.
"I feel very fortunate to be able to participate in this professional development opportunity," she said. "Only forty-three teachers throughout the state were chosen to participate in the program.
"As a participant in this program, I hope to gain knowledge of several strategies and best practices that promote hands-on inquiry and a love of STEM learning. Furthermore, I hope to grow professionally by becoming aware of more technological resources that can help ensure the instruction is engaging, efficient, and relevant to the students' lives. I also would like to gain ideas and implementation techniques from other schools in Tennessee that will help further promote a STEM culture within our building. In addition, obtaining more knowledge on implementing design principles would help ensure students are challenged to think critically and problem solve."
Director of Schools, Dr. Chris Causey, congratulated Johnson, saying, "We congratulate Shelby on her selection and are proud to have her representation in this statewide group. As a result of this collaboration effort, we look forward to her being able to equip her scholars at Krisle in an even greater way to achieve success in the areas of science, engineering, technology and math."
Johnson said her scholars are already putting STEM principals into practice. They first learned about famous engineers and inventors during their reading and science classes, and then were challenged to a competition of building an aluminum foil boat that could hold the most pennies. She said she is already being rewarded by seeing her scholars, "…engaged and invested in their own learning."

Jo Byrns Elementary Student/Staff of the Month picture for August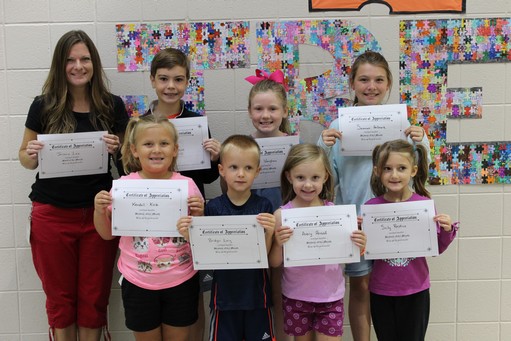 Front Row: L to R: Kendall Kinle (1st), Bridger Long (PreK), Avery Arnold (K), Sicily Restivo (2nd)
Back Row: L to R: Jessica Lee (staff), Jake Walker (5th), Lauren Vaughan (3rd), and Savannah Hallmark (4th)

168 Robertson County Seniors Qualify for 2018 ACT COUNTS Day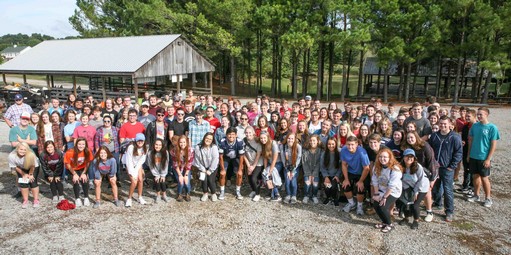 More than 140 of the 168 qualifying Robertson County Schools seniors were treated to a day at the farm for the fifth annual ACT COUNTS day at Honeysuckle Hill Farm in Coopertown.
To qualify for the event, students had to meet at least three of the four ACT benchmarks in English, reading, math, and science. Many in the group met or exceeded all four.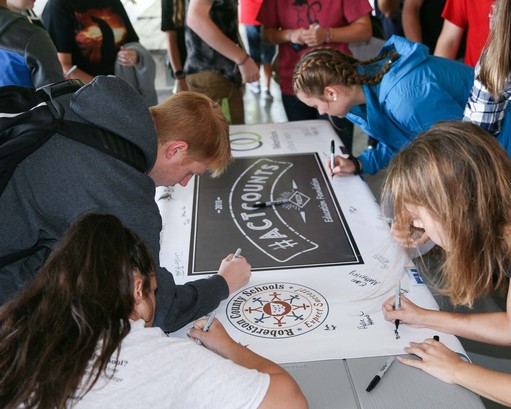 Students were given the day to enjoy the recreational offerings including: waterslide, zipline, and corn maze activities. After a lunch provided by Robertson County Chamber members: Sonic Drive In, Zaxby's, and Whitt's Barbeque, names were drawn allowing each student to choose from a selection of gifts valued at more than $14,000.
Hosted by the REdI Education Foundation, the event was sponsored by 19 individual, business, and corporate sponsors from Robertson County. Main sponsors included: Robertson County Schools, Bathfitter, Draughon Brothers, G.S. Moore and Sons, and Reliant Bank.
ACT Counts was, "…established to motivate students to focus on hitting the ACT academic benchmarks and to make it socially cool to do it," said REdI director Kathy Gunn. The program has shown a steady increase in qualifying students since its inception in 2013.

Smokey Barn News (Advertisement)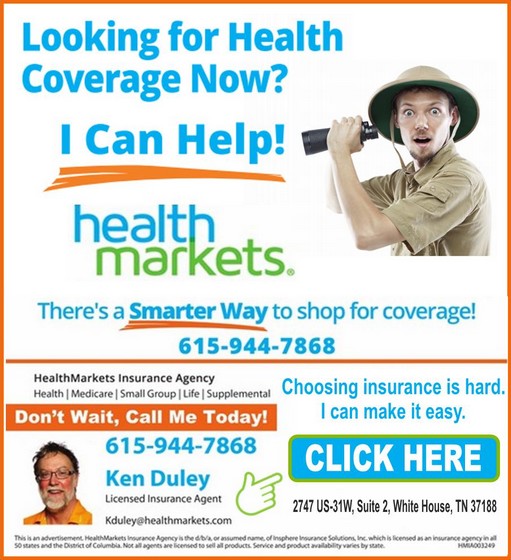 We bring you ALL the News in and surrounding Robertson County, Tennessee.