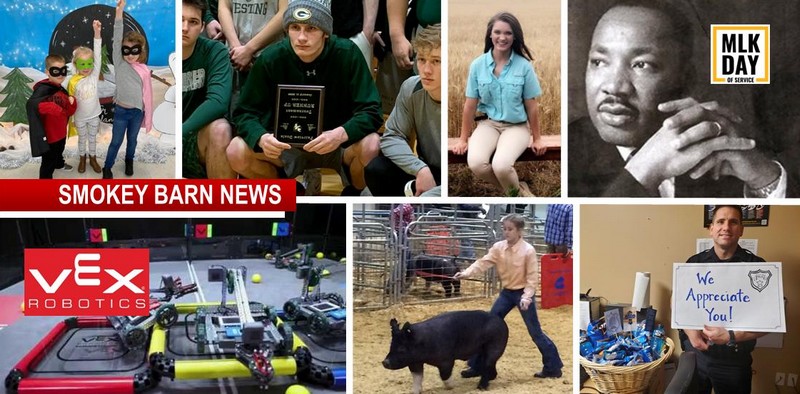 In This Week's Hometown/Community News January 14, 2020
ROBERTSON COUNTY TENNESSEE: (Smokey Barn News) – Welcome to Smokey's week in review/community news column. It's a look back and forward covering the latest news in and around Robertson County.
Smokey's People & Community News column highlights local stories of people, schools, community events, charities, and businesses that continue to make Robertson County great!
Do you have a story you would like to submit? Smokey Barn News welcomes your community news and photos. Email your story ideas to our 24/7 news desk; [email protected]

In Robertson County News
(Springfield, TN) Krisle Faculty recognizes Officer Compton, "Our wonderful SRO." on Law Enforcement Appreciation Day. "We are so grateful for all he does to keep our school safe every day."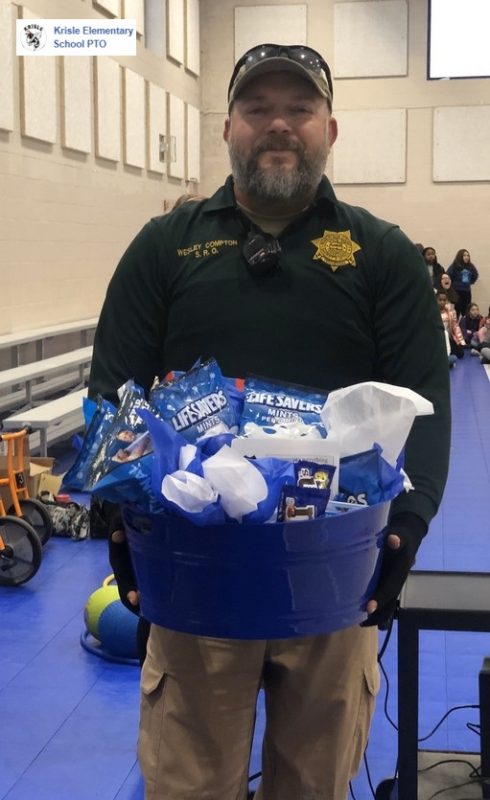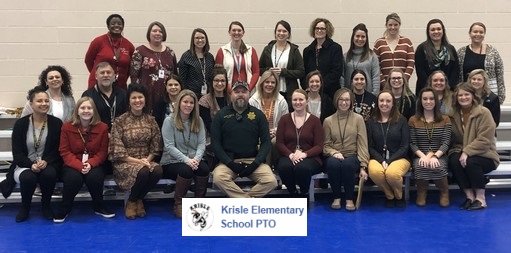 SAVE THE DATE…
Robertson County – Young Farmers & Ranchers 15th Annual Chili Supper and Silent Auction March 6 (Friday) at 6:00 pm at East Robertson High School
This Fundraiser provides 3 college scholarships for local students attending a four-year university for an Ag degree.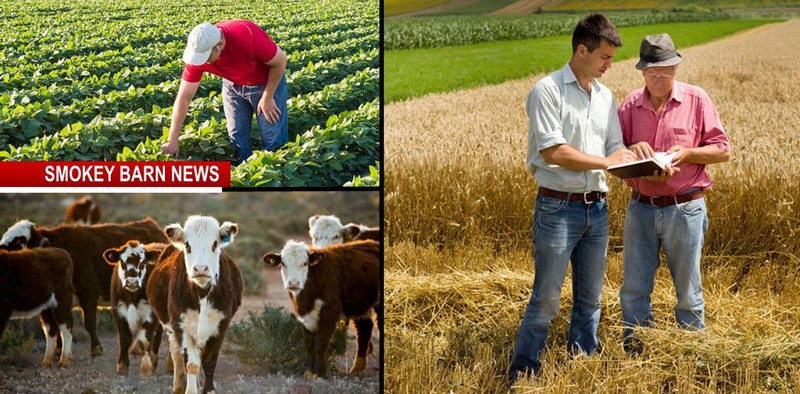 (Springfield, TN) 2020 New Year's Baby -Northcrest Welcomes First Baby Of The Decade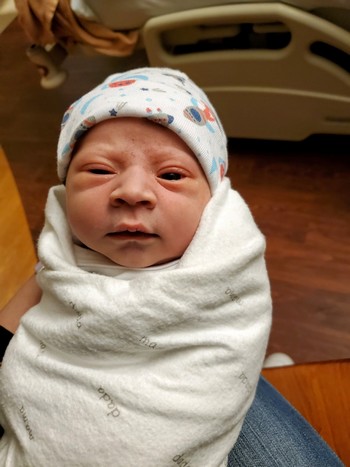 NorthCrest Health is proud to introduce the first baby of the 2020 New Year in Robertson County, Hudson Jase Braswell-Moody. This handsome little boy was born on January 1st, 2020 at 12:45 am weighing seven pounds, four ounces and measuring 21 inches long. Hudson was delivered by certified midwife Josie Willis, CNM, from Vanderbilt Center of Women's Health at NorthCrest.
Hudson is the son of Jessica Braswell and Xavier Moody of Springfield, Tennessee. Mom and dad are ecstatic to welcome their first child together. Hudson joins a large family – he is the 8th grandchild on his mother's side. Another fun fact about the 2020 New Year's Baby: Holiday births run in his family – Hudson's cousin was also born at NorthCrest just a few weeks ago, on Christmas Eve 2019!
In honor of being Robertson County's first baby of 2020, Hudson and his family received a congratulatory gift from NorthCrest Medical Center. This gift includes a package of diapers, baby wipes, balloons and a beautiful diaper bag from NorthCrest's Grapevine Gift Shop filled with baby clothes, blanket, and other baby-related items.
Congratulations to Hudson's mom and dad, and his entire family.

(Springfield, TN) Robertson County Sheriff's Office was excited to participate in No Shave again for the year 2019.
Our Deputies raised over $1,600 for No Shave November for Relay for Life to help support the fight against cancer! We continued our participation into December with the Sheriff's Office raising over $1,200 for No Shave December for Open Door Pregnancy Center who provides resources and services to mothers, babies, and families of Robertson County!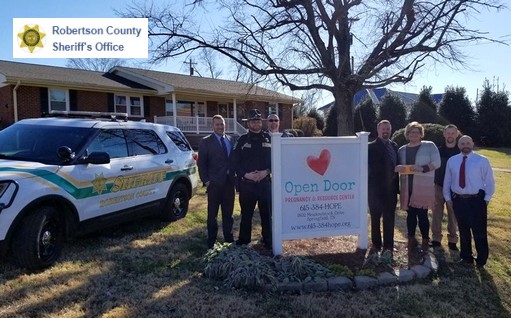 SAVE THE DATE…
(Springfield, TN) January 18: A celebration of the life and legacy of Dr. Martin Luther King Jr.
The celebration will be held Saturday, January 18, 2020, at 10 AM at the First Missionary Baptist Church on Cheatham Street in Springfield Tennessee. This event is presented by the Robertson county black history Association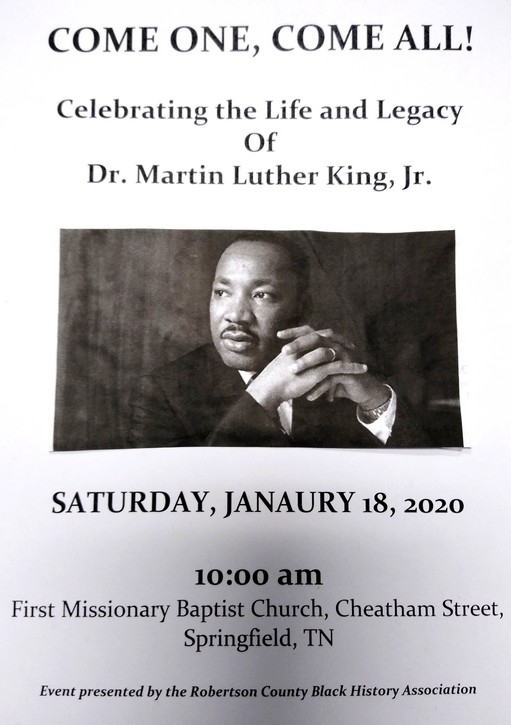 (Cross Plains, TN) Cross Plains native and East Robertson High School alumna, Marisa Phelps has been named the Interim Development Coordinator for the Tennessee FFA Foundation, Inc.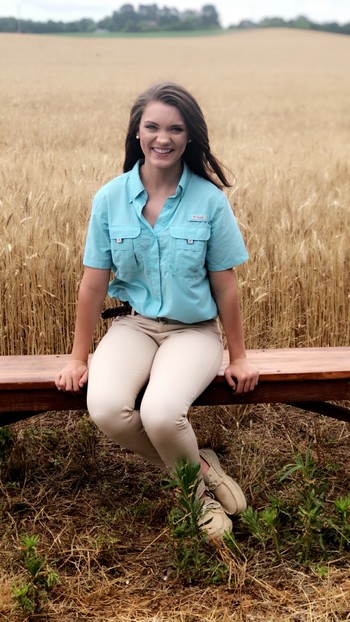 Phelps joined the Foundation staff in May of 2019 as the TN FFA Foundation Intern and has progressed to the Interim Development Coordinator position, working directly under Executive Director Kelsey Rose. In this role, Phelps will assist with fundraising, program planning, and stewardship.
"Marisa has already proven to be an asset to the Tennessee FFA Foundation team as an intern and student worker last semester. Her abilities and strong work ethic made her promotion an easy decision when the opportunity presented itself at the end of last year." Rose said. The Foundation is a private, non-profit based in Cookeville, TN that was founded in 1983. The mission of the Foundation is to promote the best interests of students and those involved in agricultural education/FFA in Tennessee in order to enhance opportunities that will enable every FFA member to reach their maximum potential as productive citizens.
Phelps was a four-year member of the East Robertson High School FFA chapter in Cross Plains, TN led by advisors Will Elliott and Katelyn Medley. In high school, Phelps held the titles of Chapter Chaplain, Secretary, and President and was the valedictorian of the East Robertson High School Class of 2017.
Phelps is currently earning a Bachelor's in Agribusiness Management from Tennessee Technological University with an expected graduation date of December 2020. Throughout her tenure at Tennessee Tech, she has served as Collegiate FFA President, a College of Agriculture and Human Ecology Ambassador, and a First-Year Connections Peer Mentor, helping students transition into their first semester of college. She has interned with the Putnam County Farm Bureau, the Tennessee Department of Agriculture, and the Bank of America Student Leaders Program. Phelps also served as a Leadership Counselor for the first Tennessee Tech Leadership Summit last summer.
FFA makes a positive difference in the lives of students by developing their potential for premier leadership, personal growth, and career success through agricultural education. Nationally, there are 700,170 FFA members, aged 12-21. The Tennessee FFA Association is comprised of 14,084 members from 214 high school chapters, 7 middle school chapters, and 8 collegiate chapters from across the state of Tennessee. To learn more about FFA, visit www.tnffa.org.

Smokey Barn News (Sponsor/Advertisement)

SAVE THE DATE…
(Robertson County, TN) UT Extension-Robertson County – You are invited to our TN-KY Tobacco Expo will be held on Tuesday, February 4, 2020, in Springfield, TN.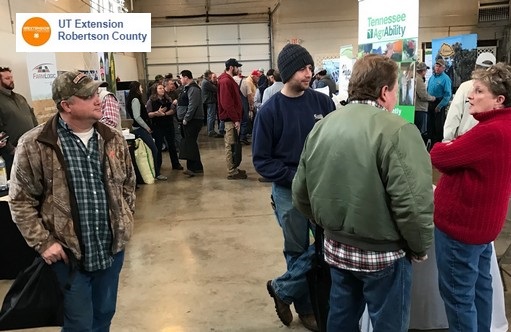 The annual Tennessee-Kentucky Tobacco Expo is scheduled for Tuesday, February 4, 2020, from 6:30 am to 3:00 pm at the Robertson County Fairgrounds Community Building, 4635 Hwy 41 North, Springfield.
The Tobacco Expo Trade show, featuring 30 agribusiness exhibitors, will open at 7:00 a.m. The trade show offers tobacco farmers an opportunity to meet with a wide range of agribusiness representatives involved in tobacco production and related fields.
This is the year that current Private Pesticide Applicators must attend Re-Certification Training that will be conducted twice during the day; first session at 7:00 am and a second session at 1:00 pm. Cost for Re-Certification is $25.
Lunch will be served for all participants at 12:00 pm and is sponsored by Eastern Dark Fired Tobacco Growers Association, Burley Stabilization Corporation, Farm Credit Services, Hail & Cotton, Inc., Drexel Chemical, and Agriculture Workforce Management Association.
Tobacco growers will have an opportunity to complete GAP Training. Be sure to bring your GAP card or have your GAP number available when you attend a GAP training. To learn more about the GAP Connections program call 865-622-4606 or visit www.gapconnections.com
There is no registration fee for attending the Tobacco Expo and it is open to all persons. Programs in agriculture and natural resources, 4-H youth development, family and consumer sciences, and resource development. University of Tennessee Institute of Agriculture, U.S. Department of Agriculture and county governments cooperating. UT Extension provides equal opportunities in programs and employment.
The Agenda includes:
• 6:30 am – Coffee and doughnuts
• 7:00-9:00 am – Private Pesticide Applicator Re-Certification ($25)
• 9:00-10:00 am – Angular Leaf Spot Disease, Connecticut Broadleaf, Reducing TSNA's
• 10:30 am-12:30 pm GAP Training
• 12:00-1:00 pm – Lunch
• 1:00-3:00 pm – Private Pesticide Applicator Re-Certification ($25)
• 3:00 pm – Trade Show closes
Note: Commercial Pesticide Applicator Points available for Categories: 1,10, 12 for KY & TN
For more information on the Tobacco Expo contact: Jeff Smith, UT Extension Agent, Robertson County, (615) 384-7936 or on the web
Jeff Smith, Extension Agent
UT Extension – Robertson County
408 North Main St.
Springfield, TN 37172
615-384-7936
[email protected]

(Springfield, TN) NorthCrest Medical Center Expands Affiliation with Vanderbilt Health to Include Newborn and Pediatric Care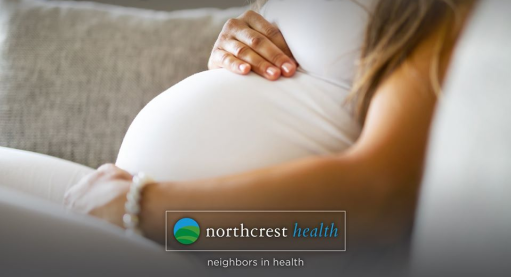 Springfield, Tenn. (December 6, 2019) – Pediatricians and nurse practitioners from Monroe Carell Jr. Children's Hospital at Vanderbilt now care for all newborn and pediatric patients at NorthCrest Medical Center, NorthCrest officials announced.
Through a professional services agreement established in 2013, doctors, nurse practitioners and certified nurse-midwives from Vanderbilt Health have provided prenatal and gynecologic care on the NorthCrest campus. These providers deliver babies at NorthCrest.
"This affiliation with Vanderbilt gives our community more convenient access to the excellent healthcare that we all rely on Monroe Carell Jr. Children's Hospital at Vanderbilt to provide," said Randy Davis, President and CEO of NorthCrest Health. "This expansion of our affiliation reflects our ongoing commitment to providing high quality, convenient healthcare to those we serve."
As of Nov. 1, Vanderbilt pediatric specialists began providing 24/7 coverage in the Special Care Nursery at NorthCrest. The nursery, located in the Women's Services unit, is equipped to care for well and sick newborns.
In addition to nursery coverage, the pediatric doctors and nurse practitioners are available to consult with NorthCrest providers treating children who arrive in the NorthCrest Emergency Room or who are admitted to the hospital.
In addition to women's and children's care, Vanderbilt Health serves oncology, neurosurgery, stroke and spine patients at NorthCrest.

(Robertson County Schools) RCS School Nutrition Program – We are proud when our staff goes Above and Beyond to provide exceptional service to our community.
Peggy Clifton, cafe manager at Bransford Elementary School, offers Chef Salads for purchase to the staff at her school and to Central Office staff. Thanks so much for your dedication. We appreciate you very much!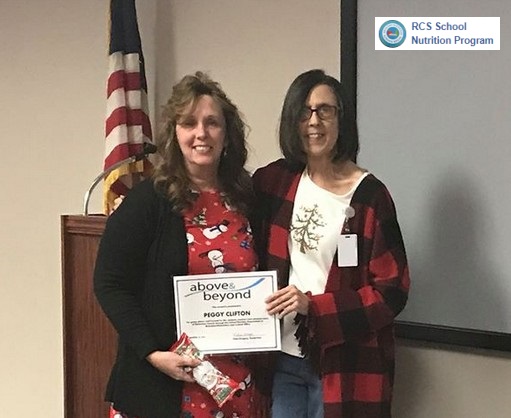 Robertson County Senior Center – SAVE THE DATES!!
• Tuesday, Jan 14, 2020: Out and About trip planned to Marcy Jo's Meal House in Columbia. Sign up now and be ready to relax for a Nice Drive and a Great Meal!
• Friday, January 17, 2020: A Mystery Trip of exciting fun. Sign up now as we have 4 spaces left.
601 S Locust St Springfield, Tennessee
9:00 AM – 4:00 PM Mon- Sun
Call (615) 384-6367
Email: [email protected]
Follow us on FaceBook
COME JOIN IN THE FUN!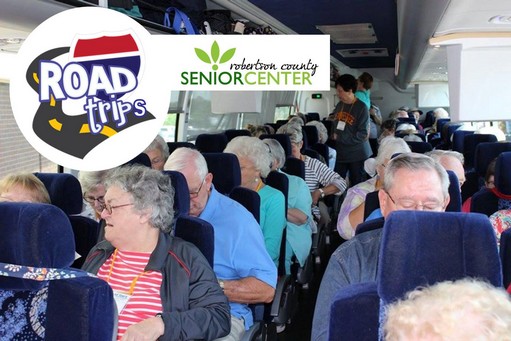 Smokey Barn News (Sponsor/Advertisement)

Robertson County UT Extension – All the Robertson County 4-H Members did a great job at the County 4-H Speech Contest in December.
Pictured are winners and finalists.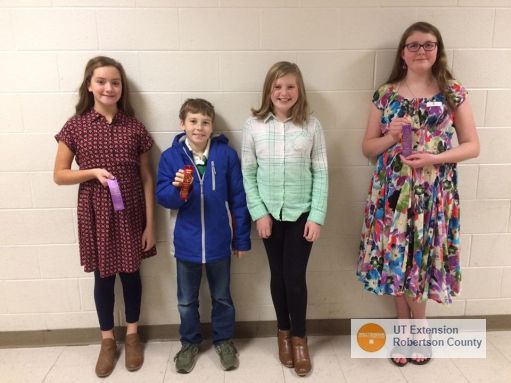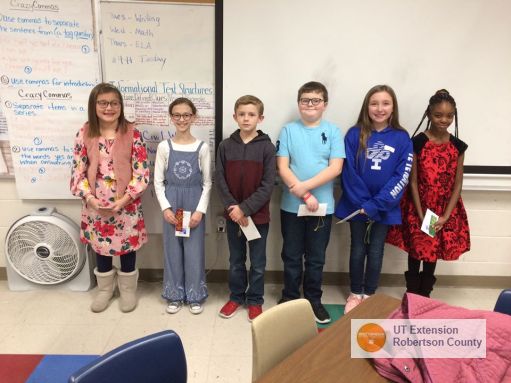 Robertson County UT Extension- RC 4-H Members Eli Lee and Cheyenne Snyder did a great job at the Central Region 4-H Hog Show at MTSU!
Both made the call back round for the Showmanship championship and both recorded top 5 awards in the classes.

Smokey Barn News (Advertisement)

(Greenbrier, TN) Thru January 25: Greenbrier Baseball (Dixie Youth) Sign-ups starts soon!
Rec Softball in Greenbrier went to Southern Softball now instead of FASA. JAN 1st is the birthdate cutoff date. Just FYI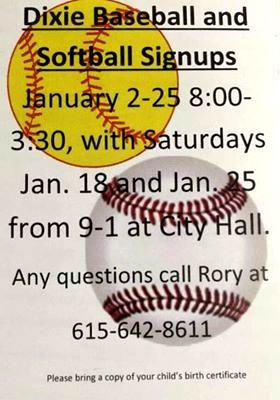 (Coopertown, TN)  Police Department – Thank you to the students at Coopertown Elementary School for the wonderful cards and snacks for Law Enforcement Appreciation Day.
We are proud to serve our community!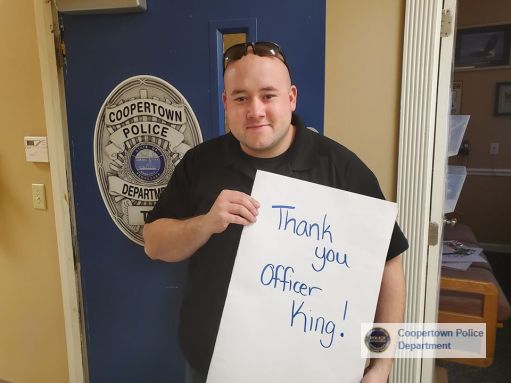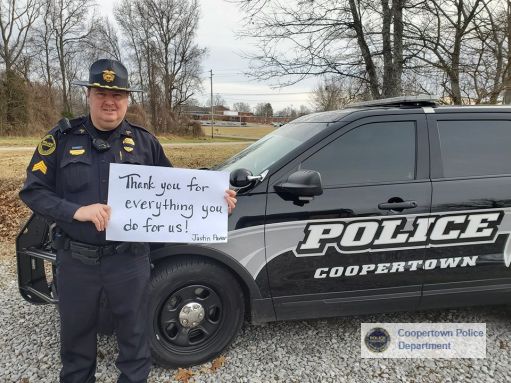 (Springfield, TN) Payne Chevrolet – To the lady who brightens all of our days, Happy (early) Birthday Ms. Ruth! We are very thankful for you.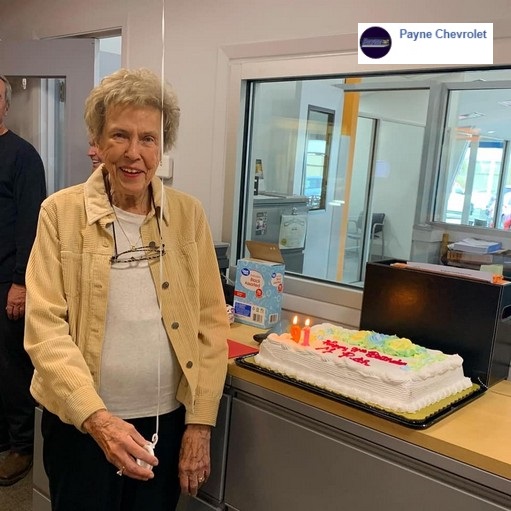 Payne Chevrolet – Allison just picked up her first Brand New Car!
Congratulations on your new 2019 Chevy Malibu. Be safe and Happy New Year!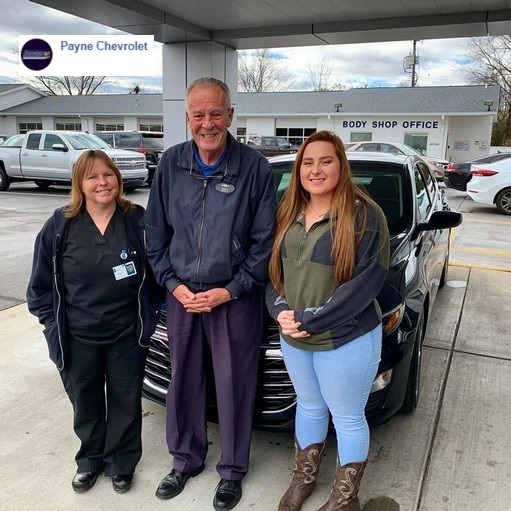 (Springfield, TN) Payne Chevrolet Mr. Ayers came in and snagged this 2020 Chevy Blazer right off the showroom floor!
Congratulations on your brand new ride.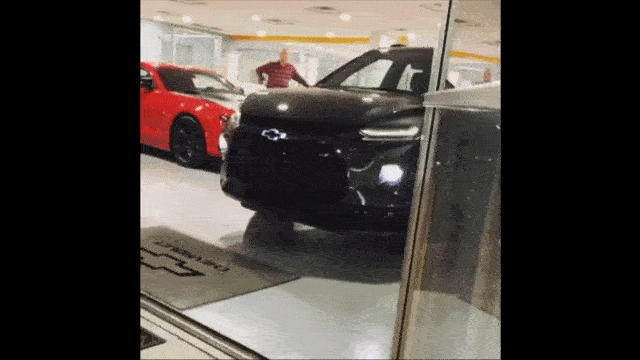 Payne Chevrolet – Robert and his wife Linda are riding in style with this good looking 2017 Colorado! Congratulations on your purchase, we greatly appreciate your business.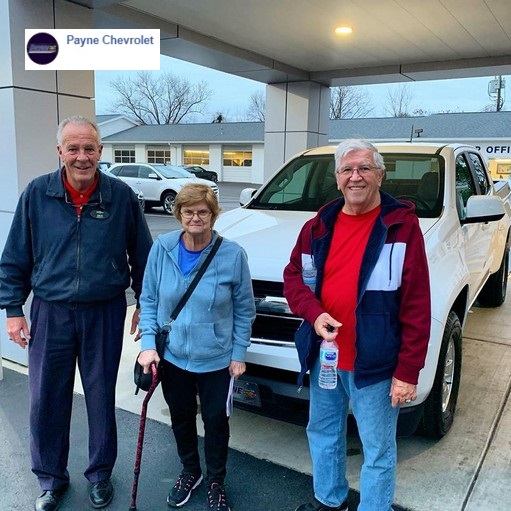 (Greenbrier, TN) Greenbrier Wrestlers had a busy week that was capped off with finishing 2nd at Fairview Duals!
Their record has increased to 21-3 and they will be back in action on Tuesday at GHS!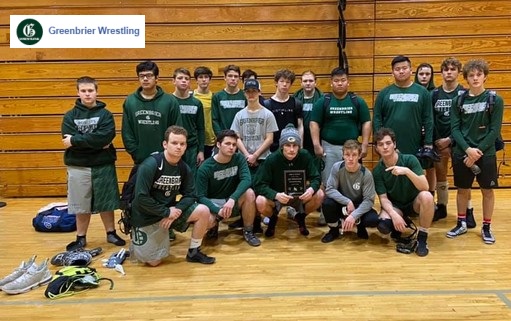 Bobby Bobcat – Congratulations GHS Wrestling. They placed 2nd in the Fairview Duals!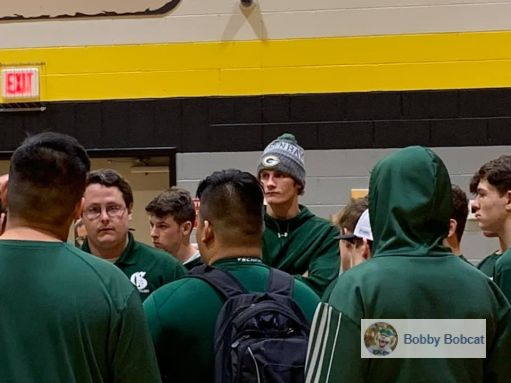 Smokey Barn News (Advertisement)

(Greenbrier, TN) Greenbrier High School Recognizes Law Enforcement Appreciation Day!
GHS staff made gift baskets to show its appreciation for Deputy Bryan Harrison.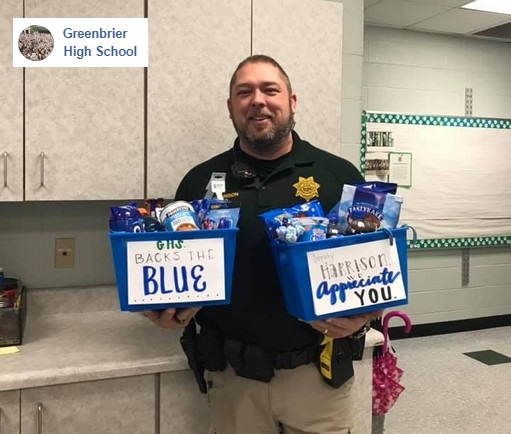 Smokey Barn News (Advertisement)

(Millersville, TN) Millersville Elementary School is blessed to have Officer Reaber serving as our SRO.
She is dedicated to our students and school. We love her and appreciate her willingness to go the extra mile to promote a culture of kindness while keeping MES safe.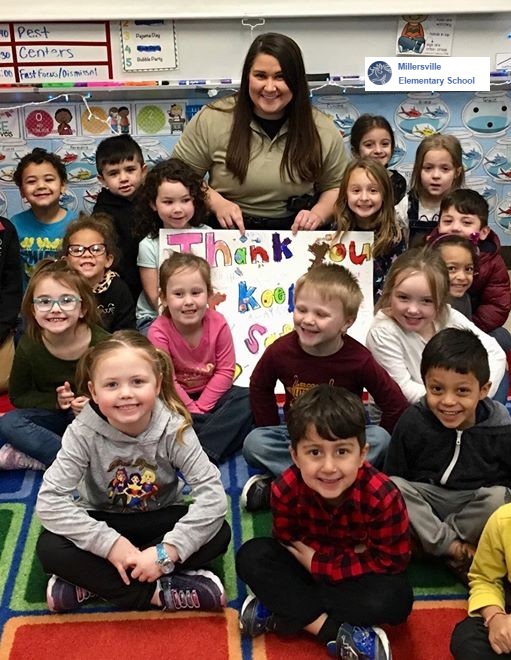 Millersville Elementary School – Currently, we have these two full-time positions available: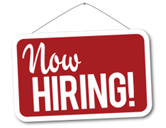 • Full-Time Custodian
• Resource Assistant
If you are interested in either of these positions, click this link to find out more.

(Millersville, TN) Parks and Recreation – FREE Mellow Health and Fitness Coaching at the Millersville Community Center.
Mellow is a FREE 12-week course designed to help you create a health and fitness plan that fits into your life. Classes on Wednesday evening at 6pm. We'll see you there! Millersville Community Center – 1181 Louisville Hwy, Goodlettsville, TN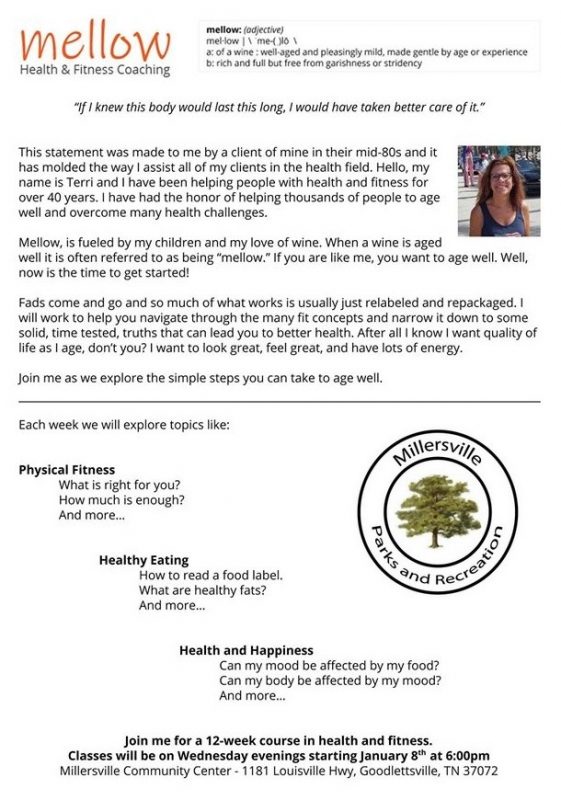 SAVE THE DATE…
(White House, TN) Over 40 Teams To Compete in Robotics tournament on January 25th, 2020. (Hosted by White House High School)
*This event is free to the public and the competition will be best from 1pm to 4 pm.
Over 40 teams from across Tennessee will be bringing robots to compete in the day-long VEX robotics competition "Tower Takeover". Students from middle and high school spend hours during and after school designing, buildings programming and driving these robots. The competition includes judged awards based on interviews and notebooks, a single-elimination tournament with 4 robots at once competing in two alliances and a skills competition where individual robots compete to determine the best driver and programmer.
Competition brings STEM skills to life
VEX Competitions bring STEM skills to life by tasking teams of students with designing and building a robot to play against other teams in a game-based engineering challenge. Classroom STEM concepts are put to the test as students learn lifelong skills in teamwork, leadership, communications, and more. Tournaments are held year-round at the regional, state, and national levels and culminate at the VEX Robotics World Championship each April!
For more information:
Peter Buchanan
White House High School
Engineering | Physics | AP Calculus
[email protected]

Smokey Barn News (Advertisement)

SAVE THE DATE…
April 20 Chain of Hope for Jennifer and Adrianna Wix
Saturday, April 20, 2019 at 12 PM :(Old Kmart) 230 Long Hollow Pike, Goodlettsville, Tennessee 37072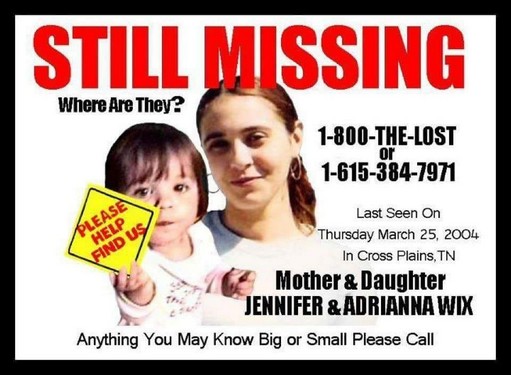 Kmart is closed now, but we'll meet there in the big parking lot as always.
We'll have our balloon release there, take our memory/awareness ride for the girls and end up at the Gallatin Elks Lodge for some great food, drink, music and great friends!
This ALWAYS help us raise the awareness back up again for our girls and hopefully meet new friends and supporters as well…….
so bring EVERYBODY you know and come help make a little noise for Jennifer and Adrianna!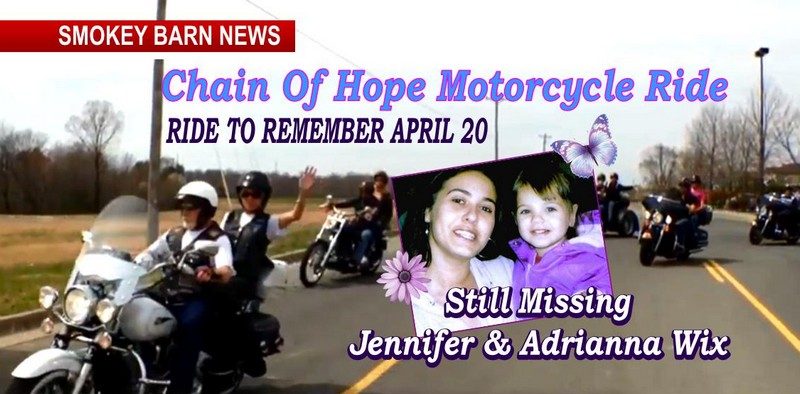 (Portland, TN) Parks & Recreation Department Offices have moved to a new location
The new address is 321 Portland Blvd. (Richland Park Entrance) 615-325-6464
www.cityofportlandtn.gov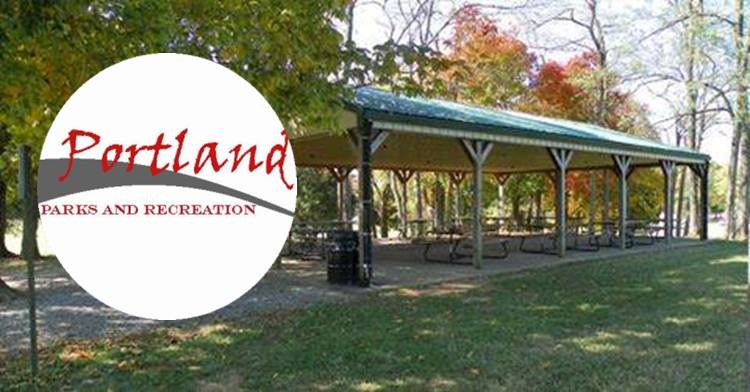 (Cross Plains, TN) Visit Cross Plains TN Recognizes National Law Enforcement Appreciation Day!
We are blessed to have some fine officers Max Tate and Vincent Higgins.

Cross Plains TN Wishes A Happy Birthday to Marty Cook!
Marty works hard every day to make our City a great place to live!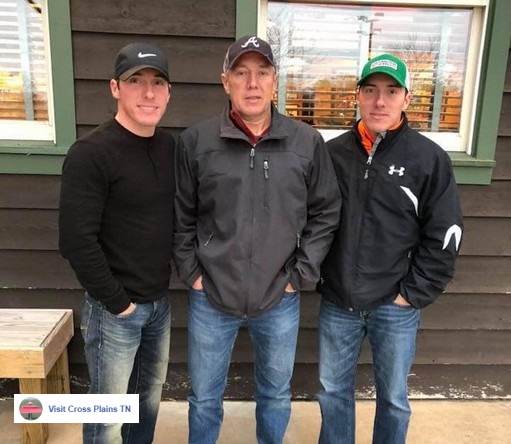 United Way Announces New Name, New Board Members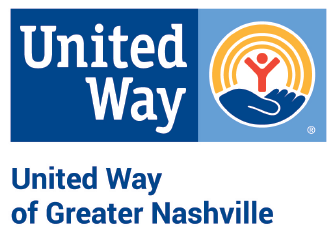 United Way of Metropolitan Nashville (UWMN) has officially rebranded as United Way of Greater Nashville (UWGN), following its recent expansion of service areas to include Cheatham, Davidson, Hickman, Robertson and Williamson counties
This name change aligns with the organization's desire to expand services and reach more individuals and families in need throughout Greater Nashville. United Way of Greater Nashville's new structure was driven in large part by the mobile nature of today's workforce, with people often living and working in multiple counties. Combined, United Way of Greater Nashville now serves Cheatham, Davidson, Hickman, Robertson and Williamson counties.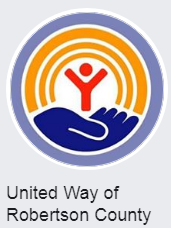 "The needs of our communities are complex and often aren't divided by city or county lines. We thought carefully about our name change and chose 'Greater Nashville' to better reflect our growing region," said Brian Hassett, UWGN president and CEO.
"By combining resources, professional expertise and experience, United Way of Greater Nashville will be a stronger organization better equipped to address the needs of the region we serve," said Jenneen Kaufman, 2020 UWGN board chair and Tennessee Titans senior vice president and CFO.
In addition to welcoming Kaufman as the 2020 board chair, UWGN welcomes the following 2020 Board of Trustees officers to help lead the efforts of this new structure: Heather Rohan, Vice Board Chair & Campaign Committee Chair, HCA HealthCare – TriStar Health; John Crosslin, Treasurer & Finance Committee Chair, Crosslin & Associates; and Kevin Rome, PhD, Secretary, Fisk University. Along with the following additions to the 2020 board: Lee Blank, Regions Bank; Randy Gibson, Gresham Smith; and Cher Porties, UPS.

(White House, TN) Robert F. Woodall Elementary – Kindergarten HERO students!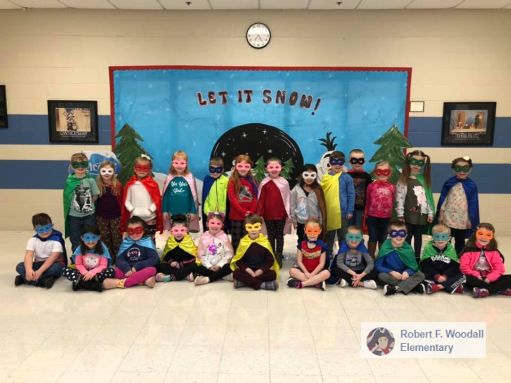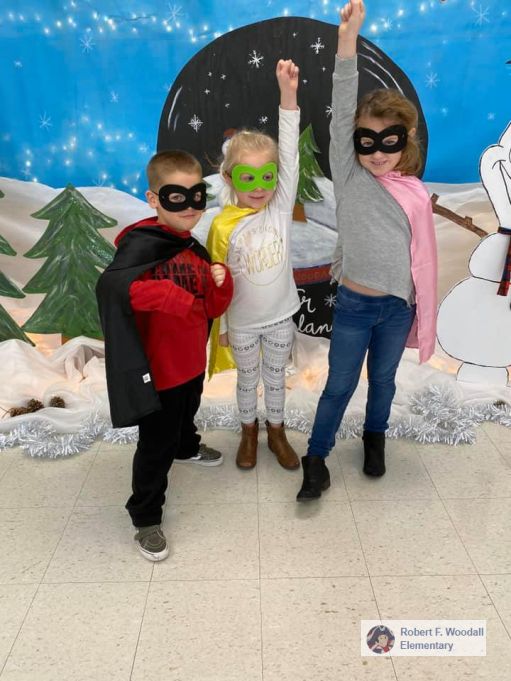 (White House, TN) Robert F. Woodall Elementary – Students discuss and show their support for the wildlife and people of Australia in art class this week.

Smokey Barn News (Advertisement)

TDEC Offers Free Radon Test Kits As Part Of 'Radon Action Month'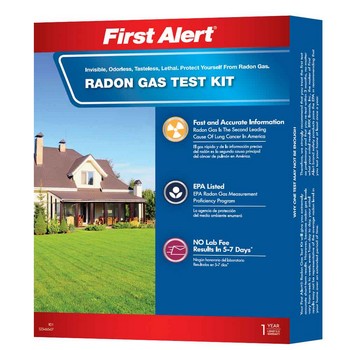 The Tennessee Department of Environment and Conservation is offering free radon test kits for Tennesseans to test their homes in January. Tennessee Gov. Bill Lee has proclaimed the month as "Radon Action Month."
Radon is the second leading cause of lung cancer in the United States, and it is the No. 1 cause of lung cancer among non-smokers.
"We hope Tennesseans will take advantage of the offer of free test kits," Dr. Kendra Abkowitz, director of the Office of Policy and Sustainable Practices at TDEC, said. "We want people to be aware of the potential for radon in their homes, that testing for it is free and easy, and that there are ways they can mitigate it if they find they have a radon problem."
Radon is a colorless, odorless, naturally-occurring radioactive gas that threatens people's health when it is trapped in confined spaces such as homes. It is produced by the breakdown of uranium in rocks and soils. The only way to know if it is in a home is to test for it.
For more information and to request a free test kit, CLICK HERE or call 800-232-1139.
Radon does not generally present a health risk outdoors because it is diluted in the open air. Radon can, however, build up to dangerous levels inside a house. A house can act like a vacuum, drawing radon through foundation cracks and other openings. Radon may also be present in well water and can be released in a home when the water is used for showering and other household activity.
During January, the U.S. Surgeon General and the Environmental Protection Agency urge all Americans to protect their health by testing their homes for radon. The TDEC Office of Policy and Sustainable Practices manages the TN Radon program, a statewide awareness and education initiative, where the goal is to educate the public about the risk of radon exposure in indoor environments.

SAVE THE DATE…
City of White House, TN- Police Department – Citizen's Police Academy is accepting applications for February 2020.
What is the Citizen Police Academy?
The White House Police Department has found education to be the most effective means of gaining understanding and support from the community. The Citizen Police Academy offers citizens insight into how police officers perform their duties and how their department serves the community.
Note: While completion of the course gives citizens an understanding of the workings of the Police Department, it does not make a participant a certified law enforcement officer, nor is it designed to train citizens to perform any law enforcement duties.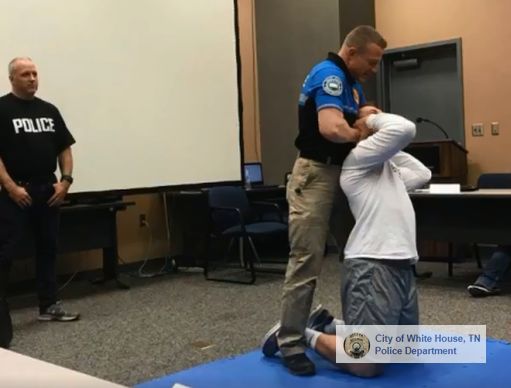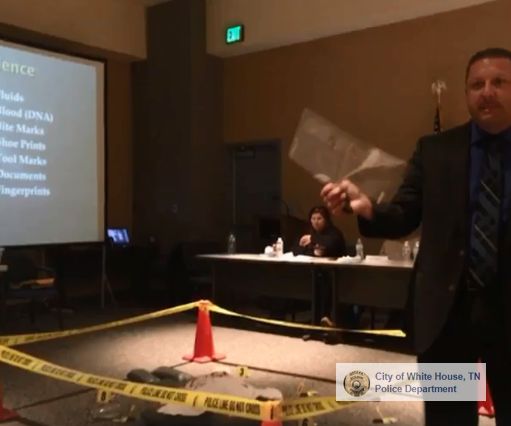 Mission of the Academy
The purpose of the Citizen Police Academy is to foster better communication between citizens and police through education. The Academy will create a nucleus of well-informed citizens who possess greater insight into police practices and services. Graduates of the academy can share their knowledge and experiences with the community as the opportunities arise. Everyone benefits from enhancing a citizen understanding of the role and function of their police department.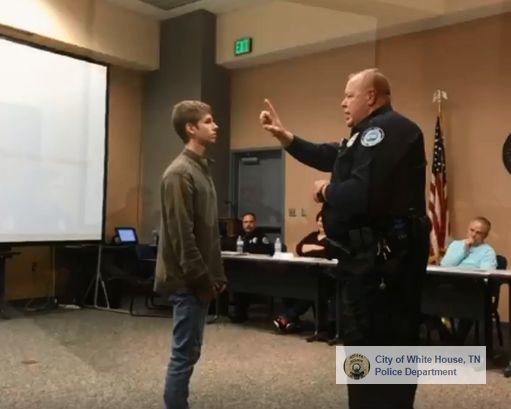 Course Description
Instruction consists of one 3-hour class held each week for duration of ten weeks. This instruction is comprehensive, covering a different area of the Division of Police each week. Certified police officers and civilian instructors with particular expertise will conduct classes on each topic. Classes are limited to 30 citizen attendees.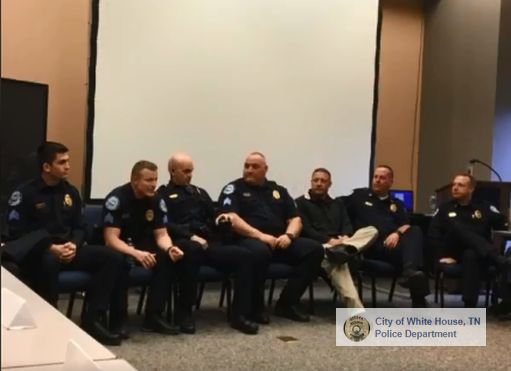 Course Curriculum
Criminal Law
Crime Prevention
Recruitment/Training
Patrol Procedures
DUI Enforcement
K-9/Narcotics Interdiction
Emergency Response
Communications
Internal Affairs
Media/Public Relations
Firearms
Criminal Investigations
Crime Scene Processing
Community Relations, Services and Programs
School Resource Officer Program
D.A.R.E.
D.U.I. Enforcement
Emergency Management/Preparedness
Neighborhood Watch
Citizen Police Academy Picture 2015
A vital part of the Academy is participation in role playing and scenarios. These simulations will provide an opportunity for a unique "hands-on" learning experience. Students will also have the option, on a voluntary basis, to ride-along with a patrol officer, and attend municipal court and traffic school.
Who may attend the Academy?
Any interested citizen who resides or works in Sumner/Robertson County is encouraged to attend. Citizens involved with the White House community in some way, such as youth involvement, neighborhood watch, and neighborhood groups are very important to the Academy.
Citizens 18 years of age or older.
Citizens with no prior felony convictions.
When is the Academy?
The Citizen's Academy is held once a year.
Next class will start in February 2020.
How do I apply to the Academy?
Download an application form or an application form may be picked up from:
White House Police Department
303 North Palmers Chapel Road
White House, Tennessee 37188
Complete, print, and return to the Police Department or send as an attachment to [email protected]
For more information, please contact:
Sergeant Eric Enck
[email protected]
CLASS SIZE IS LIMITED

A message from Shannon Insurance – Does your homeowners' insurance policy cover all of your valuables? Learn more.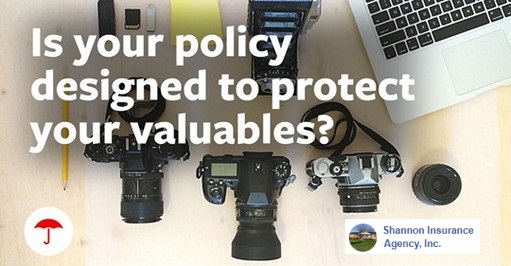 You may think that a homeowners insurance policy provides adequate coverage for all your valuables, but policies may provide limited or no coverage for certain items — including generally expensive items — that are damaged or stolen.
For example, many homeowners' policies generally have a $1,000 or $1,500 coverage amount for jewelry if the loss is due to theft. Such limits are in place to help keep homeowners' policies affordable. However, if jewelry valued at $2,000 is stolen from your home and you have a $1,000 policy limit, you can only receive $1,000 from your insurer to replace the missing items.
That is when an insurance endorsement (sometimes called a rider) can provide increased coverage for your possessions. For an additional premium, this coverage can help protect you from the loss of high-end valuables such as jewelry, furs, antiques, artwork and collectibles.
Here are five tips that may help you decide whether you need valuable items coverage.
1. Read Your Insurance Policy
Your insurance policy is a contract between you and your carrier. This document includes the limits of how much you will be compensated when certain valuable items are damaged or stolen. Note that certain items may not be covered, so be sure to carefully review your policy to determine whether you have insurance that meets your needs. If you have questions, contact your insurance agent.
2. Have Your Valuables Appraised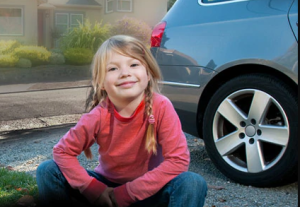 You may have possessions that are worth more than you think. To help you decide whether you need additional coverage, it may be helpful to have them appraised. An appraisal can help you determine if your homeowners insurance policy covers the full value of your property, as some items may not be covered.
The value of some items, such as collectibles or jewelry, may be difficult to determine without professional assistance. It may be necessary to have your valuables reappraised periodically. If they increase in value, you may need additional coverage.
3. Create a Home Inventory
You may not be able to make a decision about whether to buy additional coverage until you know exactly what you own. You may want to take stock of your possessions by creating an inventory. Do not forget to check your garage, basement or attic for stored valuables, such as antiques and coin collections.
Be sure to list all items of value and include copies of receipts or appraisals when possible. This may help you if you ever need to file a claim with your insurance carrier.
4. Check Your Neighborhood's Crime Rate
If you live in a community where the crime rate is high, you may have a greater need for additional coverage to protect your valuables. Police departments may track crime statistics and share this information with the public. You can consider asking your police department about home burglary trends in your neighborhood. Also consider installing a security alarm system. An alarm system may qualify you for a homeowners insurance discount.
5. Take Stock of Your Electronic Equipment
In our increasingly high-tech world, people use their electronic equipment to perform their jobs and maintain social connections. In recent years, many new gadgets and devices have been developed that may enhance our lives. If you keep high-end computers and other electronics in your home, you may want to make sure your homeowners policy will cover their loss.
Safeguard Your Personal Valuables
Your need to insure valuable items is something you may want to discuss with your agent whenever you buy a homeowners policy. If you purchase additional coverage for high-cost items, it is a good idea to understand its limits and exclusions.
Protect your home the way it protects you by choosing the property insurance coverage that meets your needs.
Smokey Barn News (Sponsor/Advertisement)

In Neighboring Logan County News
Logan County Sheriff's Office – Judge Hendricks swore in the new School Resource Officer this past week for the Logan County Sheriff's Office.
Charlie Swiney has an extended history in law enforcement. SRO Swiney is retired KSP and most recently was an SRO in Allen County. After field training, SRO Swiney will be assigned to LCHS. Please join us in welcoming Charlie Swiney to Logan County.
Sheriff Stratton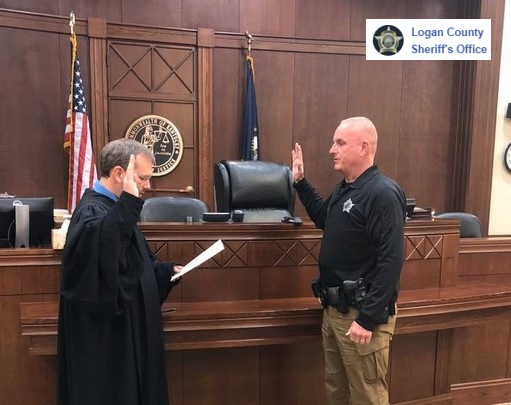 In Neighboring Clarksville, TN News
(Clarksville, TN) Seven Graduate from the Tennessee Law Enforcement Training Academy
Seven officers from the Clarksville Police Department have graduated from twelve weeks of training at the Tennessee Law Enforcement Training Academy.
We want to congratulate the seven officers for successfully graduating the academy. They will now embark on a 14-week field training program with veteran Field Training Officers to build on the basic law enforcement skills imparted to them at the academy. After successful completion, officers will be assigned to a unit within the Clarksville Police Department.
We are proud of our officers and the professional way they represented the City of Clarksville and the Clarksville Police Department.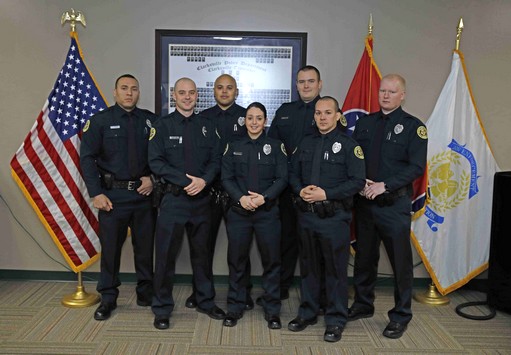 Back row (L to R) Armando Ferreira, Matthew Harrington, John Riley, Tanner Cernick,
Front row (L to R) Matthew Cassford, Breighanna Dilsaver, Jorge Castillo

Smokey Barn News (Advertisement)

In Neighboring Clarksville, TN News
Clarksville-Montgomery County School System – CMCSS Open Enrollment for the 2020-2021 School Year
The Clarksville-Montgomery County School System (CMCSS) is now accepting open enrollment applications for the 2020-2021 school year. The district offers several non-traditional schools and programs of choice for students. Additionally, specific grade levels in seven elementary schools are available for open enrollment.
More information on each program and school is provided below. For application information, visit https://www.cmcss.net/…/open-enrollment-for-the-2020-2021-…/
CMCSS Schools and Programs of Choice:
Moore Magnet Elementary STEM School
STEM, which stands for science, technology, engineering, and math, is embedded kindergarten through 5th grade at Moore. Students apply the knowledge they gain across the curriculum to solve challenges aligned with real-world problems tied to local community issues. Moore was one of the first schools in the state to receive the prestigious Tennessee STEM School Designation. Additionally, Moore was the first Montgomery County Green Certified School.
Barksdale Elementary Spanish Immersion Option
The Spanish Immersion program is a proven method of educating children by immersing them in the Spanish language so they become bilingual. In a language immersion program, the classroom environment becomes the setting for language acquisition through subject content instruction, educational discourse, and social interactions. In the 2020-2021 school year, the Spanish Immersion Program will be enrolling a limited number of kindergarten students. Students who enter the program need to be committed to continuing Spanish dual-language learning through 5th grade at Barksdale.
Academies of CMCSS
College and career academies are schools within a school, aligned to a specific career theme. They are college and career preparatory small learning communities in which a select group of students focus their core class experience around a common career interest. Students share many of the same teachers, allowing educators to collaborate with each other in the coordination of lesson planning and classroom activities that align with the academy theme. Incoming high school freshmen will have the opportunity to apply to eight different college and career academies across the district. Rising sophomores interested in joining an Academy should talk with their school counselor.
Middle College at Austin Peay State University (APSU)
Middle College is a unique collaborative program between CMCSS and Austin Peay State University. This program enables junior and senior high school students to complete a high school education while receiving direct and invaluable access to free college courses at the same time. Through grants and scholarships, Middle College students are not required to pay tuition nor do they incur the expense of college textbooks.
Early Technical College at Tennessee College of Applied Technology (TCAT)
The Early Technical College at TCAT is a unique, hands-on learning experience that allows students a no-cost opportunity to work towards an industry certification while also completing the necessary high school courses for graduation in the state of TN. Students can choose one option from four pathways, earning up to two certifications for the chosen pathway. Students who qualify can use funding from TNPromise to complete TCAT diplomas following HS graduation.
Nashville State Community College (NSCC) Pathway: Logistics
The NSCC Pathway provides opportunities for juniors and seniors in high school to earn certifications in a college pathway while still attending a traditional CMCSS high school. Students will attend NSCC pathway classes on the campus of CHS or NWHS from 7:30-8:25 and then, attend core classes at their zoned high school for the remainder of the school day. School system transportation will not be provided for students enrolled in NSCC Pathway classes.
CMCSS Schools with Open Enrollment:
The seven elementary schools below have specific grade levels that are available for open enrollment for the 2020-21 school year.
Byrns Darden Elementary
Available Grade Levels: 3rd & 5th
Carmel Elementary
Available Grade Level: 4th
Cumberland Heights Elementary
Available Grade Levels: K & 4th
East Montgomery Elementary
Available Grade Levels: 1st, 3rd & 4th
Minglewood Elementary
Available Grade Levels: 1st & 2nd
Montgomery Central Elementary
Available Grade Level: K
St. Bethlehem Elementary
Available Grade Level: K

Here's a link to our last issue…
Smokey's People & Community News Across The County

Smokey Barn News (Advertisement)
Smokey Barn News (Advertisement)

We bring you ALL the News in and surrounding Robertson County, Tennessee.