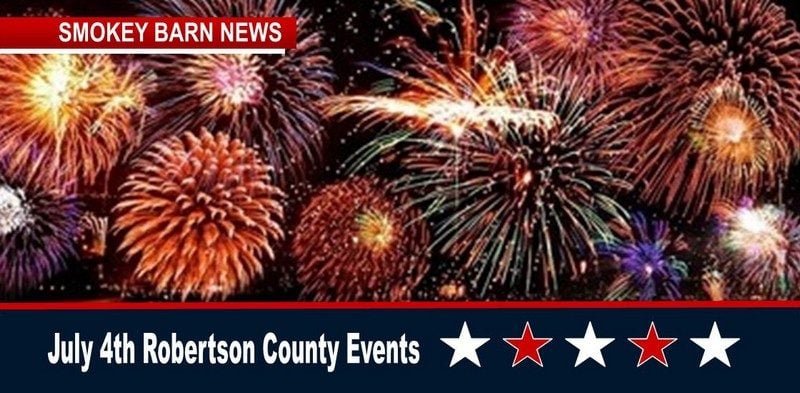 Local 4th Of July Celebration Events Of 2016
There's a lot of great Independence Day Celebration events to choose from this year with five fireworks shows on the 4th, one on the 9th and three on the 3rd.
Below is a breakdown of what's going on…
WHITE HOUSE, TN: As usual White House is pulling out all the stops with the "American Celebration" Carnival – July 4th- 9th that includes a performance from American Idol Contestant and local White House native Clark Beckham.
Clark hits the stage just before the fireworks show on the 9th.
The Carnival runs nightly from July 4th through July 9th at the White House Parks & Recreation Youth Soccer Complex, gates open at 5 pm and there will be pay one price specials every night! FREE Shuttle Rides too! On Sat., July 9th will be the annual Americana Celebration on the soccer field complete with live entertainment, FREE inflatables for the kids to enjoy on July 9th, vendors, food trucks, annual fireworks show at 9:00 pm! Free shuttle service.
(Brought To you by the White House Chamber)
American Idol's Clark Beckham
(Click The Flyer For All the Information You Need)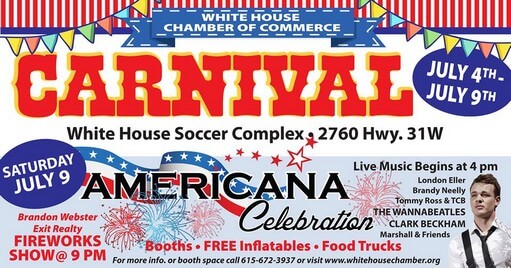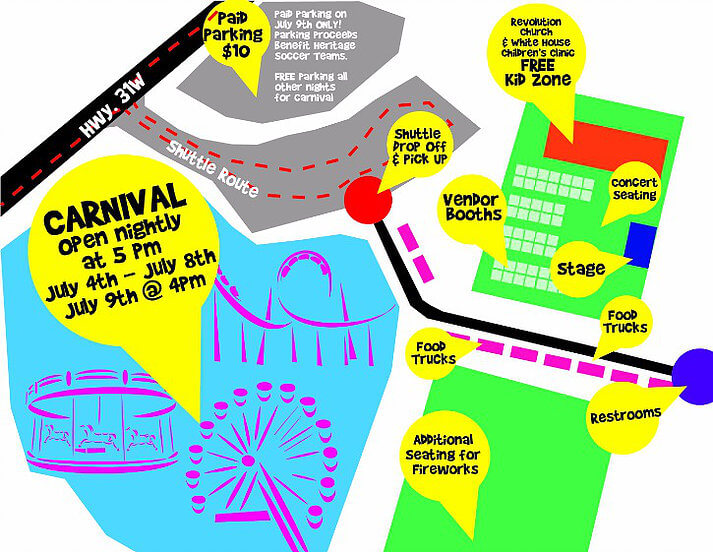 GREENBRIER, TN:  July 3rd-"Turning Of The Pig" Festival 4pm-til At City Hall Park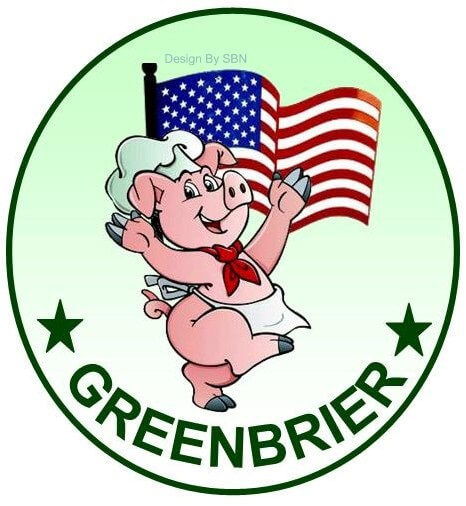 Live Music, Carnival games, Concessions, Vendors, Basket sale.
Pulled Pork BBQ.
****(All funds raised support Greenbrier High Band)****
Greenbrier July 4th- Annual BBQ Sale 6am-noon, Parade at 10am
Pork by the pound, Whole Boston Butts, Family Packs!
Parade:  4th of July parade will be held Monday, July 4 at 10 a.m. Call the Greenbrier Library & Museum at 643-8461 to register entry.
No Fireworks Show.

CROSS PLAINS,TN:  FESTIVITIES
Cross Plains, also a great family event with music, food and a great fireworks performance put on by the Cross Plains Fire Department.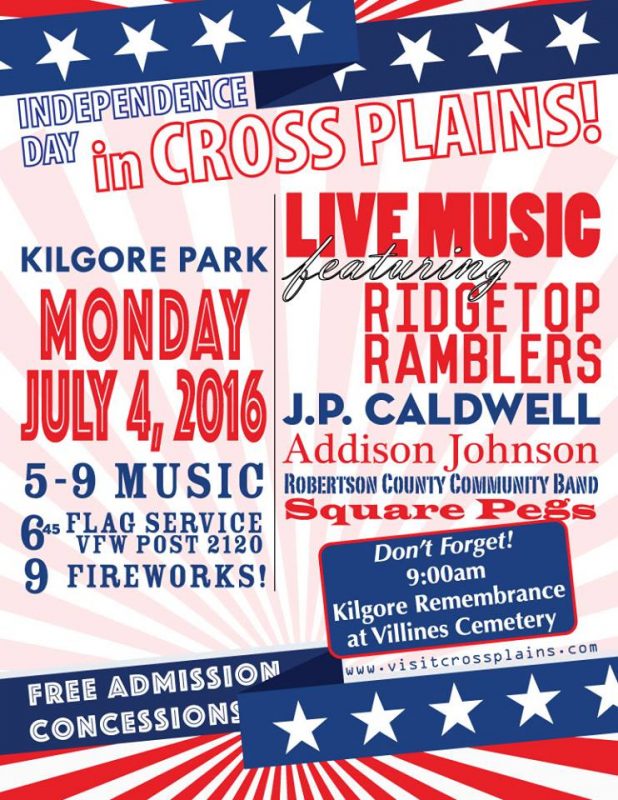 July 4th Starting At 9am – Kilgore Remembrance: In remembrance of the early settlers with a flag ceremony and reading of the Declaration of Independence.
WHERE: At the Kilgore/Villines Cemetery on Hwy 25 just west of Cross Plains.
(Bring your yard chairs)
THEN: Starting at 5pm Live music: with Ridgetop Ramblers, Square Pegs, John Phillip Colwell, Addison Johnson & The RC Band.
Also: Vendors, Games & Concessions, Fireworks start at Dark
Coolers welcome (no alcohol)

ADAMS, TN: July 4th Picnic & Fireworks Celebration
The Adams Volunteer Fire Department will host its annual 4th of July all day celebration on Monday, July 4, 2016. Also a great family friendly event to celebrate the 4th with a great fireworks show to top it all off!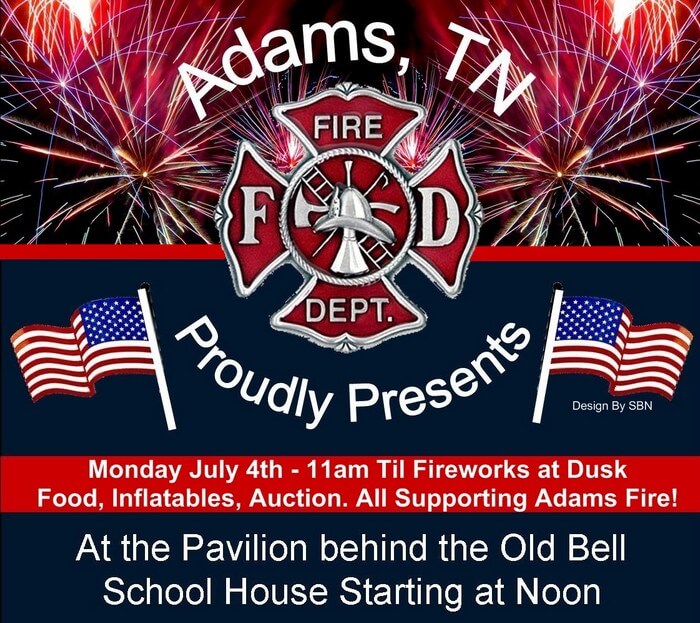 The festivities begin at 11:00 am with BBQ and chicken plates, as well as inflatables and other activities for the children.
Other happenings include a silent auction, live performance  by Austin Anderson which begins around 7:00 pm, and
A spectacular fireworks display will begin at dark!
All proceeds from this event support Adams Vol. Fire Department.
So, come show your support for our local firefighters while enjoying a family friendly day of fun!

SPRINGFIELD, TN: Fireworks show to be held on the 3rd at 9:00p.m.
WHERE:  Travis Price Park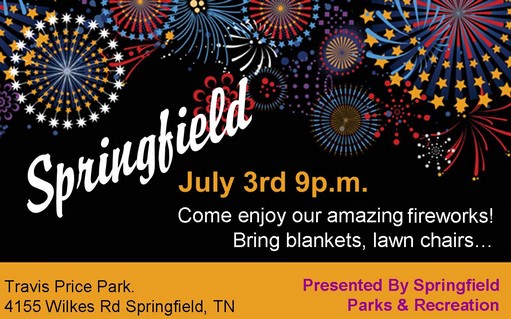 Before the fireworks show Grace Baptist Church will be providing:
 Inflatables & food vendors from 4-9pm

"For King & Country" will be performing at 7:30p.m.
*Fireworks By Springfield Parks at 9pm (following Church festival)
FREE PARKING:
Free parking will be available at the Robertson County Fairgrounds on Memorial Blvd.
PAID PARKING:
Paid parking will be available at the front of the park for $10 per car  and additional parking  will be available in designated sections on Wilkes Road for $5 per car. When planning, bring money for parking and food vendors if you plan on attending the church event preceding the fireworks show.
WHAT YOU NEED TO KNOW:
No pets allowed (exceptions: K9 Units and ADA Service dogs)
No coolers allowed (exceptions: Food Vendors)
No flash photography, camcorders or recording devices after 8 PM (exception: official photographers and journalists)
No offensive/obscene language
No outside sound equipment or amplification
No signs or picket signs
No outside food or drinks allowed
Bags will be checked
Designated Smoking area, No Alcohol, No Weapons
Any violation can result in immediate confiscation of items and/or expulsion from the festival.

PORTLAND, TN: July 4th Celebration "The Bridge at Highland"
7:00 p.m. Live Music begins – Fireworks at Dark (Concessions too)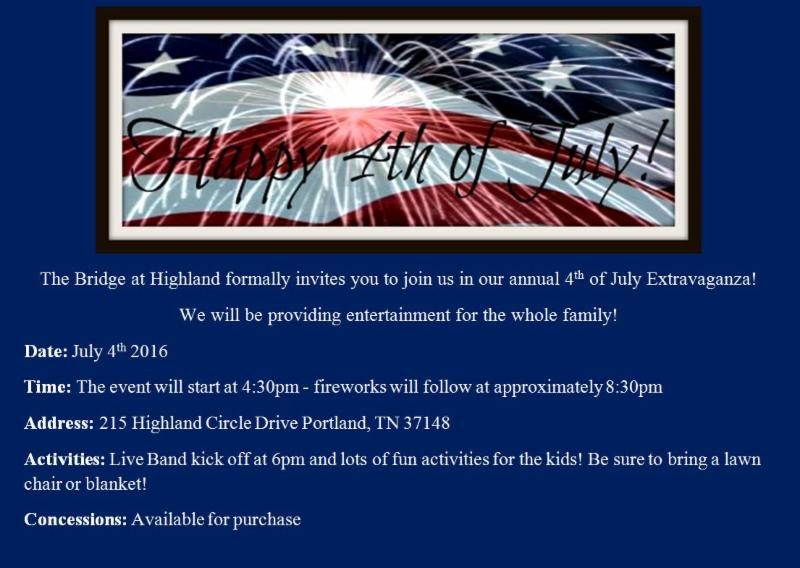 Other Events Close By….
ADAIRVILLE, KY: July 4th Adairville fish and game club will have Fireworks, BBQ, karaoke, free fishing all day!
$10 dollars a person to eat and that's for everything!


GOODLETTSVILLE,TN: July 4th Fun and Fireworks Caldwell Lane, Goodlettsville, TN
4:00 p.m. Activities and Kids' games begin
9:00 p.m. Fireworks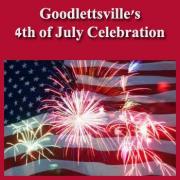 The 4th of July celebration is scheduled on July 4 every year. There are fireworks, a free concert, and other fun activities.
The festivities will kick off at 4:00pm with a patriotic performance by the Goodlettsville Community Band.
Be sure to also checkout family-friendly activities including face painting, children's games, pony rides, Fireman's Foam, an Activity Zone full of inflatables, a 4 station euro bungee, a 3 station rock climbing wall, games like baseball and football toss, and a large variety of delicious food and treats.
An extraordinary display of fireworks at 9:00pm will cap off a fun-filled day at Moss Wright Park.

HENDERSONVILLE,TN: July 3rd – Freedom Fest – Drakes Creek Park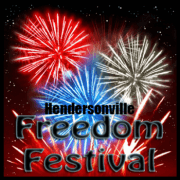 5:00 p.m. Event begins with Food, Entertainment and More!
6:00 p.m. Local Entertainment
9:00 p.m. Fireworks
Vendor and food booths will be set up for your shopping and eating pleasure and the Kidszone will be back to entertain the kids!
Tickets for Kidszone are $5 for the first armband, $15 for a family of five.

CLARKSVILLE, TN – July 3rd Old-Fashioned Independence Day Celebration
Liberty Park 1188 Cumberland Drive Clarksville, Tennessee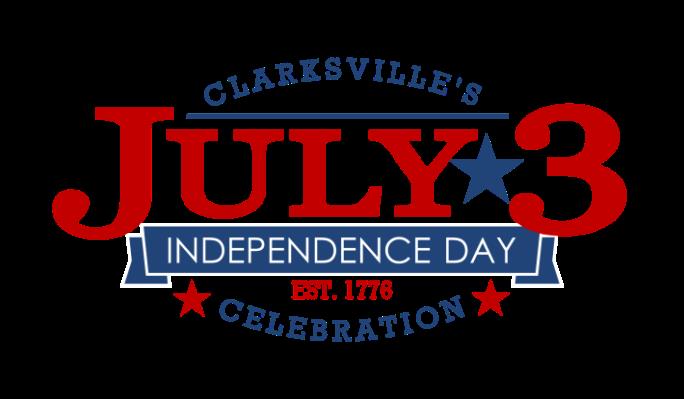 6:30 p.m. Live Music and Activities
9:30 p.m. Fireworks
FREE
Pet Safety for July 4th By the American Veterinary Medical Association
Statistics show many pets panic, become confused, get lost, or run away during July 4th celebrations with fireworks. Prepare & Be safe!
Learn more – click here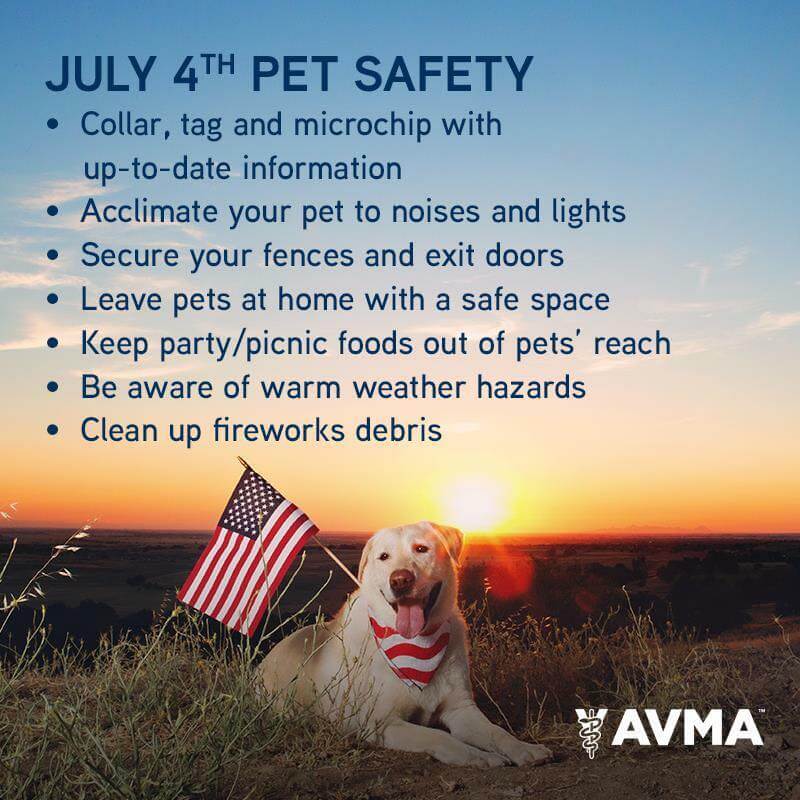 Smokey Barn News (Sponsor/Advertisement)

We bring you ALL the News in and surrounding Robertson County, Tennessee.