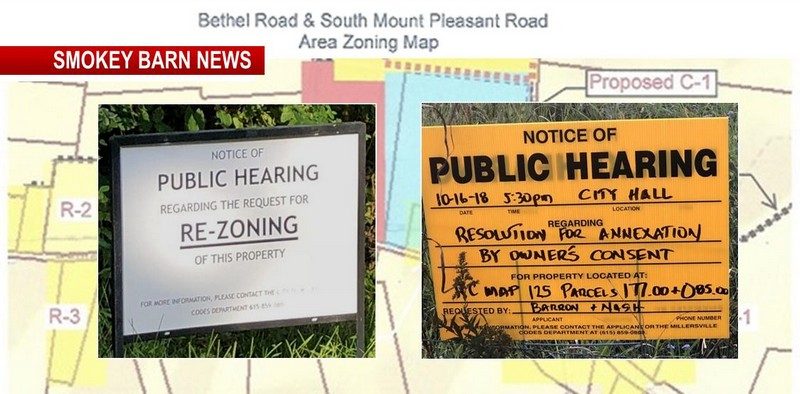 Millersville 26 Acre High-Density Housing Project:
A Letter To The Editor
MILLERSVILLE TENNESSEE: (Smokey Barn News) The following is a "Letter to the editor" from Mr. Paul Fuqua of Greenbrier, TN.  The letter addresses concerns about the potential annexation in the Millersville area.
At the top is a response from the Barron family. The views expressed in either letter do not necessarily reflect the views of Smokey Barn News.
BARRON FAMILY RESPONDS FUQUA TO LETTER
Letter to the editor: Leann Barron responds to Paul Fuqua.
This is in response to the letter of October 13 from Paul Fuqua:
It seems imaginations are working overtime about this matter, and it's important to understand the facts as they really exist. Earlier this year, I was notified by the City of Millersville that an annexation project was planned for the area, and that additional water and sewer resources would come as an eventual result. I consented to the annexation because I believe infrastructure improvements are a good thing for everyone in the community.
There are simply no plans for subdivisions, cheap tract houses, factories or any other projects rumored for the site. My only plan for that property in 2019 is to grow corn. I have no idea how rumors like this get started, but I understand there is actually a petition circulating to stop some type of development that isn't even planned.
I wish Mr. Fuqua had contacted me directly about this matter, as a simple conversation would have set the record straight. Instead, he chose to circulate a letter to 100 neighbors based on rumor and falsehoods, and this Letter to the Editor based on the same misinformation.
Sincerely,
Leann Barron
——————————–
Original letter…………….
Letter to the Editor,
Paul L. Fuqua
2372 South Mount Pleasant Road
Greenbrier, TN 37073
[email protected]
The City of Millersville is planning more expansion into Robertson County along Bethel Road. Leann Grubbs Barron, formerly from this area, is requesting annexation to build a 7.6-acre commercial development beside Bethel Baptist Church. Leann Grubbs Barron and Helen Nash are requesting to be annexed into the City of Millersville to build a 26 Acre, High-density housing project on South Mount Pleasant Road.
We only learned of this by poorly placed signs along the South Mount Pleasant Road placed at ground level and hidden by weeds and grass. The Public Notices are placed in print media that many people do not buy or read.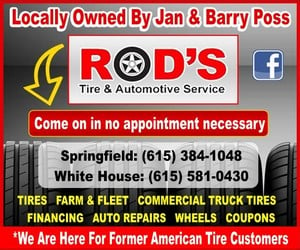 Those of us who have lived in this area know that this is agricultural land that has been used for grazing cattle and row crops. Those of us who have lived here also know that most of this area is a basin where water drains from the higher elevations from the corner of Bethel Road and South Mt Pleasant and the church property located on the corner of Bethel Road and Howell Road. I have seen this entire area saturated and holding water in rainy weather.
So why does the City of Millersville, Leann Grubbs Barron and Helen Nash want to change the zoning of this property? Is it to improve the lives of the people of the Bethel Community? Is it to provide the needed services? The answer is simple-THIS IS ALL ABOUT MONEY. The parties involved want to cash in on the current real estate boom. The City of Millersville, which is landlocked, sees Robertson County as their land of opportunity. A sewer tap cost $1,250.00. The current property tax rate is $1.00 per $100 of assessed value. 200 hundred houses on 26 acres will have a good impact on the $2,859,079 annual budget for the City of Millersville.
The residents of the Bethel Community are not opposed to reasonable residential development, but 200 homes on 26 acres will be unduly burdensome on this community. The roads were designed for light traffic and not for the density of this degree. Noise pollution, light pollution, stormwater runoff and possibly crime are unavoidable impacts of this kind of development.
So if this about money, my plan and the plan of many of the residents is to make this annexation a very expensive process through litigation. We will hire geologist, hydrologist and environmental engineers to evaluate and monitor every step in the process. We will constantly file grievances and complaints with County, State and Federal agencies to protect the Bethel Community and its residents no matter what it takes.
Below is a copy of a letter I sent to 101 neighbors in the area.
Neighbor,
RE: City of Millersville Annexation along S. Mt. Pleasant Road
Leann Grubbs Barron, formerly from this area has 26 acres that she is requesting to be annexed into the City of Millersville. Helen Nash, who has a small tract, is making the same request. This land is located along the west side of South Mt. Pleasant Road.
I have asked the City of Millersville for information regarding the density of the development along with other pertinent information — see attached.
What does this mean to you?
A high-density residential development in our area can translate into traffic, noise pollution, light pollution, increased stormwater runoff and possibly crime.
How many residential buildings could be located there? Under present Robertson County building codes, the 26 acres could accommodate 22-30 single family residences. Under current high-density single-family building codes adopted by most cities and towns, there could be a maximum of 8 units per acre or a possible total of 208 single family residences.
What can You do?
Attend the Annexation meeting. It will be Tuesday, October 16 at 5:30 p.m. at Millersville City Hall.
Tell your neighbors about the pending annexation change.
Sign a petition at the meeting opposing the annexation and high-density real estate development. Contact Michael Barr, Development Services Director, City of Millersville, 1246 Louisville Highway, Millersville, TN 37072. The office hours are Monday-Friday, 9:00 a.m. — 4:00 p.m.
Phone: 615-859-0880. You can voice your opinion to him directly.
As a concerned local resident, | felt you needed to know this information.
Paul L. Fuqua
2372 South Mount Pleasant Road
Greenbrier, TN 37073
[email protected]
Send your Letter-to-the-editor to [email protected]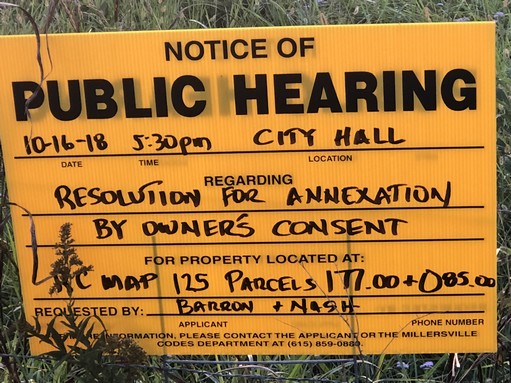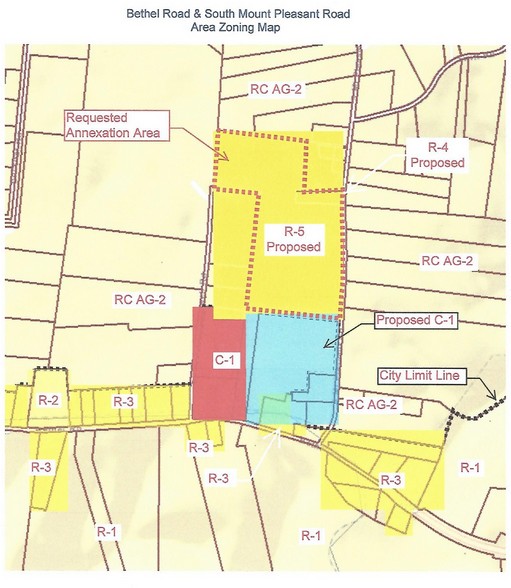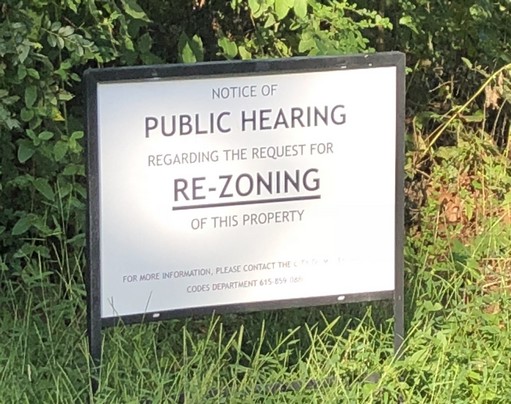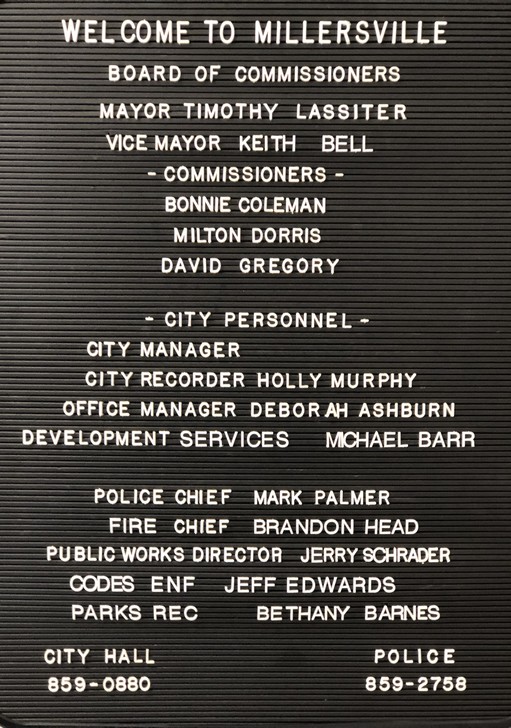 Smokey Barn News (Advertisement)



We bring you ALL the News in and surrounding Robertson County, Tennessee.