Missing Player Remembered At Field Dedication Ahead Of World Series Trip
GREENBRIER TENNESSEE: (Smokey Barn News) – At a ceremony Saturday afternoon, the No. 2 ball field at Louise Martin Park in Greenbrier was officially renamed the Braxton Fuqua Memorial Field #5.
Greenbrier Mayor Bonnette Dawson first announced the resolution at the city's last Board of Mayor and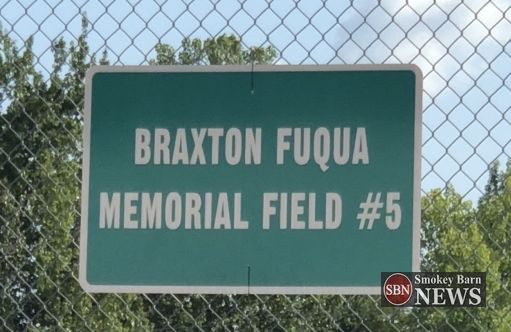 Alderman meeting. See video here.
A year an a half ago Nicole Turnbow received the news that her son Braxton had cancer. The news triggered a long battle that ended just weeks ago. FULL STORY
Smokey Barn News was there today as Mayor Dawson re-read the proclamation and officially dedicated the field in Braxton's memory. See video above.
Greenbrier 8U Boys team (Braxton's team) are officially undefeated State Champions. They beat Wayne County 3 – 2, then they conquered Dickson County 8 – 0 for the championship. The team also received the Sportsmanship Award and are headed to the World Series at the end of July in Louisiana.
"He was the team's Angel in the outfield," said Braxton's mom Nicole Turnbow who attended the game. That's her on the left in the team photo above. If you recall, Braxton lost his battle with cancer just a few weeks ago and he loved baseball and his team. #braxtonstrong
Nicole Turnbow and her daughter Kelsey were both there with them for the team's final win against Dickson County. "Braxton was even recognized and I was given a champ ring for him also!" Mom said.
Braxton's Mom sponsored the team's bat bags and had Braxton's new logo put on them for the boys. "They LOVED them!! I'm having his logo patented because I had it especially designed for him."
Total of 9 games in four days with a combined score of 107-17 with 5 of the games complete shut outs. Smokey Barn News will follow the team as they head to the World Series.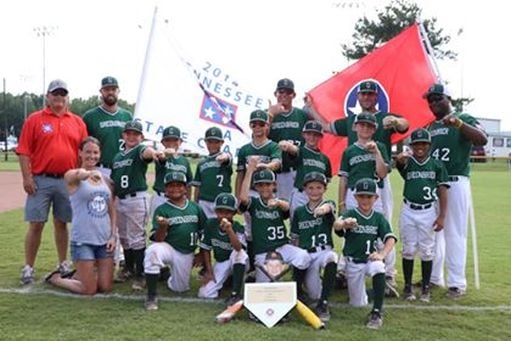 Greenbrier 8U Boys Team: Photographer/Team Mom Angie Carter
Back row left to right is Kaden Evitts, Jack Carter, Carter Pass, Bear Pulley, Colton Connally, Ricky Clark III, Ashton Chowning.
Front row left to right…Nicole Turnbow (Braxton Fuqua), Yaelin Garrett, Traydon Bostick, Wesley Dorris, John Slagel, River Hilliard.
Left to right adults… Ken Dorris, Josh Pulley (Coach), Dud Connally, and Tray Bostick.
Nicole Turnbow Introduces BraxtonStrong Foundation
After losing my son, Braxton Fuqua, to brain cancer in May, I wanted to find a way to keep his legacy going. During his year and a half battle, no matter how much he had to go through or suffering, he always kept his faith in God, he continued to always show love and care for others, and stayed so strong! I decided to start a nonprofit foundation in his honor, I named it, "BraxtonStrong Foundation". It is a 501c3 organization and 100% of profits and donations will be used to help out our community! I wouldn't have been able to be by my son's side without losing everything we had and our home if it wasn't for our community and I am forever grateful! This journey of ours has changed my life forever and grew my faith in the Lord stronger than it ever was before.
I plan to sale BraxtonStrong items year-round and of course, donations are always welcome! I will also have various events to help raise funds. I want to give back and help mainly the children in our community and surrounding areas that are having to do without due to various situations. I believe God will lead me to what He wants me to help with. I am super excited to see what all the foundation is going to do and how it will change peoples lives!
Donations are accepted through PayPal at [email protected] or contact Nicole Turnbow at 615-351-1341.
Greenbrier Names Baseball Field In Honor Of Braxton Fuqua
A Mother's Touching Good Bye To Her Son #BraxtonStrong
Smokey Barn News (Advertisement)
Smokey Barn News (Advertisement)
We bring you ALL the News in and surrounding Robertson County, Tennessee.