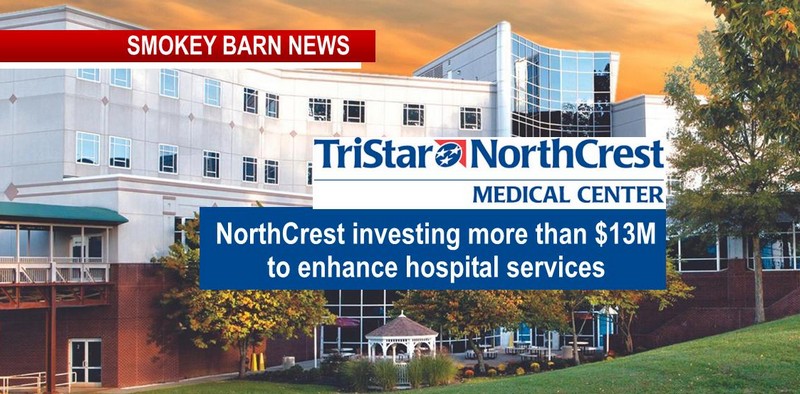 NorthCrest Continues To Expand Services Following TriStar Acquisition
ROBERTSON COUNTY TENNESSEE: (Smokey Barn News) TriStar NorthCrest has just announced an additional $13 million investment into the NorthCrest facility to enhance hospital services with a focus on delivering quality care to the Robertson County community.
Investments include upgrades in robotic surgery, imaging equipment, patient care rooms, and quality enhancements, according to Marketing Manager/PIO Amanda Brunt.
In its first year as part of the TriStar Health family of hospitals, Tristar NorthCrest launched or completed projects totaling more than $13 million to expand and improve resources and technology that aid in the delivery of high-quality healthcare to the community.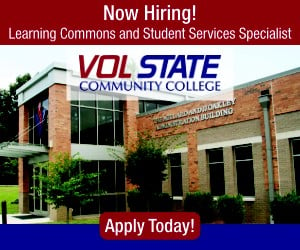 "This investment in the healthcare needs of Springfield and surrounding communities is a testament to the unwavering commitment to providing exceptional care to patients in the area," Brunt said. Significant capital investments over the last year include:
• Surgical Robotics Program: $1.5 million investment allows physicians to provide cutting-edge surgeries utilizing minimally invasive methods
• Patient Care Rooms: $2.78 million investment includes new beds, cardiac monitors, telemetry, nurse call system and patient room TVs to enhance patient experience and allow for a higher quality of care
• Equipment Upgrades: $1.73 million in clinical and ancillary equipment, including central sterile equipment, vital sign machines, dish machine, MRI enhancements and defibrillators
"The significant investment in hospital services is a testament to Tristar NorthCrest's dedication to deliver quality care to the communities we serve," says Charlotte Burns, RN, MHA, FACHE, Interim Chief Executive Officer.
As part of the larger TriStar Health system, TriStar NorthCrest has gained access to new technology for enhanced patient experience and quality. This includes:
• Meditech: Electronic medical record system that allows for real-time data tracking with improved quality analytics
• Orbit: App to track and trend patient and employee feedback to improve the overall care experience
• NATE (Next-gen Analytics for Treatment and Efficiency): Real-time situational awareness tool for hospitals that delivers timely data and allows care teams to quickly prioritize care opportunities
• MyHealthOne: Online personal health portal that allows patients to manage their own healthcare services from the convenience of their mobile device or computer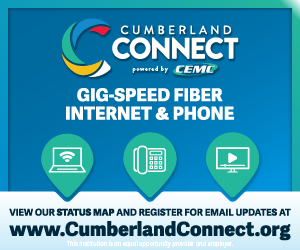 "In addition to investing in the hospital, TriStar NorthCrest is also investing in the community. In the past year, TriStar NorthCrest paid almost $490,000 in taxes, significantly contributing to the community's essential services for the residents of Robertson County. As a proud employer to more than 500 colleagues, TriStar NorthCrest is one of the largest employers in Robertson County," Brunt said.  "In 2021, the hospital received the Military Friendly & Military Friendly Spouse Employer as it employs numerous veterans among its staff. In 2022, the hospital received the American Heart Association's Stroke Gold Plus recognition for excellence in stroke treatment services. TriStar NorthCrest continues to be certified as a Primary Stroke Center and Certified Chest Pain Center by The Joint Commission."
"Our patients remain our top priority," Burns told Smokey Barn News, "and as the hospital looks forward and plans for the future, we will always prioritize and consider the wellbeing of our patients and how to best deliver quality, equitable healthcare. Tristar NorthCrest considers it a privilege to be part of the Robertson County community, and we are looking forward to serving our patients for many years to come."
About TriStar Health
TriStar Health is one of the largest and most comprehensive healthcare providers in the region, comprised of eleven hospitals, 21 imaging centers, 110 physician offices, five freestanding ERs, seven outpatient surgery centers, 18 CareNow® Urgent Care centers and ten medical parks. TriStar Health utilizes advances in clinical technology and innovative procedures while delivering high-quality care. The TriStar Health network had over 2.2 million encounters last year, including 377,824 ER visits, 97,583 inpatient admissions, and 7,560 babies delivered and provides $132 million annually in uncompensated care. The network is supported by over 1,400 physicians and 10,000 employees – including more than 4,000 nurses – who, above all else, are committed to the care and improvement of human life. TriStar Health is an affiliate of HCA Healthcare, one of the nation's leading providers of healthcare services. Learn more at TriStarHealth.com.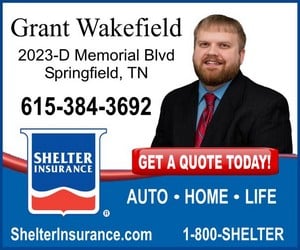 OTHER CHANGES………
TriStar NorthCrest Streamlines Services To Improve Access To Primary Care
Rural Health Care Group (RHCG) announced Tuesday that it will enter the Northern Middle Tennessee market to improve access to primary care in Robertson and Cheatham Counties. RHCG will acquire four primary care/family medicine physician practices in Pleasant View, Springfield, Greenbrier and White House previously operated by TriStar NorthCrest Medical Center's physician services affiliate, TriStar Medical Group. RHCG will work together with TriStar NorthCrest to ensure a smooth transition for patients and the community. RHCG will begin operating these clinics on November 1, 2022.
"We're excited to bring our passion of improving health through primary care to these markets," said Benson Sloan, Chief Executive Officer of RHCG. "We look forward to providing enhanced offerings of care focused on serving the entire community across Medicaid, Medicare and Commercially insured patients. Our focus is creating a provider-centric culture which we believe improves how care is delivered through the investments we make in people, services, and technology."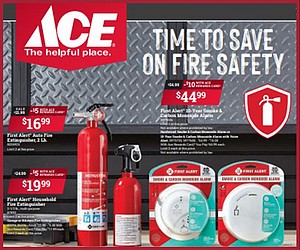 "We look forward to working with Rural Health Care Group to grow and expand primary care services in Robertson County." states Charlotte Burns, RN, MHA, FACHE, Interim Chief Executive Officer. "NorthCrest has worked with primary care and family medicine physician practices for many years. We look forward to their continued growth as they transition to Rural Health Care Group."
Patients previously seeing TriStar Medical Group physicians will experience a seamless transition to Rural Health Care Group. Practices that are part of this transition are: White House Family Care, Greenbrier Family Care, NorthCrest Primary Care (Springfield), and Pleasant View Family Care.
"As a longtime physician in the Pleasant View community, I am excited to continue my focus on providing excellent primary care to my patients," said Dr. Mark Pennington. "I look forward to working with Rural Health Care Group to grow our services and support expanded primary care options in our community." Physician Assistant, Brittany Jepsen of White House added, "I'm enthusiastic about joining a group that deeply believes in creating a positive culture for clinicians. This is critically important in enabling us to take better care of our patients."
For more information, please visit: RuralHCGroup.com
About Rural Health Care Group (RHCG)
Rural Health Care Group is a multi-site healthcare operator focused on expanding primary care access in medically underserved areas. Through our professional partnerships with rural providers, we utilize leading technologies and innovative clinical practices to enhance care delivery in the communities we serve. RHCG is headquartered in Nashville, TN and has existing primary care clinics in western North Carolina across numerous rural communities.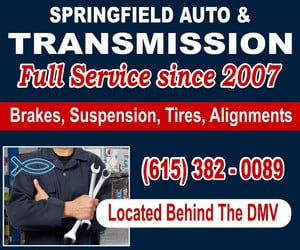 Blue Cross Blue Shield UPDATE
TriStar NorthCrest will remain in-network for all Blue Cross Blue Shield products through the end of the calendar year. After December 31, NorthCrest will no longer remain in-network for BCBS Network S products.
NorthCrest will remain in-network for all other BCBS products, including Network P, Blue Care, and Blue Cross Medicare Advantage Plans.
"We were pleased that Tristar NorthCrest was able to sign an agreement with Blue Cross Blue Shield, averting the potential network disruption originally planned for October 1, 2022." states Charlotte. "Our patients remain our top priority, and as the hospital looks forward and plans for the future, we will always prioritize and consider the wellbeing of our patients and how to best deliver quality, equitable healthcare. Tristar NorthCrest considers it a privilege to be part of the Robertson County community, and we are looking forward to serving our patients for many years to come."
THURSDAY OCTOBER 27, 2022
COME EXPERIENCE THE LATEST TECHNOLOGY
ROBOTIC SURGERY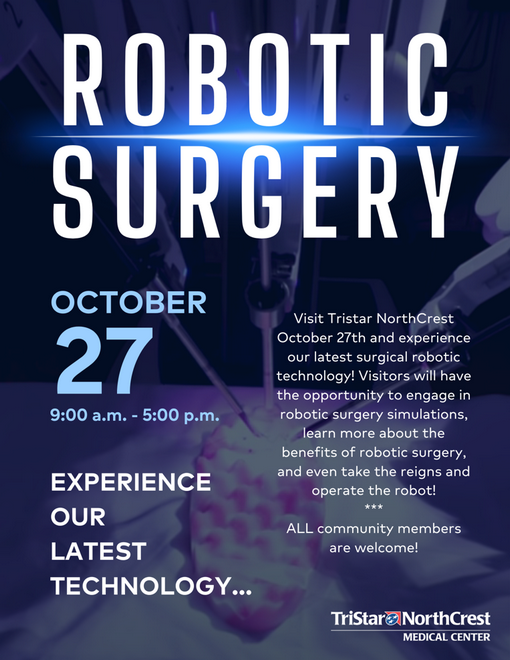 SATURDAY OCTOBER 29, 2022
TRISTAR HEALTH HOSTS "CRUSH THE CRISIS," AN OPIOID TAKE BACK EVENT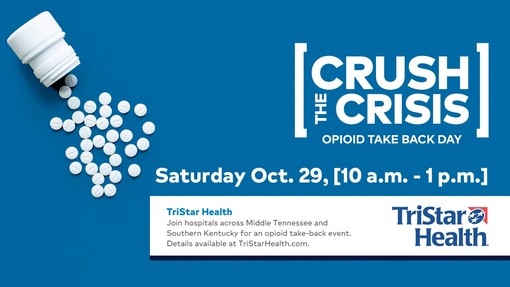 Ten locations around Middle Tennessee and Southern Kentucky will be collecting unwanted and unused medications on Saturday, October 29, 2022
– TriStar Health will host an opioid take back event to raise awareness about the dangers of opioid misuse and proper disposal of medications on Saturday, October 29, 2022. Called "Crush the Crisis," the event aligns with the Drug Enforcement Administration's (DEA) National Prescription Drug Take Back Day and invites community members to safely and anonymously dispose of unused or expired prescription medications. Law enforcement officers from the local police departments will be collecting tablets or capsules in any packaging, patches, medicated ointments, lotions, or drops, liquid medications (in lead-proof containers), vape cartridges (without batteries) and pet medications. Needles, syringes, lancets and illegal drugs will not be accepted. "Crush the Crisis" will take place on October 29 from 10 a.m. to 1 p.m. The community is invited to safely and anonymously dispose of unused or expired prescription medication at the following locations:
• TriStar Horizon Medical Center
111 Highway 70 East – Dickson, TN 37055
(Medication collected from 9 a.m. – 1 p.m.)
• TriStar Greenview Regional Hospital
1801 Ashley Circle – Bowling Green, KY 42104
• TriStar NorthCrest Medical Center
CVS at 903 Memorial Blvd. – Springfield, TN 37172
• TriStar Skyline Medical Center
3441 Dickerson Pike – Nashville, TN 37207
• TriStar Southern Hills Medical Center
391 Wallace Road – Nashville, TN 37211
• TriStar StoneCrest Medical Center
200 StoneCrest Boulevard – Smyrna, TN 37167
• TriStar Summit Medical Center
5655 Frist Boulevard – Hermitage, TN 37076
• TriStar Spring Hill ER
3001 Reserve Boulevard – Spring Hill, TN 37174
(Medication collected from 9 a.m. – 1 p.m.)
Mobile: To See The Latest Stories or to share this article, scroll below