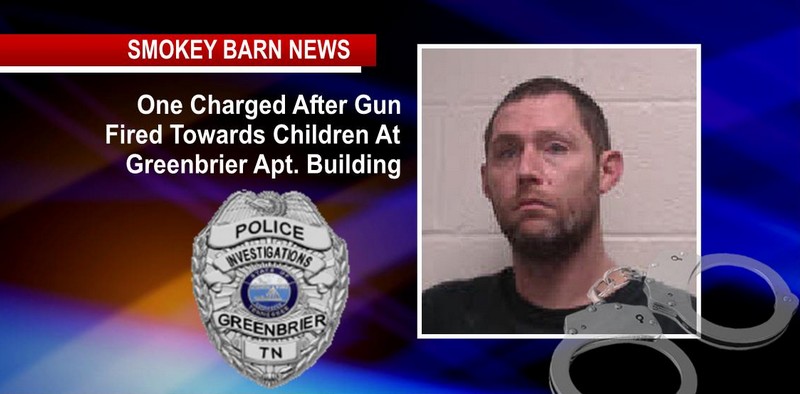 One Charged After Gun Fired Towards Children At Greenbrier Apartment Building
GREENBRIER TENNESSEE: (Smokey Barn News) – A Greenbrier man is behind bars after police say he fired a gun at an apartment complex, the single round hitting the ground just inches from juveniles playing, police said.
The incident took place at the Ridgewood Apartments located at 2045 Highway 41 S. MAP The initial call of "shots fired" came in just before 5:30 PM Tuesday afternoon.  A short time later police received a second call and while officers were en route, a third call came into 911.
Upon arrival, witnesses reported that an individual came through the basketball court with a black handgun, now identified as a 40 caliber Glock semi-automatic pistol, hanging out of his pocket.
According to Lt Buster Locklayer with the Greenbrier Police Department, witnesses reported that the suspect, now identified as 37-year-old Robert Cogdill of Greenbrier, "looked over the basketball court area and eyeballed everyone kinda gave them all a look and left." According to Lt Locklayer, a short time later the group of juveniles (that ranged in age from 9 to 17 years of age) moved to the area of the C Building of the Ridgewood Apartments where they were roughhousing, just being kids, Locklayer said. Locklayer reported that witnesses stated that, Cogdill exited an upstairs apartment, walked to the edge of the balcony of the breezeway and said, "Get the (explicative) out of here", just before firing a single shot into the ground.
Lt Locklayer told Smokey Barn News that the round hit the ground very close to the juveniles, close enough that one of the juveniles was struck on the leg by shrapnel or debris from the ground. Reportedly the juveniles immediately fled the area.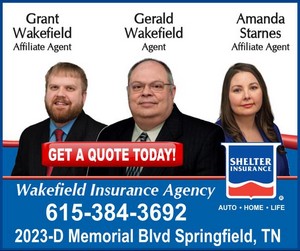 After talking with witnesses, police set up a perimeter around the area,  called for backup, and started the process of acquiring a search warrant for Cogdill's apartment. "We were not able to make contact with anyone although residents inside were watching us out the window. A short time later, Cogdill walked out onto the breezeway and was immediately taken into custody without incident," Locklayer said.
Once police received the search warrant to enter Cogdill's apartment, a handgun was located in a bedroom underneath the vanity stuffed into the insulation of some temporary drywall due to construction, Locklayer said.
Cogdill is facing six counts of Aggravated Assault and one count of tampering with Evidence. He was transported to the Robertson County Detention Facility in Springfield under a $70,000 bond.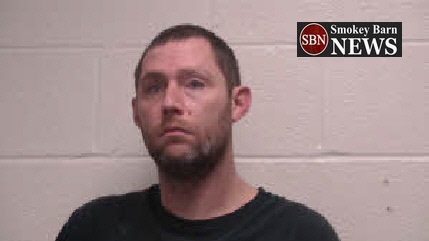 Mobile: To See The Latest Stories or to share this article, scroll below