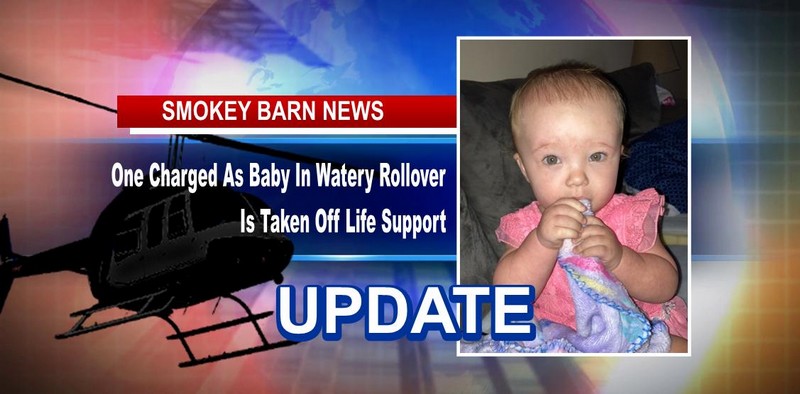 One Charged As Baby In Watery Rollover Is Taken Off Life Support
COTTONTOWN TENNESSEE: (Smokey Barn News) – A local family, with their one-year-old baby girl "Madi," that initially survived a violent rollover crash, was forced to make a painful decision, take their baby girl off life support.
Following the crash, the family's vehicle ended upside down in a pond with baby Madi trapped underwater. First responders and neighbors made a heroic effort to free Madi but she ended up underwater too long. Now after two weeks, the family was forced to say goodbye to Madi.
The news comes to us from Sumner County Sheriff Sonny Weatherford. "The child was taken off life support on Friday."
According to Sheriff Weatherford, the crash was allegedly the direct result of the actions of 34-year-old Michaela Morales who has been charged with DUI 2nd, Leaving the Scene of an Accident, Aggravated assault X3, Implied Consent, Vehicular Assault, and now following the death of the child, Vehicular Homicide. Her bond was set at $75,000 and she, at the time of this report, is still incarcerated.
"She definitely is a very happy kid,"  Christina Baker told WSMV News 4 back on August 17 about her one-year-old daughter Madi. "She loves to dance. She loves music. She lights up a room when she's in it."
Christina, Madi, and her fiancé were driving down Highway 25 near Cottontown when, reportedly, a car allegedly driven by Morales, pulled around their vehicle in a no-passing zone. The vehicle allegedly cut them off, hitting the front of Christina's vehicle.  Now off the road, Christina's vehicle hit fences, went airborne, and landed in a pond upside down submerged in water.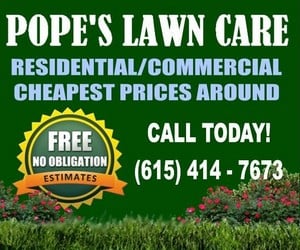 Fire Chief Joe McLaughlin with the Cottontown Volunteer Fire Department told Smokey Barn News that it was a race to save the child's life. Everyone, including neighbors, helped.
When McLaughlin's team arrived, neighbors had already hooked up a chain and some straps to the vehicle. The vehicle was upside down in the pond which sat about 20 feet in a field from the road.  "We attached the straps to our rescue truck and started pulling the vehicle in towards the shoreline until they were able to reach the baby," said Chief Mclaughlin.
Once Madi was out of the vehicle, Sumner County Medics started CPR on the one-year-old and were able to establish a pulse.  The child was transported via ground (emergency traffic) to Sumner Regional Medical Center where the child was stabilized and then Lifeflighted to Vanderbilt Medical Center in Nashville.
"It was a pretty intense few minutes there," said Chief Mclaughlin.
According to Sumner County EMS, the infant was submerged for several minutes.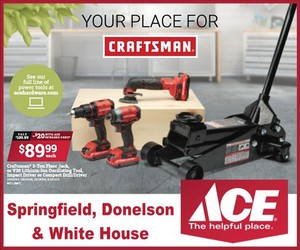 The call came in at 5:37 pm and by 5:58 pm the child was already en route to Sumner Regional, officials said.
The accident occurred back on August 16th on Hwy 25 near Vantrease Ln around 5:50 pm. MAP Smokey's original report.
Madi had been at Vanderbilt Children's Hospital in Nashville since the crash.
Obituary
A Celebration of Life service for Madilynn Reine Sherman, age 1 of Clarksville, will be Saturday, September 5, 2020 at 1:00 PM at Renovation Church. The family will receive friends on Saturday from 10:00 AM to 12:00 PM at Sykes Funeral Home. Madilynn passed away on Friday, August 28, 2020 at Vanderbilt Medical Center. She was born on June 26, 2019 in Clarksville, TN to Cody Sherman and Christina Baker.
In addition to her parents, she is survived by Austin Selling who has been like a father to her; sisters, Myah Baker and Magnolia Snelling; grandparents: Christopher and Rebecca Baker, Laurie Snelling, and Jennifer Huddleson.
The family requests that people in attendance wear purple.
Please visit Madilynn's guestbook at www.sykesfuneralhome.com and share a memory with the family.
To send flowers to the family or plant a tree in memory of Madilynn Reine Sherman, please visit our floral store.