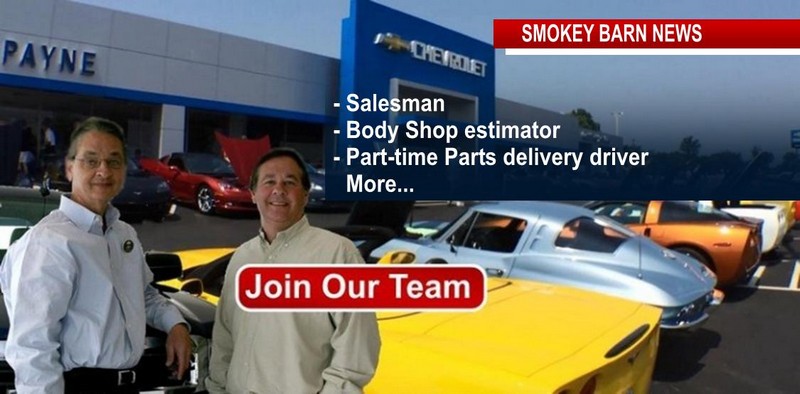 (Sponsored)
Payne Chevrolet Opens Up Hiring Across the Board
SPRINGFIELD TENNESSEE: (Smokey Barn News) – As Payne Chevrolet approaches 96 years of service in Middle Tennessee, their growth and commitment to their customers continue with every sale.  It's a legacy that you can experience yourself with a career that offers a stable future in a family-oriented environment.
Why drive to Clarksville or Nashville when great opportunities can be found right here in Robertson County.  Look over the opportunities below and consider a career at Payne Chevrolet!
Here's a look at the current openings at Payne.
Body Shop Estimator MORE INFO
Springfield, TN
From $60,000 a year.
Sales Representative MORE INFO
Springfield, TN
$30,000 – $60,000 a year.
Automotive Technician/Mechanic MORE INFO
Springfield, TN
$35,000 – $50,000 a year.
Auto Parts Delivery Driver MORE INFO
Springfield, TN
$12 an hour.
Tire and Lube Technician MORE INFO
Springfield, TN
$10 an hour.
Collision Repair Coordinator MORE INFO
Springfield, TN
$24,000 – $30,000 a year.
Apply Today!
For full job details and how to apply, click here. You can also send your resume to: [email protected]
Here's a look at Payne's incredible history in Robertson County….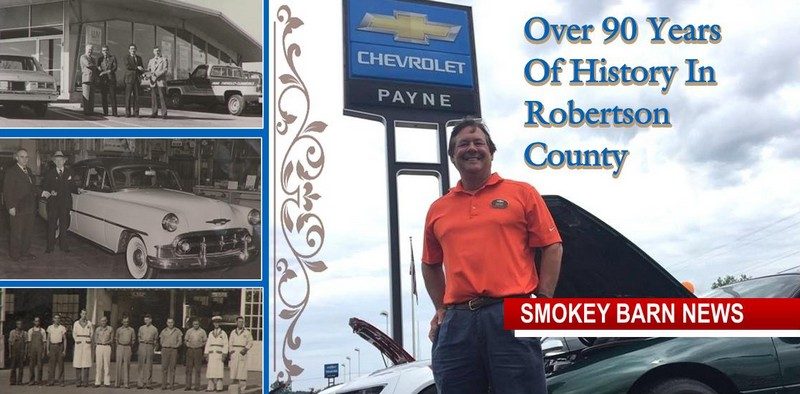 Payne Chevrolet: A Brief Look At Over 90 Years In Robertson County
ROBERTSON COUNTY TENNESSEE: (Smokey Barn News) – Payne Chevrolet has been a staple in Springfield, Tennessee since 1926, enduring the Great Depression and thriving throughout the years in three different locations in Robertson County. Regardless of their location, the care and support they feedback into the community have been the same since their beginning. "Our first location was established in 1926 in downtown Springfield, TN on Main Street," said Alex Payne, and great-grandson of Byram Payne who is currently acting as the firm's Digital Marketing Manager. "This is where the current playground/parking lot is for Springfield Baptist Church. The lot was a very tiny space, so we were only there for a few years until 1928."
"Once a little expansion was necessary, our next location was on Locust Street, where the current Robertson County Senior Center is located. The business expanded to two different buildings, one for service and one for sales showroom and office spaces, to increase productivity. Despite the efficiency between the two buildings, the space maxed out around having 30 vehicles available at any time. So as a result of increased business, the need arose yet again for an even bigger area. So in 1969 we built a new building with more lot space and moved into our current and final location at 2807 Memorial Blvd. in Springfield, TN.
"Payne Chevrolet was started by Mr. Byram Payne in January of 1926. With some help from his brother Van, the two managed the business together for a few years until Byram eventually bought him out completely. Byram made it a family business and brought in his two sons to help out: Don and Bobby Payne. He was succeeded by his two sons and they managed the dealership for a number of years until Don's sons took over.
"Currently, we are in our THIRD generation of family ownership with Jeff and David Payne at the helm. They have been co-owners and dealers since 1977 and 1985, respectively, and are continuing the family legacy. If you have relatives from Springfield, or in the neighboring towns surrounding it, you have heard about the quality care from Payne Chevrolet. We support many local schools and businesses, allowing us to pour money back into the town where we have been located for over 90 years."
PHOTOS: Courtesy Payne Chevrolet
Mobile: To See The Latest Stories or to share this article, scroll below