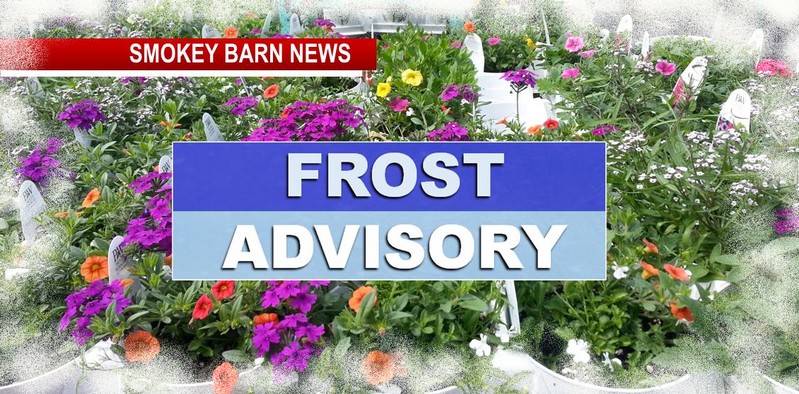 Plant Weather Alert, Rain Mix/Snow Coming
ROBERTSON COUNTY/MIDDLE TENNESSEE: (Smokey Barn News) –The National Weather Service in Nashville advises, a cold front will sweep across Middle Tennessee tonight.
Tonight:
Rain mixing with and changing to snow showers overnight. Low around 35F. Winds NW at 10 to 20 mph. Chance of precip 90%.
"Look for spotty, mainly light showers before temperatures take a plunge. We'll be in the low 30's by morning, and a blustery wind will make it feel like winter again."
Wednesday:
Wednesday will have a high of 54°, Partly cloudy.  Winds NW at 10 to 20 with a low of 33° A few clouds. Scattered frost possible. Winds W at 5 to 10 mph.
Thursday:
Thursday morning's forecast lows in the 30s are almost 10 to 20 degrees colder than normal for mid-April but will rise throughout the day to around 60°, WNW 9 mph, generally sunny despite a few afternoon clouds with a low Thursday night of 42°.
Cover plants!
"You can protect plants by covering them with sheets, towels, blankets. You can also turn buckets upside down and place them over the plants. It's best to cover plants before dark, as this will trap warmer air. You can place plastic over the sheets or blankets to help keep warmth in but do not use plastic directly over plants as this will damage the plants." Amy Corbin, plant specialist with Springfield's Corbin Creek Greenhouse.
Mobile: To See The Latest Stories or to share this article, scroll below