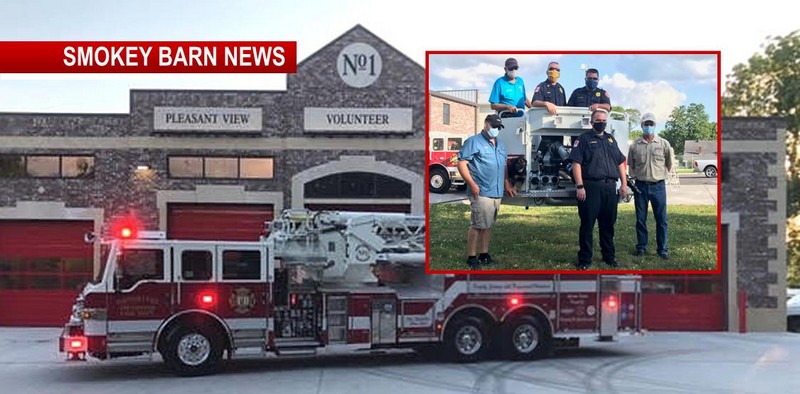 Pleasant View Vol. Fire Gets New Ladder Truck To Meet Growing Needs
PLEASANT VIEW TENNESSEE: (Smokey Barn News) – The Pleasant View (TN) Volunteer Fire Department (PVVFD) has taken delivery of a new ladder truck to keep up with the growing needs of the communities it serves.
Funding for Tower 1 was provided through a collaborative effort by the Town of Pleasant View, the Town of Coopertown, and the PVVFD.
"We appreciate the Town of Pleasant View, Town of Coopertown, for working with us to provide their financial contributions for this ladder truck. This cooperation shows that both towns and the fire department see the need for citizen and firefighter safety," explained PVVFD Fire Chief PJ Duncan. "We've come together and partnered for progress and future growth in these communities and we will continue to focus on our mission, vision and values to serve."
Changes in building height restrictions, the building of occupancies such as hotels, and the growth of commercial, multi-family, and single-family structures has made an aerial apparatus a necessity to provide safe and effective service to area residents and visitors.
The 2019 aerial platform manufactured by Pierce boasts a 100' ladder with a bucket at the end that can safely carry up to 4 firefighters. This will provide access to windows, rooftops, other structural areas that could not be reached by ground ladders carried on other PVVFD vehicles. The apparatus also carries a 2000 gallon per minute pump, an on-board water tank, seating for 4, and a variety of fire and rescue tools.
The truck will be designated as "Tower 1" and will operate from PVVFD Station 1 on Main Street in Pleasant View. The apparatus will respond to fire calls involving commercial buildings, high-life occupancies, and in neighborhoods with multi-story homes and steep roofs. It will also be used as needed at technical rescue calls or other fire incidents and available to surrounding agencies for automatic or mutual aid assistance.
The truck will also provide points that can be used to obtain a better insurance rating when the PVVFD is evaluated by the Insurance Service Office.
For more information about the Pleasant View Volunteer Fire Department, visit www.pvvfd.org and check us out on social media as well (Facebook, Instagram, and Twitter).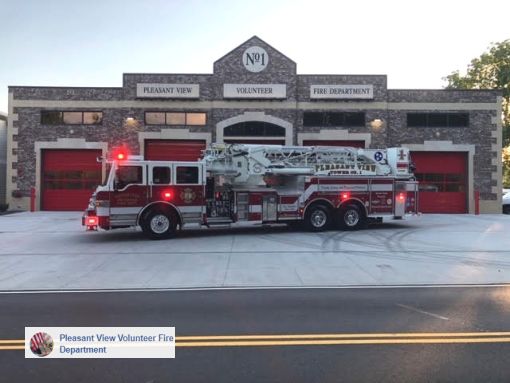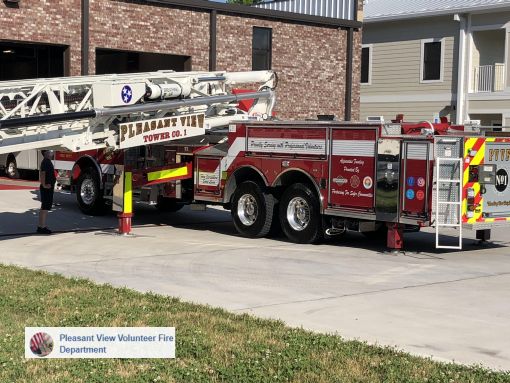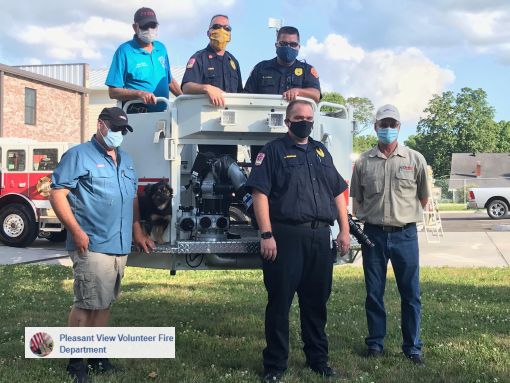 How You Can Win 30K In Prizes & Support Training For First Responders. Ticket sales will end at the end of July (Click Image for more info)