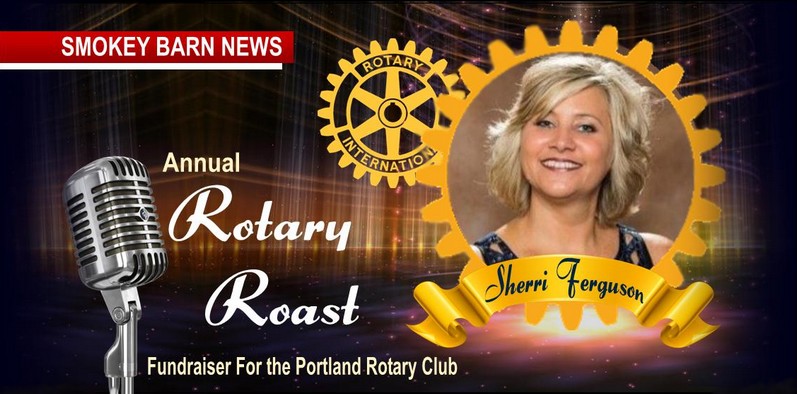 (Sponsored)
Portland Rotary To Roast Chamber President Sherri Ferguson At Fundraising Dinner
PORTLAND TENNESSEE: (Smokey Barn News) – What better way to raise money for a local charity than a good old fashioned roast.
The term "Roast" conjures up memories of the old Dean Martin Celebrity Roast. It's a tradition that goes as far back as anyone can remember. It's an opportunity to poke fun of someone that everyone knows and respects. That is exactly what Sherri Ferguson – President & CEO of the Portland Chamber of Commerce has signed up for. There will be many speakers telling funny stories, secrets and honoring Sherri.
"Join us for the Second Annual Rotary Roast honoring the fearless leader of Portland's Chamber of Commerce, Sherri Ferguson! Join us on Leap Day, Feb 29th, 2020 for a great meal, plenty of laughs and to support an amazing cause. This is a fundraising event for the Portland Rotary Club."
Hosted by Clark Shifflett & Paul Fuqua
About Sherri Ferguson – President & CEO of the Portland Chamber of Commerce
The Executive Director of the Portland Chamber of Commerce is the Chief Executive Officer of the organization and is responsible to the Board of Directors for the full range of activities: coordination of the Program of Work, organizational structure and procedures, motivation of volunteers, income and expenditures, maintenance of membership, employment and supervision of staff, interpretation of policy, maintenance of quarters and planning.
Sherri Ferguson became President & CEO of the Portland Chamber of Commerce on Monday, March 14, 2011. She replaced former director Amy Wald. Ferguson worked for many years for Shannon Insurance as an insurance agent.
"My goals are to increase the partnership with the city and surrounding chambers to work together to create an 'I can help you and you can help me' type of philosophy," said Ferguson in an interview with the Portland Leader newspaper. "I'd like to have better networking among the chamber members and I want them to be excited about networking. I feel this is what I've already heard."
Ferguson is the daughter of dairy farmers who grew up in nearby Orlinda. She is married to David Ferguson and they have three children and two grandchildren.
ABOUT THE EVENT:
WHEN:
Saturday, February 29, 2020, at 6 PM – 9 PM
WHERE:
Southern Occasions Event Center & Catering
107 N Russell, Portland, Tennessee 37148
COST:
$60 per person – tickets must be purchased by February 25, 2020
DINNER:
Full buffet dinner provided by Southern Occasions Event Center
• Beef Brisket
• Italian Chicken
• Green Beans
• Twice Baked Potato
• Bread & Desserts
For tickets or more details:
Contact any Portland Rotary member or call 615-325-3754 or email: [email protected]