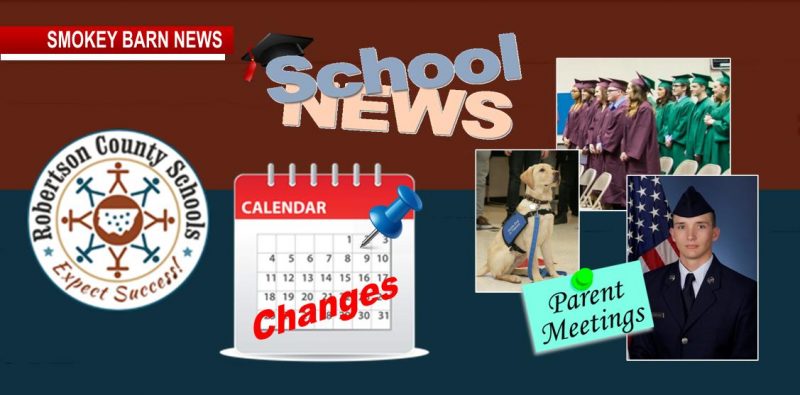 Robertson County Schools News:
Calendar Changes, Achievements, Parent Meetings & More
Calendar Changes: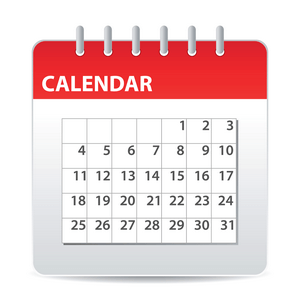 ROBERTSON COUNTY TENNESSEE: (Smokey Barn News) – Please note the following calendar changes for all Robertson County district schools.
The teachers-only professional development day, originally scheduled for Jan. 12, and cancelled due to inclement weather, has been rescheduled to Friday, Feb. 16. There will be no instructional classes and students will have the full day off. All instructional staff will participate in the professional development schedule for the day.
The early release day, originally scheduled for Mar. 29 has now been changed to a full instructional day of classes that will operate on a regular school schedule.
The above calendar changes are pending school board approval at the regularly scheduled Feb. 12, board meeting.
Currently the district has two stockpiled days remaining as options during the 2017-2018 school year.
Contact your child's school if you have any additional questions regarding these changes.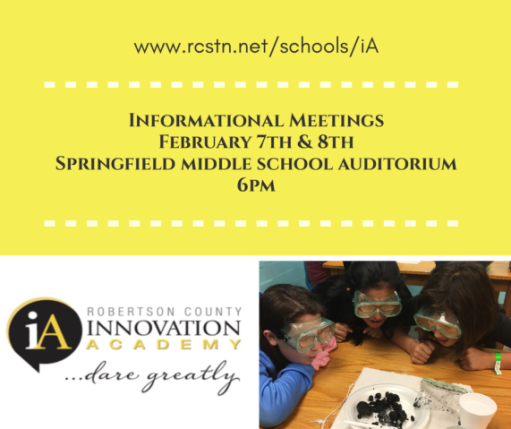 Innovation Academy Meetings & Enrollment:
The Robertson County Schools Innovation Academy will host informational meetings on Wednesday and Thursday, Feb. 7 & 8, at 6 p.m. in the Springfield Middle School auditorium.
If you are interested in the possibility of your child enrolling in the Innovation Academy, please make your plans to attend one of these meetings.

Springfield High School graduate Joshua N. Thompson
Now Air Force Airman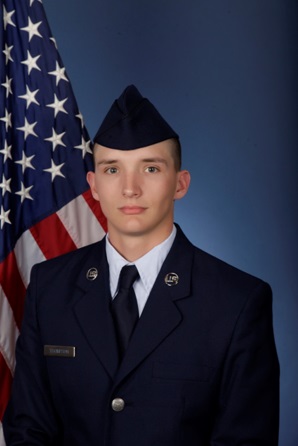 Air Force Airman Joshua N. Thompson graduated from basic military training at Lackland Air Force Base, San Antonio, TX, on Nov. 16, 2017.
Thompson completed an intensive, eight-week program that included training in military discipline and studies, Air Force core values, physical fitness, and basic warfare principles and skills. Airmen who complete basic training earn four credits toward an associate in applied science degree through the Community College of the Air Force.
Airman Thompson is the son of Darrell and Melinda Thompson of Springfield, TN, and is a 2015 graduate of Springfield High School.

Seventy-Four Graduates Receive Diplomas At Winter Graduation Ceremonies
Robertson County Schools held its Winter Commencement on Friday, January 19, at the Springfield Civic Center, in Springfield. The ceremony, originally scheduled for January 12, has been postponed for one week due to inclement weather. Seventy-four students from all six district high schools were represented in the ceremony that was held before a capacity crowd of families and friends.
The graduates entered the Center to "Pomp and Circumstance", performed by the Robertson County Community Band, The audience continued to stand as the Junior Air Force R.O.T.C., under the direction of Col. Dale Lightfoot and MSgt. Douglas Holland, presented our nation's colors as the Community Band played the National Anthem.
Opening remarks were made by Dr. William Locke, Secondary Education Supervisor. After recognizing special platform guests, Mr. Jeff White, school board chairman, addressed the graduates. Next, Director of Schools, Dr. Chris Causey, also addressed the graduates and recognized the graduates' family members.
At the conclusion of the preliminary remarks the Robertson County Band, under the direction of under the direction of Dr. Wade Smit., performed "Pavanne," as special music for graduates and guests.
The keynote speaker for the evening was the Honorable Ann Schneider, Springfield City Mayor.
The following students were recognized as graduating with Honors, achieving a 3.5 or higher grade point average throughout their entire high school career: Alyssa Tracey Helson, Shenelty Joan Ortiz, and Hannah Ruth Wilson—East Robertson High School; Savannah Lee Thorsby—Jo Byrns High School; Tykia Archell Black, Matthew Erick Lindblom, Logan Chance Roach, Emma Elizabeth Smith, and Krista Marie Louise Stiers—Springfield High School; Makayla Grace Edwards and Mary Margaret Gossett—White House Heritage High School; and Kendall Brooke Greer and Tristan O'neil McIntosh—Robertson County Virtual School.
Graduating seniors who met all four benchmarks for the ACT were recognized as graduating with State Honors. These students were Brandon Frank Barber—East Robertson High School; and Emma Elizabeth Smith—Springfield High School.
Savannah Lee Thorsby of Jo Byrns was recognized as a Graduate with Distinction. This recognition goes to students who have earned a 3.0 grade point average or higher and have completed a minimum of twelve hours of undergraduate credit during their high school career.
​The evening's highlight was the presentation of diplomas to the graduates. The principal presented the graduates for approval. As each graduate's name was called, Director Causey presented them their diploma. School board members Jeff White, Allan Heard, and Connie Hogan, along with their principal, offered congratulations to each graduate.
Diplomas were conferred to the following students during the ceremony:
East Robertson High School: Brandon Frank Barber, Brandon Lee Frazier, Hannah M. Goostree, Alyssa Tracey Helson, Christopher Michael Hicks, Kaitlyn Nicole Long, Jordan Allen Lynch, Destiny Lula-Marie Meadors, Shenelty Joan Ortiz, Jackelynn Marquise Owens, Zachary Dean Searcy, Gabryel Elaine Townley, Samuel Edward Lee Wasden, and Hanna Ruth Wilson.
Greenbrier High School: Cameron Trey Adams, David Wayne Brassell, Courtney Alexis Campbell, Peyton Jay DeSenso, Hunter William Freedline, Kursten Jea Krisle, Matthew Allen Marshall, Krista Hope Moreland, Amber Lee Popp, Emily Drue Hunter Rainey, Brookelyn Dalaynie Rice, Jordan Wrene Shipley, Hunter Todd Smith, Rachelle Ciara Spurlock, and Ryan Alexander Wright.
Jo Byrns High School: Levi Thomas Drake, Keeonna Michelle Elliott, Roseann Faye Hudson, Victoria Michelle Jenkins, Katherine Marie Rawls, Antonio Dewayne Raymer, Sara Elizabeth Richards, and Savannah Lee Thorsby.
Springfield High School: Kaitlyn Ann Baker, Holly Elizabeth Bilyeu, Tykia Archell Black, Hailey Nicole Bohrer, Anna Nicole Bush, Andrella Mechell Clark, Caleb Hill Collins, Mackenzie Leighann Crenshaw, Austin Christopher Cunningham, Michael Hunter Hand, Asianna Nechelle Hyde, Matthew Erik Lindblom, Ashley Nicole Murray, Kaylee Nicole Nichols, Zachary Alexander Phillips, Logan Chance Roach, Emma Elizabeth Smith, Krista Marie Louise Stiers, Jezebel Raven Verchota, and Jasmine Lusero Wilkerson.
White House Heritage High School: Jacqueline Angel Lopez, Lauren Micayla Burton, Chandler Everett Cole, Alyssa Marie Copeland, Makayla Grace Edwards, Daniel Jordan Francis-Valles, Hannah Patricia Gossett, Mary Margaret Gossett, Donald Lee Graves, Faith Nicole Murray, Cierra Nicole Scott, Dawson Kristian Sheppard, Hope Danielle Stone, Kristy Dawn Turcotte, and Destiny Faith Wey.
Robertson County Virtual School: Kendall Brooke Greer and Tristan O'neil McIntosh.

Jo Byrns Welcomes Service Dog Trainee As Newest Student
Arthur, a four-month-old yellow lab, was introduced on Thursday, January 11, as the newest student at Jo Byrns High School. As a new recruit for Southeastern Guide Dogs, and trained by JBHS senior Maxine Knoepfel, Arthur is slated to eventually become the eyes for a visually impaired or blind person in approximately two years.
Knoepfel will be responsible for Arthur's first full year of learning. She has had him for the past two months and is excited about her part in shaping his education.
"I was looking for my FFA Supervised Agricultural Experience," she said, "and I decided that I wanted to help out the community while doing something I love. I have my own personal dogs that I compete with and I knew this was something that I would love to do.
"The main purpose of this program is to socialize the dog and get him used to populated environments like grocery stores, malls, and the like. The secondary purpose is training him in house manners and basic commands like, heel, sit, and stay."
Knoepfel says that the crowded halls, classrooms and cafeteria of JBHS will help acclimate Arthur to the distractions that public places can produce for a guide dog.
After Arthur's year with Maxine, he'll be returned to the SGD campus for a year of advanced training. Till then, he'll literally be her constant companion. "He's already super engaged in me," she said in reference to his attention to her presence and guidance.
Dogs like Arthur are bred specifically for temperament and healthy genetics. Knoepfel explained that a gentle, patient temperament is necessary for optimum
interaction with the public and an eventual owner. Good genetics are the best assurance that Arthur will not have to retire early due to health or physical complications.
Knoepfel owns and trains two other dogs in competition but said this is her first involvement with a service dog. The bond between the two of them is already noticeable and hopefully an indication of a very successful training process. In the meantime, students at JBHS will share their hallways and classrooms with their newest fellow-student.

Springfield High Honor Roll Grows
Springfield has got it going on! 749 of our 1122 students made the honor roll last semester!

Former Ridgetop/Greenbrier student Now US Navy Sailor
Former Ridgetop/Greenbrier student Braxton Schroeder, 18, is now a US Navy Sailor.
Braxton attended Grennbrier Middle School and Greenbrier High School and has graduated US Navy Boot camp this month.
He's already moved on to Pensacola A school (Aviation Technical School) and is expected to graduate from A school in a month.
From there, he will be placed on a US Navy aircraft carrier to serve his country.

Greenbrier High School FFA
Greenbrier FFA proudly hosted the Sectional Contest for FFA Individual Public Speaking Competitions on January 23. Congratulations to all of the Middle Tennessee State winners! #gbawesome

Springfield High School's Teacher Of The Year
On January 29, 2018, the VFW honored their teachers of the year. We are proud to announce that Springfield High School's very own AFJROTC instructor Sgt. Doug Holland won high school teacher of the year! Congratulations, Sgt. Holland!

Former East Robertson Ag Student Meets President Trump:
 A Sit Down Interview With Will Gregory
CROSS PLAINS TENNESSEE: (Smokey Barn News) – 20-year-old Will Gregory of Cross Plains and former student of East Robertson High School is studying to be an agriculture teacher, a decision that would ultimately take him to the tarmac at the Nashville International Airport and a meeting with the President Of The United States.
President Trump flew into Nashville on January 8th to meet with the American Farm Bureau Federation at their Annual Convention. As the State Treasurer for the Tennessee FFA Association, Will Gregory was invited to meet the President.
Join Smokey Barn News for a sit-down interview with one very proud father and his son, Mark and Will Gregory.
Video footage of Will meeting President Trump provided by WSMV News 4 Nashville.


Smokey Barn News (Sponsor/Advertisement)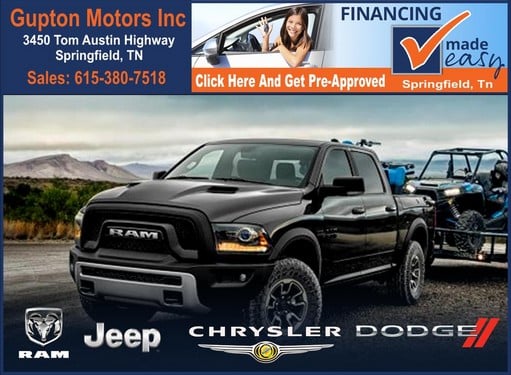 We bring you ALL the News in and surrounding Robertson County, Tennessee.