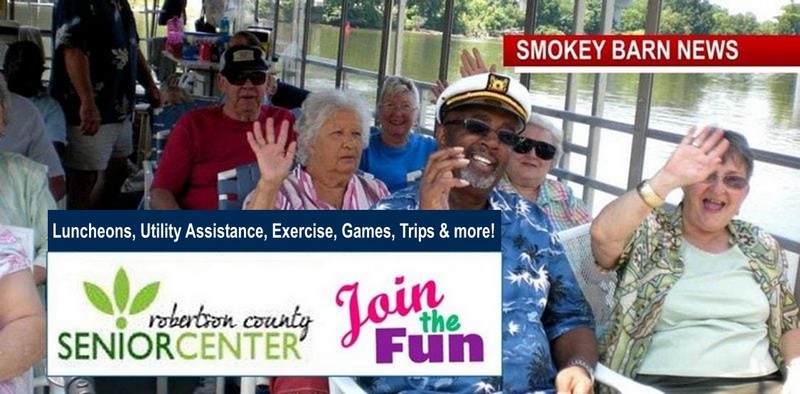 RC SR Center: Luncheons, Utility Assistance, Exercise, Games, Crafts & More!
SPRINGFIELD TENNESSEE: (Smokey Barn News) – The Robertson County Senior Center in Springfield is in full swing with lots to offer. Come on out and make new friends! Enjoy fellowship, exercise classes, yoga, cards, bingo, crafts, health education, potlucks and more!
Check out upcoming events below…


Mondays, Wednesdays & Fridays – Lunch at the RC Senior Center by Meals on Wheels

Meals on Wheels is a service through Mid Cumberland that provides hot healthy meals to Senior Adults  (age 60 and above) who cannot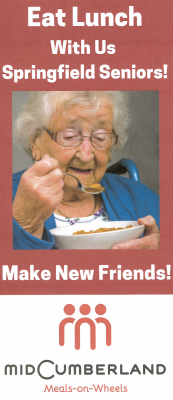 get one otherwise. There is not an income requirement and meals are free. Donations are accepted at any time.
If you would like to join us at the Senior Center for a congregate meal at lunch time, we would love to have you join us. You might even decide to stay and play a round of dominos, cards, or bingo.
Note: There is a form to fill out for all participants that can be picked at the center.
This is a good way to gather, make new friends, and enjoy some laughter. We look forward to seeing you!!
Cindy Farmer
Director
Robertson County Senior Citizens Center
Robertson County Senior Center In Springfield, TN
Lots of fun events every month, sign up for the newsletter. 
Check us out online!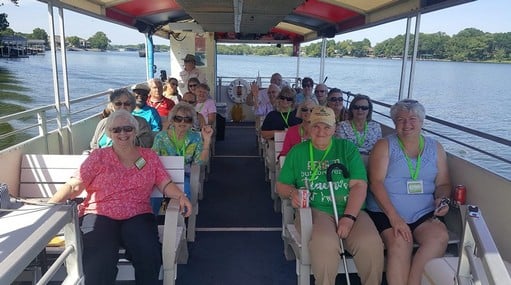 Announcements
Inclement Weather Policy: We follow the Robertson County School System Policy. If schools are closed for weather related reasons, activities and outings are canceled unless otherwise notified.
Needs List: 8 oz. bottles of water; coffee & coffee cups, paper towels, toilet tissue, and legal size printer paper
Hours through March 2023 the Senior Center will open at 9:00 and close at 2:30.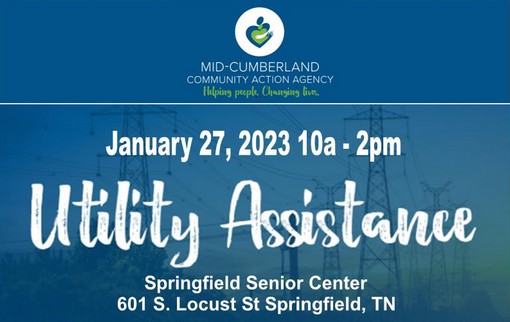 Let MCCAA (Mid-Cumberland Community Action Agency) help you lower your energy bill! Our Assurance 16 program will provide you with the tools and education needed to make your home more energy efficient.
You could receive $600, $800, or $1000 toward your energy account!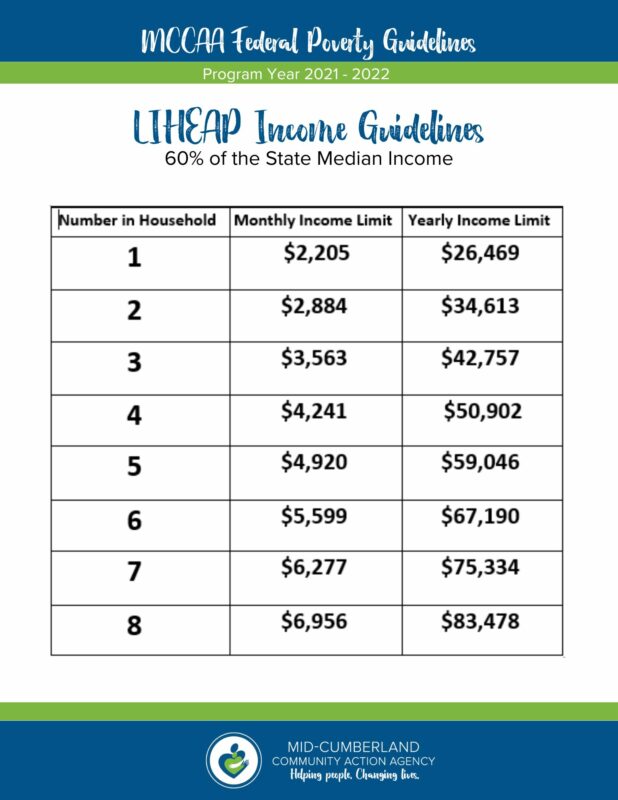 REQUIRED DOCUMENTATION:
• Social security cards for everyone in the home
• Last 30 days of income for anyone in home 18 or older
• Photo ID for head of household
• A 12-month printout from your energy provider
• Military ID or DD-214
• If applicable, please also bring:
• Child support TCESES number or signed letter explaining frequency & amount • 2021 Social Security benefit/award letter
• Paystubs for last 30 days
• Current award letter or employer statement for pension/annuities
No person on the basis of race, color, national origin, sex, age, disability, ancestry, status as a veteran, or any other characteristics protected by Federal, State or Local will be excluded from participation in, or be denied benefits of, or be otherwise subjected to discrimination in the operation of the LIHEAP program. This project is funded under an agreement with the Tennessee Housing and Development Agency.
Click HERE to fill out an Application

TN HOPE LINE – Connect with compassionate, trained, and loving listeners for help, hope, & encouragement.
ARE YOU LONELY? AGE 60+?
M-F 10-4 EST 844-600-8262
A partnership of The Governor's Office of Faith-Based and Community Initiatives, Tennessee Baptist Mission Board, and Tennessee Commission on Aging and Disability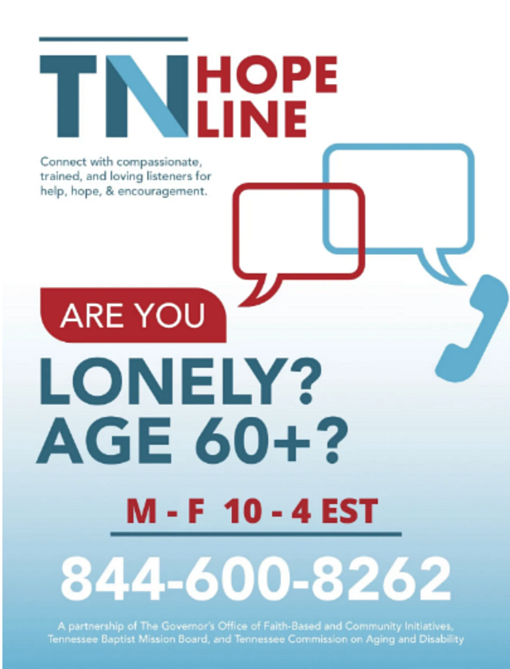 Soup Sale February 1, 2023 from 11am to 2pm – $8.00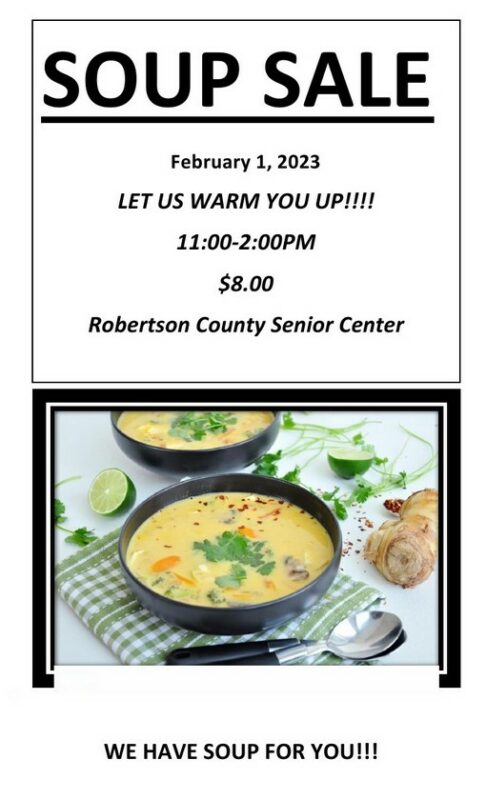 Mobile: To See The Latest Stories or to share this article, scroll below