Robertson Family Hit Hard By COVID-19
ROBERTSON COUNTY TENNESSEE: (Smokey Barn News) – A  Robertson County family has been hit hard by COVID-19. Yesterday we brought you the news that DJ Johnny Gardner had a stroke that doctors believe was triggered by COVID-19. Three weeks earlier Johnny's father-in-law succumbed to the virus. Now 12 members of their family have tested positive.
Smokey's news partner WSMV News 4 out of Nashville met with the family. The interview was powerful and puts a face on COVID-19.  We have added News 4's video report above.
Below we have added our original report below, including additional information on DJ Johnny's current condition and how you can help the family.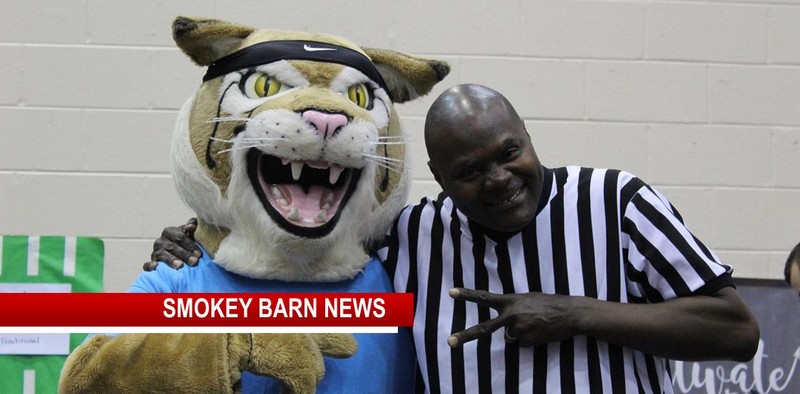 (Photo: Bobby Bobcat)
See Update Below
ROBERTSON COUNTY TENNESSEE: (Smokey Barn News) –Social media is lighting up with posts and prayers for DJ Johnny Gardner, a very popular disc jockey in the Robertson County area. Johnny reportedly had a medical emergency and is currently hospitalized.
An entertainer at heart, DJ Johnny is known to be the go-to-guy if you have an event that needs to go off the charts.
"We just heard that our favorite Running of the Elves DJ, DJ Johnny, had a massive stroke this morning. Please keep him and his family in your prayers as they navigate through the next several days, weeks and months. Prayers for a full recovery, DJ Johnny!," White House Area Chamber of Commerce.
"Please keep my great friend DJ Johnny Gardner and his family in your thoughts and prayers at this time. DJ Johnny is currently at Vanderbilt Hospital after suffering a stroke," Greenbrier's bobby Bobcat.
"DJ Johnny has lit up the lives of so many children (and adults!) in our community. He recently suffered from a massive stroke.
We pray that he will be healed. The world needs his love, acceptance and beautiful energy," Bransford Community Center.
"Everyone please stop what you are doing and pray for Johnny Gardner aka DJ Johnny! I just found out he suffered a massive stroke today. We all love him this community! How many times has he showed up and livened up your event, party, wedding, school? I remember so many times him bring such joy to my kiddos! Dancin' singin and just being himself! Let's all pray for him, his family and friends and the drs and nurses caring for him. We all love you Johnny! Be strong!," Kara Hardy.
Dj Johnny has been a movin and groovin hit with the kids during the Friday night dance contests at Veterans Motorplex at the Rim.
"Please keep DJ Johnny and his family in your thoughts and prayers. He had a massive stroke this morning," Highland Rim Speedway.
The staff at Smokey Barn News will be keeping Johnny and his family in our prayers as he recovers.
UPDATE 8/5/20
A GoFundMe page has been set up for DJ Johnny and the family.
On 8/3/2020, Johnny suffered from a massive stroke in our home. He was rushed to Northcrest Medical Center and then transferred to Vanderbilt, where he remains. Vanderbilt doctors are telling us that he had a blood clot in his neck (as a result of COVID). This blood clot traveled to his brain, causing the massive stroke. Due to the intensity of the stroke, intervention was not possible. His brain began to swell and they had to release the pressure by removing part of his skull. We are currently waiting to see how he responds. We have been told by the doctors that IF he gets through this, he will require intensive rehabilitation. We know that God has the final word and we are continuing to pray that a miracle happens for our beloved husband, father, grandfather, friend, and community member.
3 weeks prior to Johnny's massive stroke, my father passed away. Initially, we were told he was suffering from cancer. Our family was called in to say our goodbyes one last time prior to him passing. Most of our immediate family was able to visit my father before he passed. The day that he passed, we learned that he was actually suffering from COVID related illness. Since that time, the majority our immediate family has tested positive for COVID and some have been hospitalized. Due to the wide spread COVID outbreak among our family, we are unable to visit Johnny at this time. This has been an added hardship as we are unable to be with him during this difficult time. Additionally, no one in the household is able to work at this time.
We have a long road ahead of us, but know that God has our family in his hands. Please pray with us for Johnny's full recovery, and our family's full recovery from COVID.