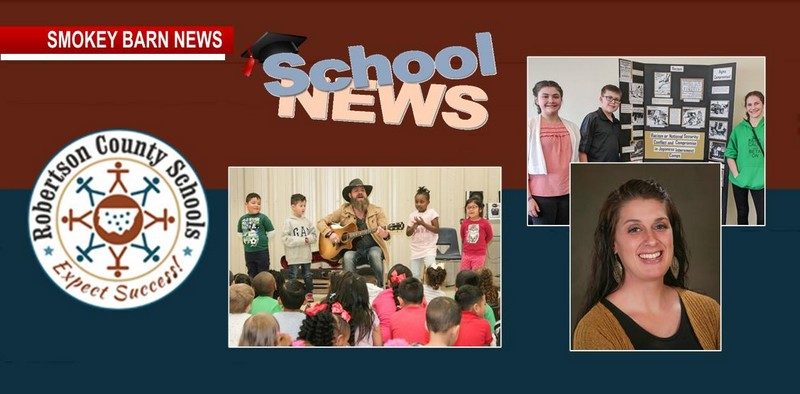 School News:
Student Achievements & Education Satisfaction Survey For Parents

Courtney Burns named Interim Asst. Principal – Cheatham Park Elem.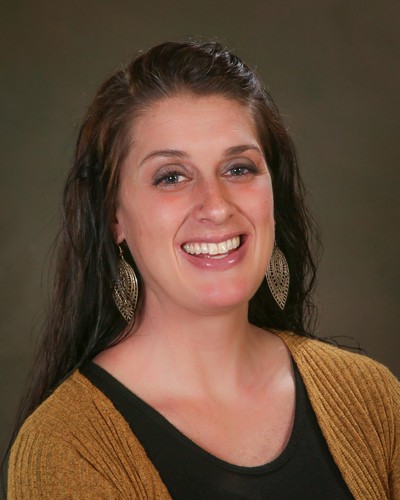 Courtney Burns has been named as Interim Assistant Principal for Cheatham Park Elementary School, replacing Jeff Wright, who resigned his position with Robertson County Schools.
Courtney has taught at Cheatham Park continuously since coming to RCS at the beginning of the 2006-2007 school year.
Born and raised in Antioch, TN, she attended Ezell-Harding Christian School from k-12. While there, Burns played basketball, volleyball and softball. Upon graduation, she enrolled in Trevecca Nazarene University, where she graduated with a B.S. degree in Sport Management and Health Education in 2003. She later returned for another degree, this time in Physical Education. Burns continued her education with a Masters Degree in Administration in 2009 and is scheduled to graduate from Tennessee State University as a licensed school counselor this spring.
Burns said she is looking forward to the challenges and opportunities of her new position.
"I am very excited to take on this new role of interim assistant principal," she said. "I have been at CPES for 12 years and have seen and been a part of the daily successes and struggles. It is an honor to continue to work alongside some of the hardest working teachers and staff I know, while continuing to serve and educate my students. This will be a new challenge, but I am eager to see where it takes me. I appreciate Mrs. West and the Central Office administrators for giving me this opportunity."
Courtney and husband, Ben, live in Portland with one son and their three dogs, and are expecting a baby in August.

White House Heritage Elem. students Present Exhibits In Regional History Day competition, One headed to national competition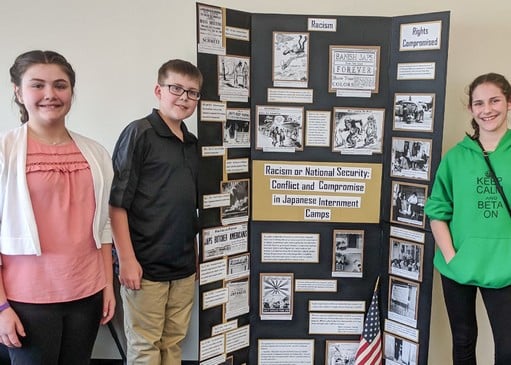 Four White House Heritage Elementary sixth grade students participated in the North Middle Tennessee Regional History Day competition in Nashville on Friday, February 23.
Based on the theme for the year of: Conflict and Compromise in History, Calla Baker, Abby Page, and Wade Shapton presented their exhibit on Japanese Internment during WWII.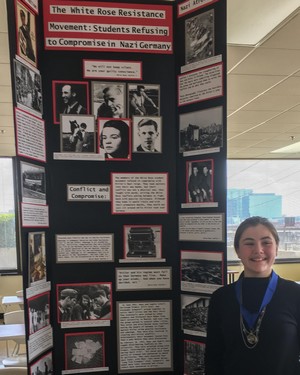 Following the same theme, Constance Baker presented her exhibit on The White Rose, a student resistance movement in Nazi Germany.
Baker won 1st place in the individual exhibit category competition, qualifying her to compete in the State History Day competition, April 27, at the State Capital Complex in Nashville.
Winners from that event are eligible to compete at the national competition in College Park, MD.
Both exhibits were the result of several months of research, planning, and hard work.

RC Students/Budding Musicians Share their Talents at Annual Music Appreciation Celebration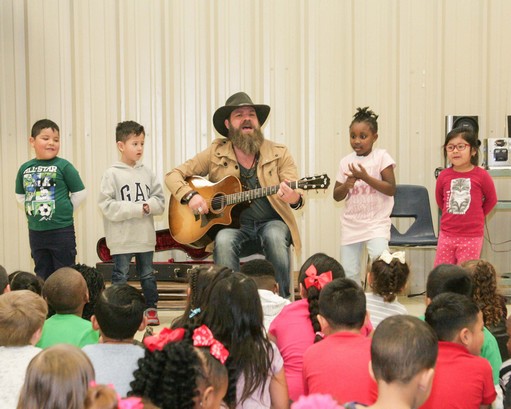 Young budding musicians came to life at Bransford Elementary during the month of February for their Third Annual Music Appreciation Celebration.
Music talents from the local schools, the Robertson County community, and the Davidson County area shared their abilities with the Bransford pre-k and Head Start children.
The celebration began with Cloggers Kyler Willson, Zella Garner, Addison Osborne, and Reagan June Garner under the direction of Ty and Abby Jackson from Shalom Dance Studio. High step, tap dancing was displayed by this young group of dancers.
The Nashville Ballet presented the story "Jump Frog Jump" through dance coincide with a book reading the teachers had provided beforehand. Dancers were dressed in costume and showed various ballet techniques.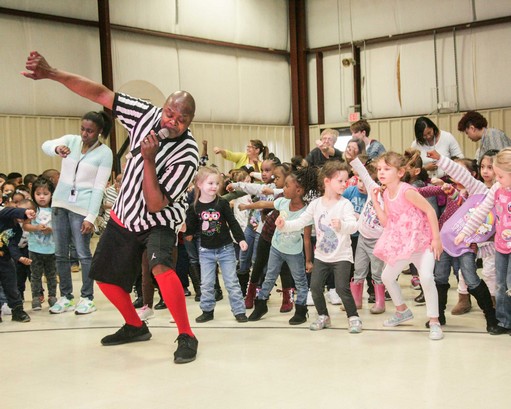 Mr. Leonard Swann entertained the children with his saxophone jazz music and Sharon and Rick Robinson played the beautiful harp and bowed psaltery to songs the children could sing along with.
Rock band drummer Kevin Jones performed with his drums and demonstrated each type of percussion instrument. Jones also provided a special moment when he allowed each child to sit and play the drums individually.
Local business owner, Hope Borthick, provided several performers from Shalom Dance Company to share different types of dance for the children. Ballet, jazz, interpretive dance, hip hop, and some gymnastic skills were beautifully done for the students' entertainment and enrichment.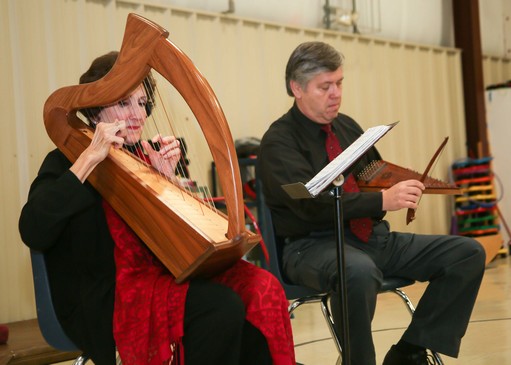 On Feb. 22 Watauga Elementary fourth and fifth graders , directed by Linda Messinger, provided a fun, engaging time for the Bransford students. Watauga students played ukuleles and guitars for the children and allowed some of the children to come up front to play them as well.
February 23, the Westside second grade enrichment group, directed by Beverly Babb, entertained the group with rhythmical drum music using buckets and sticks as well as hand bell ringing.
Excitement was noticeable when Adam Cunningham, from The Voice Season 13, took time out from his recording and touring schedule to perform for the children. Before singing one of his own songs he sang "Five Little Monkeys", "Apples and Bananas", and "Bingo" with the children.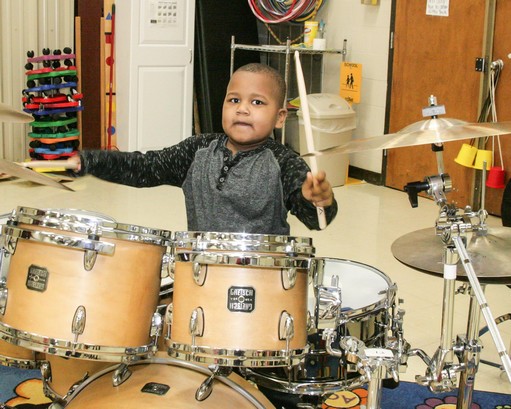 Local entertainer, DJ Johnny was in the house on February 28 providing movement and music to all genres of music. Children danced and kept the beat to his upbeat and energetic music for more than an hour.
The last day of the month-long celebration featured a parade through the school hallways led by Cassie Hix. Cassie escorted the children with her colorguard flag twirling as they played their instruments, waved scarves, and marched to high stepping band music.
Bransford teachers, staff members, and students would like to thank everyone who took time out from their busy schedule to share their unique talent. The memories created left all participants with a song in their heart and a beat in their step.

Read Across America Week Celebrated With School Reading Events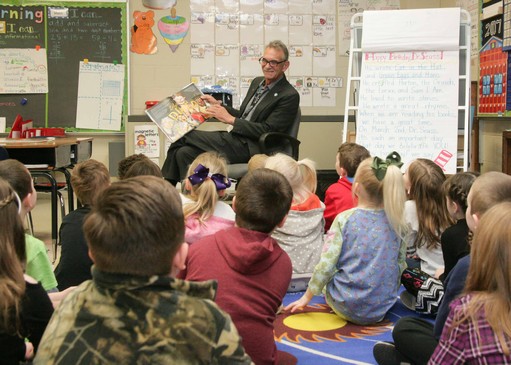 Elementary Schools across the district are celebrating "Read Across America" this week by inviting civic and elected leaders to read to classrooms in honor of Dr. Seuss, whose birthday is Friday, March 2.
The National Education Association's program is an annual one promoting reading motivation and awareness nationwide.
Several schools began the week on Monday with various administrators, elected officials, public servants, and other community leaders reading a Dr. Seuss book to a school classroom.
Robert F. Woodall Elementary hosted more than 20 readers Monday morning as part of the weeklong literary emphasis. Each elementary school will provide their own version of participation throughout the week with outside readers invited to spend time reading one book to one classroom of students.

Robertson County Schools education satisfaction survey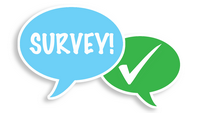 Parents of 6-12 grade students are encouraged to take the education satisfaction survey.
Click Here to complete the survey online.

Springfield Cluster Elementary Schools Highlight


Smokey Barn News (Sponsor/Advertisement)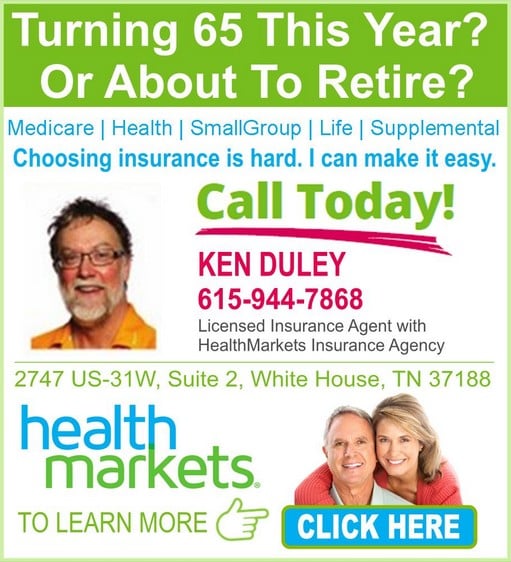 We bring you ALL the News in and surrounding Robertson County, Tennessee.