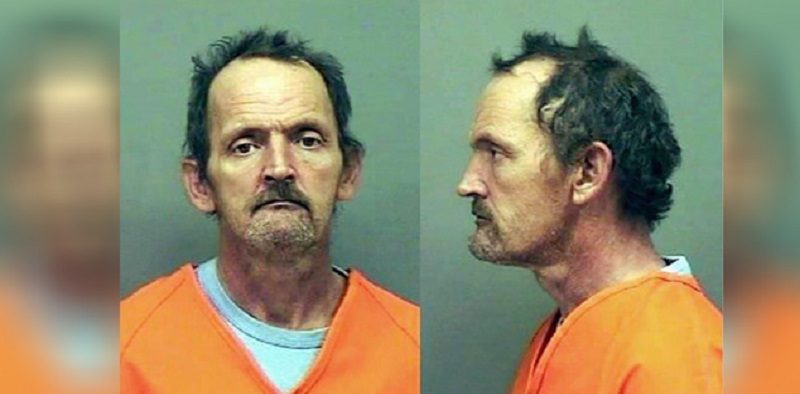 Search For Murder Suspect Kirby Wallace Continues West Of R.C.
UPDATE KIRBY WALLACE SURRENDERS TO AUTHORITIES 10/5/18
UPDATE ON KIRBY WALLACE MANHUNT
Updated safety perimeter and road closures.
Poplar Springs Rd at Cumberland City Rd
Kirkland Rd at Lylewood Rd
Kirkland Rd at Bartee Rd
Bartee Rd at Wildcat Creek Rd
Riversbend Rd at Hayes Ridge Rd (both intersections) 
Hayes Ridge Rd at Glen Holliday Rd
Seven Mile Ridge Rd at Hayes Ridge Rd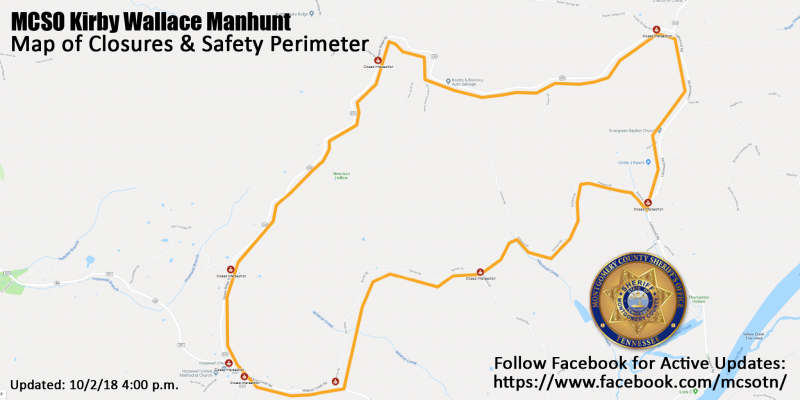 UPDATE KIRBY WALLACE MANHUNT (TUESDAY MORNING)
Law Enforcement has continued searching throughout the night. Checkpoints are still in place. If you live within the safety perimeter allow yourself a few extra minutes to get to work this morning. Please continue to report any suspicious activity.
UPDATE ON KIRBY WALLACE MANHUNT
Officials are escorting residents to their homes within the search perimeter. Please be patient as they perform this escort.
Updated safety perimeter and road closures. (SEE MAP BELOW)
The road closure at the intersection of Lylewood Road and York Landing has been moved to Lylewood Road and Reed Road. The newly opened area has been cleared, however, if you live in the area and would like an escort to return home please contact law enforcement located at the intersection of Lylewood Road and Reed Road.
MONTGOMERY COUNTY TENNESSEE  The TBI, FBI and multiple police agencies are searching for murder suspect Kirby Wallace on foot in woods off Frankie Road in Stewart County near the Montgomery County line.
According to our News partner's at WKRN News 2, a resident reported seeing Wallace at 10:50 a.m.. The search is located about 24 miles West of Robertson County starting on Frankie Rd. LOCATION OF SEARCH.
Neighbors told investigators they also saw Wallace leave a home on Poplar Springs Rd. and Welker Rd. where the homeowner was shot and killed Monday morning.
Wallace allegedly sped away in a Silver pickup owned by the shooting victim.
The truck crashed a few miles away on Frankie Rd.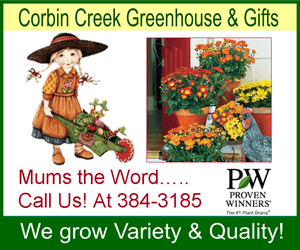 Sheriff's deputies are hunting for Wallace on foot. The search has shifted to an area south of Cumberland City Rd. and west of Lylewood Rd. to Lock C, according to the Montgomery County Sheriff's Office.
Wallace was last seen wearing camo shirt and shorts.
Wallace, 53, is wanted for a home invasion on Sept. 23, killing a woman, injuring her husband and setting their home on fire.
Last Thursday, police say he approached a woman in her driveway as she returned home from church, forced her inside her home at knifepoint, tied her up, disabled her phone and stole her vehicle.
All Stewart County schools are on soft lockdown with doors and windows locked. Teachers are escorting students around campus and students are not allowed outside.
The TBI is asking property owners and residents in the area to check their land, outbuildings, and vehicles and report anything suspicious to authorities.


Smokey Barn News (Advertisement)


We bring you ALL the News in and surrounding Robertson County, Tennessee.