Semi Crash Destroys Greebrier Home, Tow Driver Arrested
GREENBRIER TENNESSEE: (Smokey Barn News) – The Nicholson family in Greenbrier started their day off with a tractor trailer in their bathroom. Lonnie Nicholson told Smokey Barn News that she was in the bathroom when the house started to shake, she thought it was an earthquake.
The home is located on Elm Hill Ct in Greenbrier MAP, the call came into 911 around 7 am Monday morning. Lonnie said she had just walked her two children to the bus stop and had gone to use the restroom when the house started to shake. She ran for the door which jammed, she got the door open and got out just as the semi came crashing into her bathroom. Thankfully no one was injured.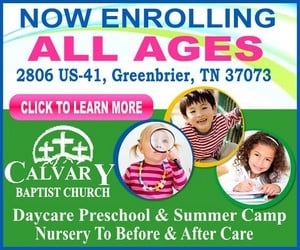 According to the THP, the driver of the tractor-trailer parked the semi on the street and went to his mother's house. At some point, the brakes let go and the entire rig sailed down a hill backward and crashed into the Nicholson's home.
As the THP was questioning the person responsible for the semi, the driver of the tow-truck, identified as Christopher Barber, who was on scene to remove the semi from the home allegedly, "inserted himself voluntarily into the conversation," according to the THP, and at some point became "very disorderly" and "used profanity."
According to the THP, as Barber is moved to the patrol vehicle to calm him down and to talk to him, he aggressively pulled away. It was at that point that he was taken into custody and charged with resisting arrest, disorderly conduct and vandalism. The vandalism charge was due to damage Barber allegedly caused to one of the officer's uniforms during the arrest.
The Nicholson's told Smokey Barn News that this was their first home and they were enjoying decorating it but things happen and things can be replaced, people can not. "We're just glad no one was hurt," Lonnie Nicholson said.
Greenbrier Police Chief K.D. Smith told Smokey Barn News, if another call comes in about a semi parking on that street, "It will be towed and impounded."
Smokey Barn News (Sponsor/Advertisement)