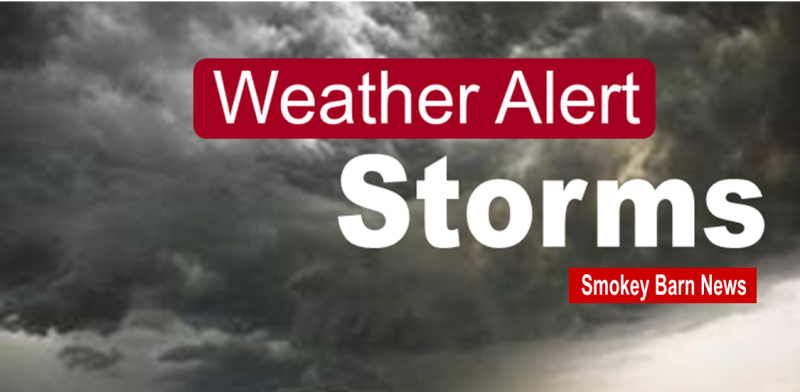 Severe Thunderstorms With Possible Tornadoes Move In 
ROBERTSON COUNTY TENNESSEE: (Smokey Barn News) – The National Weather Service has issued a Tornado Watch In Effect Until 10 Pm Cst this evening for most of middle Tennessee
Windy with strong thunderstorms, damaging winds, large hail and possibly a tornado with some storms. Chance of rain 100%.  2 to 3 inches of rain expected.
The national weather service in Nashville has issued a tornado warning for… Eastern Houston county in middle Tennessee… Southern Montgomery county in middle Tennessee… Northwestern Dickson county in middle Tennessee until 400 pm cst
At 328 pm cst… A severe thunderstorm capable of producing a tornado was located near Erin… Moving northeast at 60 mph. Hazard… Tornado.
Source… Radar indicated rotation.
Impact… Flying debris will be dangerous to those caught without shelter. Mobile homes will be damaged or destroyed. Damage to roofs… Windows and vehicles will occur. Tree damage is likely.
This dangerous storm will be near… Clarksville around 345 pm cst. Other locations impacted by this tornadic thunderstorm include Palmyra… Slayden and Cunningham.
Precautionary/preparedness actions…
Take cover now! Move to a basement or an interior room on the lowest floor of a sturdy building. Avoid windows. If you are outdoors… In a mobile home… Or in a vehicle… Move to the closest substantial shelter and protect yourself from flying debris.
Refresh this page for updates
Smokey Barn News (Sponsor/Advertisement) 
We bring you ALL the News in and surrounding Robertson County, Tennessee.