Springfield Police Investigating 19th Ave. Shooting
STORY UPDATE (SUSPECT IN CUSTODY) See update below….. 
SPRINGFIELD TENNESSEE: (Smokey Barn News) – Springfield Police are currently investigating a shooting that occurred around 2 AM Wednesday morning.
The shooting occurred near the intersection of Main St. and 19th Ave. MAP
Officials tell Smokey Barn News that one person was shot. We have learned that the victim was transported to NorthCrest Medical Center in Springfield and is currently awaiting Lifeflight.
This is a developing story, detectives are still interviewing witnesses and gathering information. As soon as officials are prepared to release information that would likely contain a suspect description we will bring it to you.
UPDATE: 2:37 PM Wednesday, May 29
According to Springfield Police, the victim stated that he was just walking down the street and somebody shot him. Springfield Police do not have a suspect or vehicle description at this time and are urging anyone in the community with any information about the shooting to come forward.
UPDATE: 10:00 pm Wednesday, May 29
Springfield Police are now releasing more info on Wednesday's early morning shooting on Main St.
According to Springfield Police, the victim is identified as 48-year-old Anthony Swoopes of Springfield.
Police say Swoopes was out walking (North on Main St.) when he noticed that he was being followed by someone also on foot. Once Swoopes reached 19th Ave West, the suspect called out to him so he would stop. When he did, the suspect (according to witnesses) shot one time from a distance of about 15 feet hitting Swoopes in the abdomen.  After the shooting, the suspect fled on foot.
Swoopes was LifeFlighted to Vanderbilt Medical Center but has now been released.
Suspect description: Police say the shooter was a white male wearing gray sweats. Police recovered a 45 caliber shell casing at the scene. The shell casing has been sent to the TBI's special crime science investigation division to be processed for evidence that might lead police to the shooter.
Police are asking for the public's help identifying the suspect. If you have any information about this shooting you are encouraged to call the Robertson County Dispatch Center at 615-384-4911.
UPDATE 9/13/2019: A 14-year-old Robertson County student is now in custody after allegedly confessing that he shot Swoopes. Police say the same teen also confessed to an arson case in which he poured gasoline on a home and tried to ignite it with the family still inside. FULL STORY
Refresh this page for updates.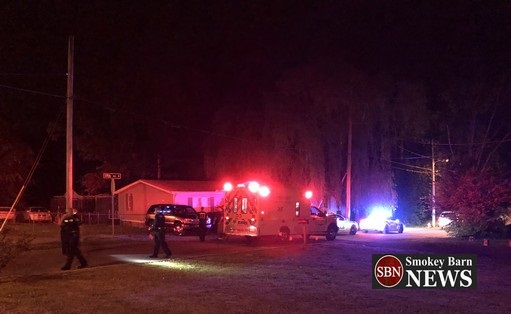 Smokey Barn News (Advertisement)
Smokey Barn News (Advertisement)
We bring you ALL the News in and surrounding Robertson County, Tennessee.