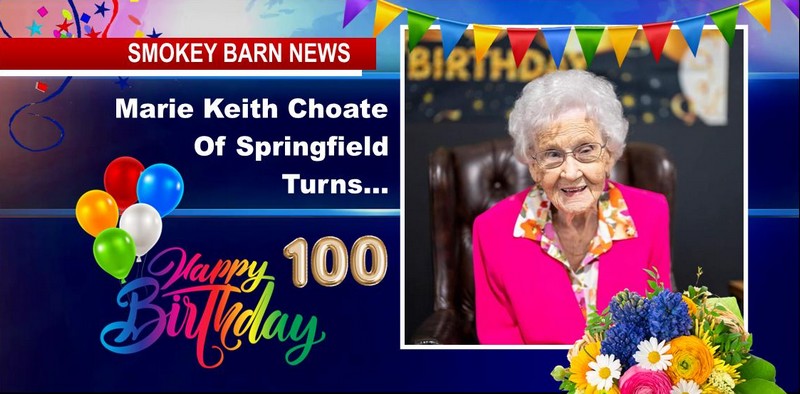 Springfield Woman Celebrates 100th Birthday
SPRINGFIELD TENNESSEE: (Smokey Barn News) – In 1923 Calvin Coolidge was President of the United States, airplanes were made with wood and cloth, cars still resembled wagons, the TV wouldn't be invented for another four years, and Marie Keith Choate of Springfield Tennessee was born.
Marie Keith Choate celebrated her 100th birthday this week! "Her celebration started on May 21st, at Bethlehem Baptist Church as her grandson, Jason Choate, preached a very meaningful sermon on 2 Timothy 1: 1-12 referring to Godly women's influence as also his grandmother has lived."
Her children, Denny Choate and Brenda Ellison, and grandchildren, and great-grandchildren were in attendance. Afterward, she enjoyed a birthday celebration with cake, cupcakes, nuts, chocolates, and punch, while enjoying a slide show of many memories, and visiting with many friends and family.
In addition, guests enjoyed some fun facts about her birth year, 1923. Approximately 150+ were in attendance for this special event. "She was very happy"
"The next day at Springfield Heights Assisted Living, she enjoyed another birthday party with decorations and cake," her family tells Smokey Barn News. "One admired Godly lady, loved by and influenced so many.
Be sure to tell Marie happy birthday in the comments under this post on Smokey's FB here…
Mobile: To See The Latest Stories or to share this article, scroll below