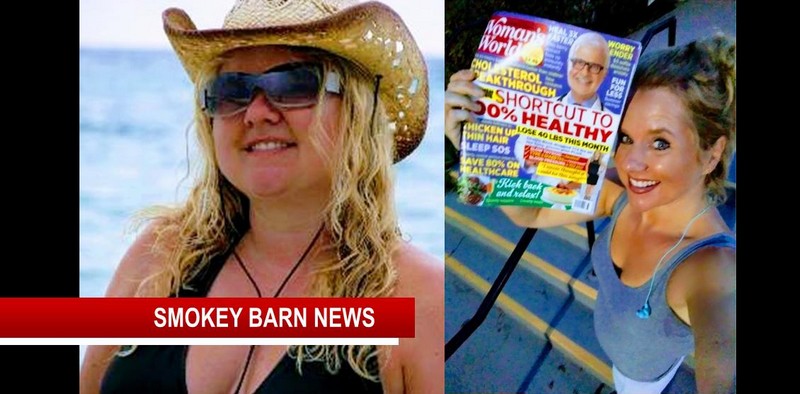 Springfield Woman's Weight-Loss Transformation Story Goes National
SPRINGFIELD TENNESSEE (Smokey Barn News) -A Springfield woman's weight loss story has gone national with a feature in Woman's World and an interview on the Tamron Hall Show.
With declining health, Chellie Beck, 49, of Springfield, was hospitalized for a potentially deadly high blood pressure. She had thyroid problems and her blood work always made her dart for the exit at the doctor's office. Chellie was literally sick, had no energy, and was even afraid she might drop her own grandson because of pain.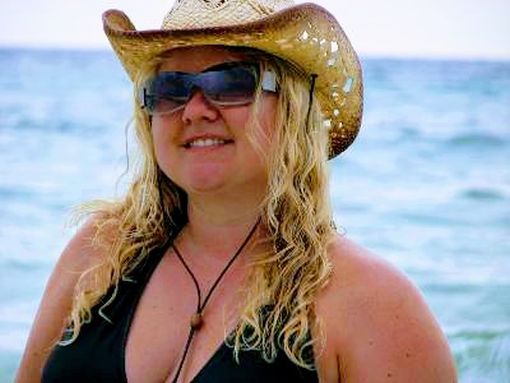 "When your health reaches that point, and you're only 47 years old, it's time to reevaluate your priorities," Chellie said.
Now, just two years later, Beck has transformed herself. She's 112 lbs lighter and can not only hold her grandson but now she says she can outplay him too. Beck tells Smokey Barn News that now she has superhero energy! Beck says she has so much energy, she's had to learn how to contain it!
Here is her story….
"At age 47 I weighed 277lbs, I was becoming quite the patient and my body was definitely trying to brew up the perfect storm! I carried a lot of weight in my midsection which made me a great candidate for a possible heart attack. Visits to the doctor, for me, were just doomsday reports.
"My doctor told me, 'This is just you at this point in your life…it is not your fault, it is the environment, your age, hormones, preservatives in packaged foods, hormones in the meat and all of these things are contributors and are big factors fighting against you!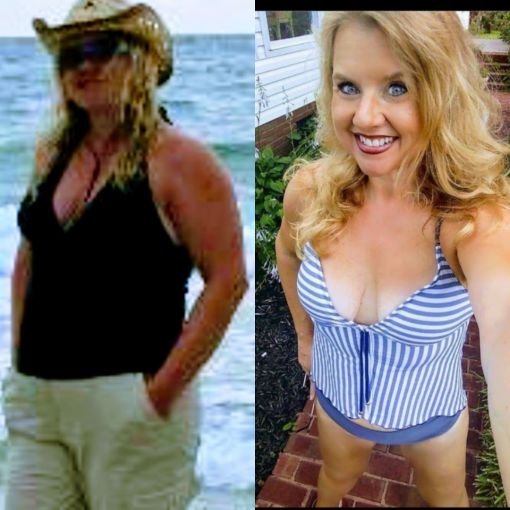 "I was tired and had so much joint pain it hurt to walk. I remember every time going up the small set of stairs to get into my home was an ordeal. I had to baby my left knee due to the joint pain and all the swelling inside my knee. I would go up one leg at a time using my better leg. The pain was making it impossible. When I sat for any length of time my circulation would be terrible in my legs and it would cut off the feeling. My legs would go numb and tingly. My pulse would pound in the back of my legs and sometimes in my toes. I had no idea at the time that the pounding pulse in my legs and toes was my blood pressure secretly climbing dangerously high!
"When I rocked my grandson for any length of time and he was sound asleep, I would have to ask a family member to take him from me and put him to bed. I was afraid of standing up with him and losing my footing. With legs asleep and knees in pain, I was barely stable enough to carry myself after sitting in any position for any length of time.
"Oh, it gets better… I was hospitalized with super high blood pressure. That was it, my turning point, and where my quest for better health began!
"Oddly enough, I was the healthiest eater at the table, but yet I was the largest one at the table. Water was my drink for the day while everyone else was drinking soda and sweet ice tea! I was not big on sweets either! On my quest for answers, I discovered Dr. Steven Gundry of the Plant Paradox. Hearing his own testimony on TV, his story was the same as mine! He ate salads and exercised but, like I, he still couldn't drop the weight, even after standing all day working all-around a heart surgery table.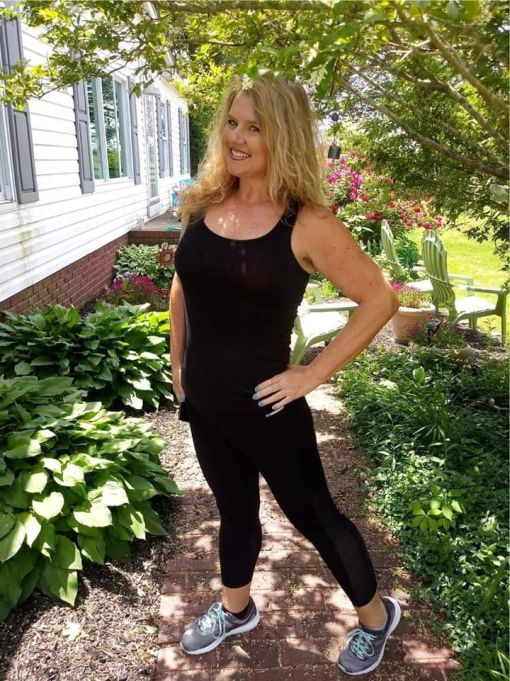 "The very food that I'd been taught as healthy was working against me! My Plant Paradox journey then started. I had already been gluten-free at the time for 2 years… so I removed all the high inflammation foods also known as high lectins. I am mostly all plant-based during the week and on the weekends two to three days out of the week, I would eat animal protein in the form of shrimp, salmon, or eggs. I need the animal protein for the b-12.
"At my heaviest point, corn chips and salsa were one of my favorites.  Back then it was all about the crunch and I was a huge tomato eater and both are very high lectin foods. To learn more about lectins here's a –> link! At any rate, dropping the lectins seemed to be the ticket, I lost weight like crazy and I had no clue of the transformation that was about to take place, from the inside and out!"
Chellie told Smokey Barn News that eating only low lectin foods enabled her to shed the water weight and reduce the inflammation.
"I was also replenishing the good bacteria, all while my low lectin eating continued to heal the gut. My digestion took a great turn for the better! My low lectin lifestyle was delivering great fuel. That's when I began to thrive!"
"Studies have shown that an unhappy, unhealthy gut can wreak havoc on your system. When the gut is unhealthy you can see all kinds of bodily warnings.  Your gut just can't absorb and deliver nutrients properly. On top of that, if you are dealing with a leaky gut (toxins) and you didn't catch those early signs like anxiety, weight gain, autoimmune, and depression, many other sicknesses and diseases can quickly creep in. Here's more info on leaky gut-> link!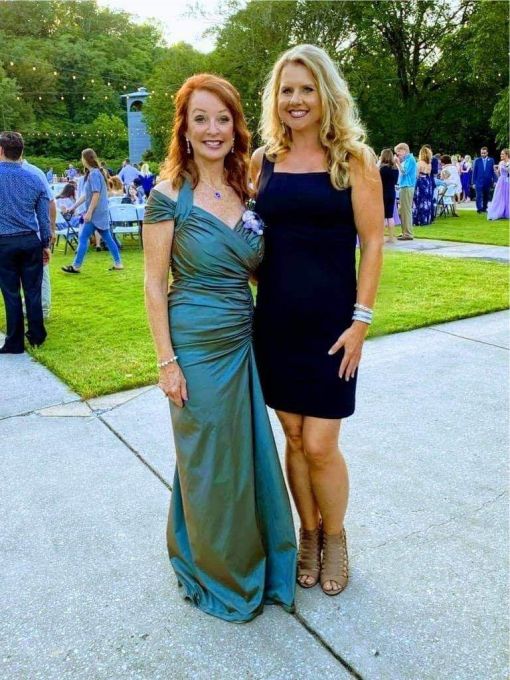 Chellie took off an incredible amount of weight in 9 short months!  "I basically lost a whole little person. The first 70 lbs came off in 4 months! I was feeling better than ever and it was a life-changer for me, all my health reversed. My doctor was so shocked, astoundingly happy and shocked! He wanted to know what I did and of course, I told him.
"The doctor listened to my heart and smiled with a laugh and said 'You now have an athletic heart, do you even know what this means? Your heart is silent which means all of the heart chambers are filling up properly, all the gurgly sounds you once had are gone.' "He was amazed! He laughed and said again" 'you have the heart of an athlete!' "As I left the examination room he said, "Never stop, you know what you are doing, keep doing it!'
You will no longer find Chellie hanging out in her rocking recliner. These days she is swimming laps, kayaking, pontooning, and hanging out by the poolside. Chellie is very grateful for her pain-free body and she can not run fast enough to get to the gym!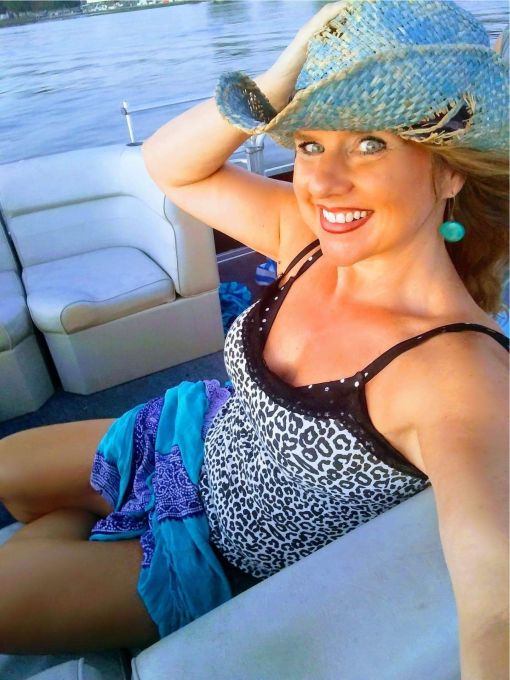 Chellie is also texting more than ever, encouraging and guiding her Plant Paradox family.
"My new brothers and sisters are my sweet PP family! Most of us at one time or another have had the cloud of discomfort or sickness hanging over us but we now have the answers and we do what we know we have to do! When done right there is no fog there are no clouds, it is all sunshine and clear!
Chellie was featured on the Emmy award-winning Tamron Hall Show, live in New York on Nov. 11, 2019.
Now Chellie has found herself on the cover of Woman's World magazine Aug. 10, 2020, the issue now in stores all this week!
"I am honored to be on the cover with the brilliant life-saving Dr. Gundry representing my journey to great health! My lifestyle change has now lead me to give back what has been given.  Chellie's only expectation now is to inspire! Woman's World features Chellie on page 22."
Chellie dropped 15 pant sizes and 3 shoe sizes. She really wants you to know that you can do this with her three favorite mottos. 1.) You got this! 2.) It works! 3.) Don't stop!"
"I really would like to say one last thing, with the extra stress going on throughout the world! I could not be more glad that I chose this lectin-free path for myself almost 2 years ago! My energy is high, depression is gone, positivity now is explosive!
Here are some more helpful links from Chellie.
To learn more about depression and the gut/brain connection click link!
To learn more about how the gut protects you from disease click link!
For more information on self-care and relaxation click link!
For more information on calming the gut and tools and techniques to do so click the link!
Don't ever settle for a doomsday report. Take control, it is your life you're in the driver's seat!
For more inspiration, you can find Chellie @notafraidoffifty on Instagram and Facebook.
She wants to see the faces of the lives that will be touched so if you grab a magazine take a selfie with it and post it in the comments on her @notafraidoffity on FB. All messages are welcome! She is excited about your journey and can't wait to see a happy, healthier you!
"I want great health for the world. I could never keep this all to myself. I don't ever want anyone to feel like I did, and I know (right in this second) there are people struggling with greater things than I was at the time.
Always remember
You Got This! Don't Stop! Talk Soon!