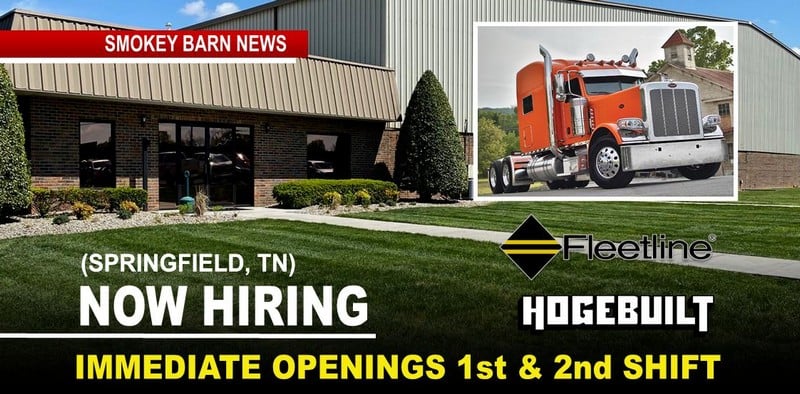 (Sponsored) 
Springfield's Hogebuilt/Fleetline Expands, Adding Second Shift 
APPLY TODAY
SPRINGFIELD TENNESSEE: (Smokey Barn News) – Robertson County conglomerate Fleetline and Hogebuilt are expanding in Springfield and the pair have opened hiring across the board.  Together they are adding day shift positions and opening a new second shift as they expand their workforce to meet the growing demand for their products.
Operating like two divisions under one roof, Hogebuilt and Fleetline are located in the heart of Springfield's industrial park. MAP
For a sneak peek inside their Springfield plant and a look at their very popular products, see videos below.
With the creation of the new second-shift along with day-shift opportunities, both Fleetline and Hogebuilt have opened up opportunities across the board.  "Due to growth across all of our product lines, we are opening up a second shift," the company(s) said in a statement Friday.
Here's a look at the opportunity and how you can apply.
SIGN-ON BONUS: $250.00 signing bonus, payable after 30 days of employment.
Our benefits start immediately. (See benefits below)
We are hiring: Assembly Candidates & Machine Operators.
Manufacturing Team Member:
I. Job Description
Job Purpose: Assemble and prepare product for shipment.
Job Duties:
1. Build parts in accordance to daily schedules, pick lists and/or documented instructions.
2. Prepare orders for shipment with appropriate labeling and packaging.
3. Work to production or sales orders, assembling in proper sequence the configurations required to satisfy orders.
4. Must legibly and accurately document first piece inspection and other forms as required.
5. Report to the group leader any problems that may arise (i.e. non-conforming parts, lack of material, etc.)
6. Maintain clean and orderly work area and work in a safe manner to protect themselves, other employees and equipment.
7. Operate a forklift in a safe manner, if applicable.
8. Follow all safety/work rules and regulations.
9. Other duties as assigned.
10. Run press machines and change out dies, if applicable.
11. Periodic cleaning and maintenance of machinery and work areas including storage and organization.
Responsibility and Authority:
Reports to: Group Leader. Not responsible for other employees.
Assist: Various support areas when needed.
Interface: Other operators and production departments.
II. Workplace Conditions
Tools and Equipment: Various hand tools, press machines, dies, etc.
Working Conditions: Subject to noise and dust in a non-temperature controlled environment.
III. Worker Abilities
A. Physical
1. Ability to lift moderate amounts of weight (under 50 pounds).
2. Ability to stand for up to ten hours, climb a ladder, bend/twist at waist, push, pull, pick and grasp objects with hands.
3. Ability to perform repetitive operations.
B. Mental
1. Ability to understand and closely follow instructions.
2. Ability to comprehend written and verbal instructions, drawings, and do basic mathematics.
3. Must have good interpersonal skills and be able to communicate clearly and precisely.
Pay:
The minimum starting pay is $14.00 per hour for the day shift.
Benefits:
• Health Insurance: Blue Cross Blue Shield
• Delta Dental
• Vision: VSP
• Company-paid short term and long term disability
• Company-paid life insurance
• Nine paid holidays a year
• Holiday Bonus
• Begin earning vacation on the first day of employment
• Sign-on Bonus of $250 after 30 days of employment.
How To Apply?
Apply in person Monday-Friday 8-4 at 784 Bill Jones Industrial Drive or Apply online –> Here and an interview will be scheduled.
Candidates that apply in person and call (615) 667-6597 will be interviewed when they drop off their application.
*All candidates must be able to pass a drug screen, background check, and physical. 
Hogebuilt/Fleetline are both equal opportunity employers.

About Hogebuilt
Hogebuilt's mission is to produce the best-looking quality stainless steel fenders in the trucking industry; and to achieve The Ultimate Finish for Trucks! Hogebuilt entered the heavy-duty truck market in 1944 by introducing its first line of 24″ quarter fenders. The quarter fenders with a new and most effective spray suppression design quickly became the leader in the quarter fender market. To remain the leader in design and quality, Hogebuilt introduced the very first 27″, 30″ and 34″ quarter fender options produced in a 304 stainless steel with a mirror finish and our unique 3″ side flange. Our side flange is the longest in the industry and gives Hogebuilt products the sleek look that our customers desire. To complement its line of fenders, Hogebuilt was the first in the industry to develop a complete line of unique suspension specific mounting brackets. At this time, we have all models to choose from, filling the needs of all major truck manufacturers. Read MORE…
About Fleetline
For over 40 years, Fleetline Products has been known as the leading OEM supplier of spray suppression products to the trucking industry. We opened our doors in 1973 and quickly built a strong reputation for producing high quality parts, while providing excellent customer service. Our commitment to quality and helping customers find the right solution for their needs is a tradition that continues today.
Fleetline provides a full line of products for trucks and trailers built to service multiple vocations. Our product line includes fenders for single axle, half tandem and full tandem applications, as well as mud flap hanger brackets and mounting components. Our quarter fenders and mud flap hanger brackets are factory installed options on Peterbilt, Kenworth, Freightliner, Western Star, International, Volvo and Mack trucks. Fleetline is proud to be first fit in truck production for over 40 years. Read MORE…
Mobile: To See The Latest Stories or to share this article, scroll below